Writing a comfort care plan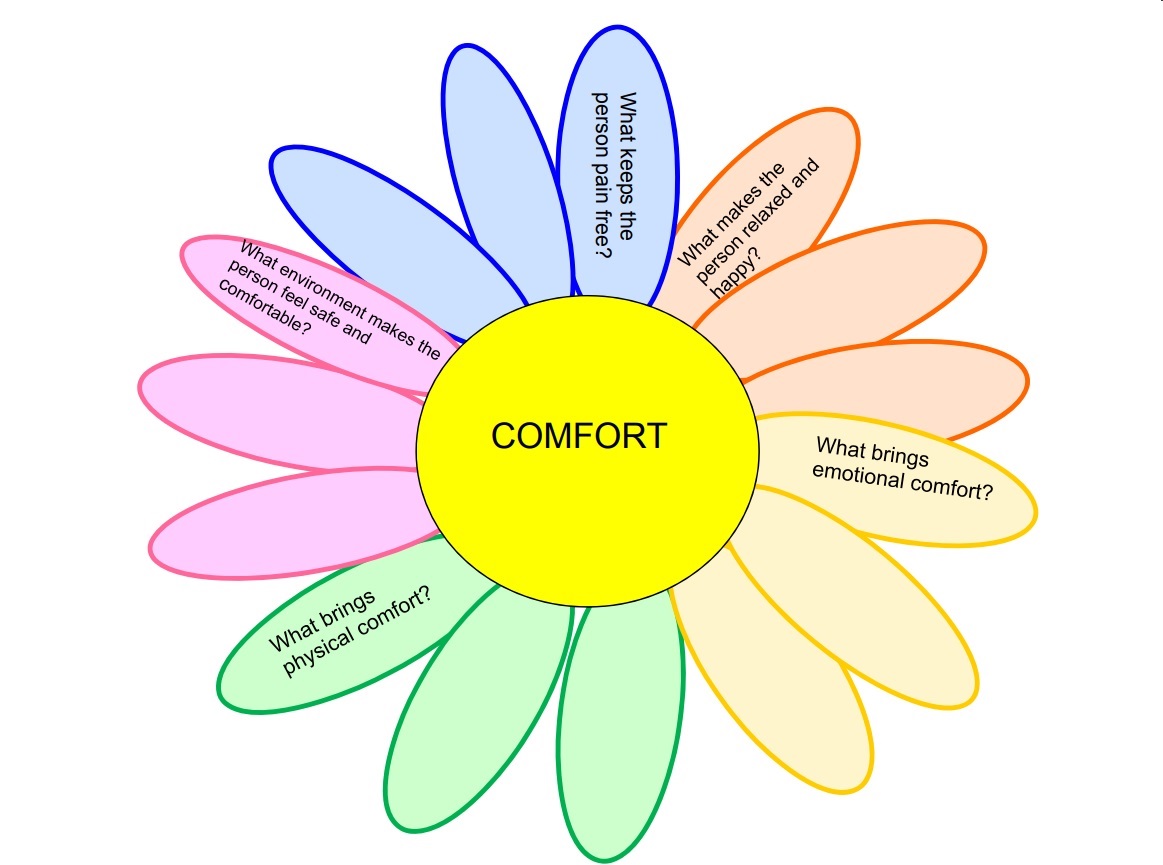 Having watched the example of Jack's comfort care plan, you might feel inspired and empowered to put together your own comfort care plan for the person you support. Comfort care plans are not part of standard care, but can be done for anyone, living anywhere. It does not have to be done by a healthcare professional, you can do this, and we can guide you through the process.
To start with, it might help you to think about your own needs. This could involve a short exercise of imagining yourself waking up in a hotel room. What would you need to feel safe, secure and comfortable and how would you achieve this? You can jot down your thoughts and ideas.
You can use the daisy template link at the bottom of the page to guide or write down your own ideas and thoughts. We have also provided an example based on Jack's comfort needs. Here are a list of pointers that might help you get started:
Who can help me to put the plan together?
Anyone who is involved in the care and support of the person. Family, friends, or staff at any services you use could help you make a comfort care plan. You could do this together, or you could make a start and ask them for their opinion and input.
Why involve other people?
Different people who provide care and support may identify different comfort care needs. For example your doctor/GP may be able to give specific advice or input around medication management.
What are the main comfort needs that I think the person I support now has?
Think about their physical, social, emotional and spiritual needs for comfort.
What are their likes and dislikes? Examples might be favourite foods, music, places, smells, photographs, clothes; dislike of loud noise, hugs and personal contact.
Which events or times are distressing and when does the person seem relaxed? Examples might be distressed during personal care or unsettled around late afternoon, or enjoys warm baths.
Does the person have religious beliefs, rituals or objects which can bring comfort such as prayer, rosary beads, and readings from a religious text.
What can I/we do to meet these comfort needs?
There may be easy changes you or others can make. There may be things you can do or stop doing to improve comfort. An example might be rearranging furniture so that the person can see out of the window or getting small nightlights if the person is fearful of the dark.
Who should I share the plan with?
Anyone who is involved in the care and support of the person with dementia. They may find it useful to talk to you about any changes and may support these.
What if the plan changes?
Plans are not set in stone and you would expect the plan to evolve as dementia advances and needs change. This also means that you are monitoring and reviewing changes and thinking about whether changes in care make a difference. If they are, you may keep plans the same, but if not, this may help you to think about any adjustments which may keep the person as comfortable as possible.
Remember, comfort care plans are individual to each person. There are no right and wrong answers and you may find you are the 'expert' in putting together a comfort care plan, as you may know the person with dementia best.