What have we learnt?
We have really enjoyed participating in the discussion steps and comments sections with you in the past few weeks. We hope you enjoyed this too!
Hearing your personal experiences, concerns, insights and ideas has been tremendously useful for us in thinking about what we already know about the challenges of living well with dementia, and what we need to do to live well with dementia in the future.
Thank you for the links and resources you have shared. We have collated these into a PDF and added this to the downloads section of this step.
As the course has progressed we've been able to capture some of the main themes and insights from in course discussions. Here's a flavour the most talked about aspects of the course:
Understanding the Brain and Dementia
We were flattered by the many positive comments about Andy Blamire's 'What's happening in the brain' videos and the 'Spotlight on DLB'.
"A brilliant, succinct overview of the brain and how the different areas effect what we do" (Sue Gill)
"It's great being offered the chance to have DLB explained and the links to Parkinson's disease" (Yvette Ford)
Visual Hallucinations
There was a lot of interest in the symptoms of DLB particularly visual hallucinations which are known as a core feature of DLB and present in around 70% of DLB cases. Many of you found our mentor Alison's comments on this topic really helpful additional information.
Patience and tenderness for the care receiver
Many of you shared your own experiences of caring, describing how approaching a situation with patience and tenderness was often the most effective approach to take. But accepting that this is not always easy.
Diane Smith shared a moment with us:
"I was dealing with someone today who was very restless and agitated. They struggle to speak but eventually they managed to say two words 'please help'. I wondered what help they needed and eventually took a guess that they were lost and confused and didn't know where they were and had a feeling that there was somewhere they should be…" "I said I was there to help, to keep them safe and that they were in the right place here just now. I hope my guess was right as once they heard this, they sat back in the chair, all the tension went out of their body and they smiled and relaxed."
Communication for everyday living:
A number of discussion threads focussed on aspects of everyday living and the communication strategies that can sometimes make these tasks a little easier.
"Fascinating and enlightening video by Dr James. I shall try out the 'Sorry's' technique at the next appropriate opportunity." (Michael Wild)
Going to the bathroom and bathing were hot topics, with many learners, and our mentors, sharing helpful advice and tips. The 'see also' section, with links to other sources of information such as Teepa Snow's videos, were well received by many learners.
Our mentor Eugene was able to respond to your questions about continuing to drive, sharing his experience of dealing with this issue as a GP.
What makes a good day?
Although much of the course explored some of the challenges of taking on a caring role we tried not to lose sight of the positive aspects of caring and communicating. You certainly did not disappoint… sharing those moments of humour, care and affection and simple pleasures that can be so rewarding.
"Good days were when we sat out in the sun, making up music together - I would hum or lah one line, mum would pick it up and sing the next, and so it would go. And we would sit really close, and she would say "I love you", and that would be all anyone could need" (Alice Ashwell)
These themes were also reflected in "When do you feel most connected?" (Step 1.18) from which we have generated the wordcloud below.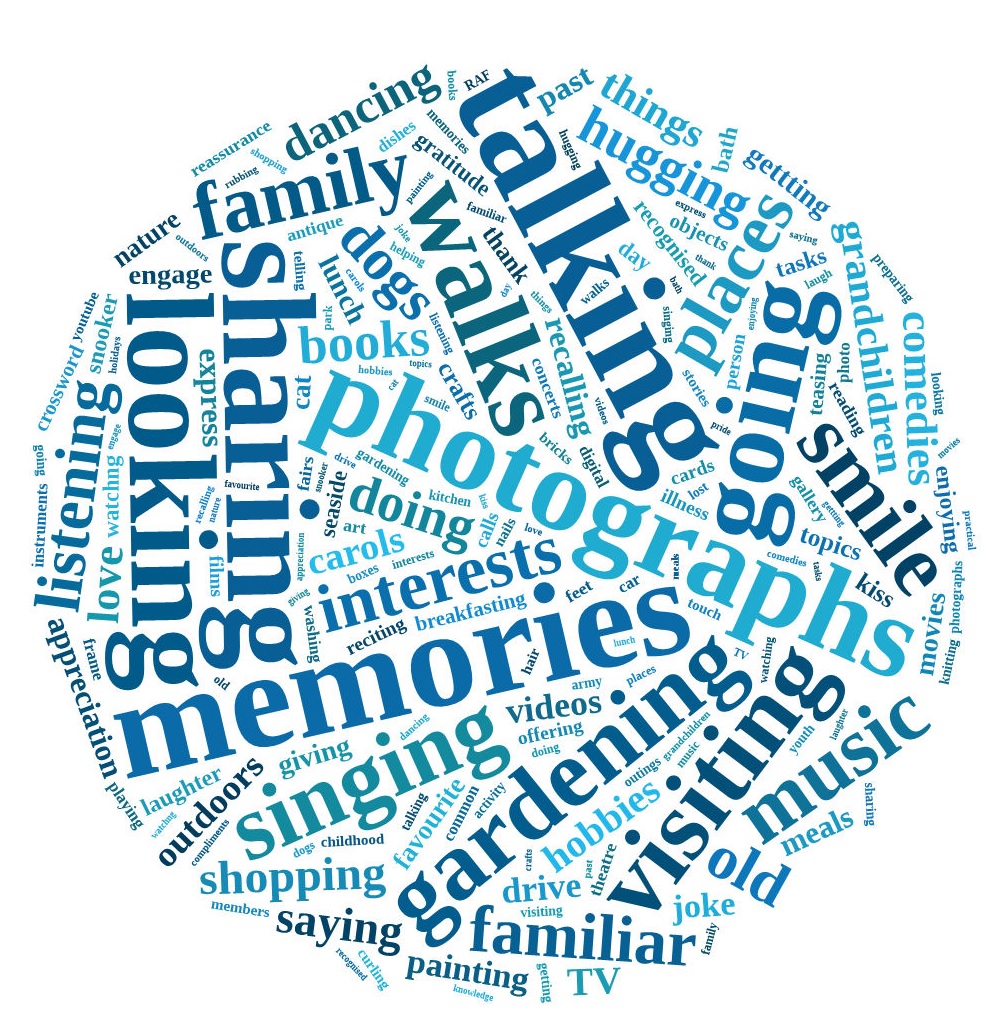 (Click to expand)
© Newcastle University - image © Tagxedo