Fern's project
Throughout the course you will hear about a project to design and develop an E-learning resource led by Dr Fern Todhunter from the University of Nottingham's School of Health Sciences.
The subject of the E-learning resource is understanding the Nursing and Midwifery Council Code of Professional Practice which is a set of professional standards for all nurses and midwives in the UK. It is vital that our students are both familiar with the standards and that they understand their importance and relation to quality care and professionalism in our Health Service. The topic is a serious one, but can also be quite dry. So, Fern's challenge is to bring this topic to the heart of her students' learning and to design a resource that will be available and accessible to them, and that will also be released as an Open Educational Resource (OER).
Fern's team!
During the course we will refer to 'Fern's project team'. Her team consists of group of academic staff, practitioners and students from the University of Nottingham and Birmingham City University working together on her E-learning resource development.
Below are some of the team you will see featured during the course in the videos and interviews.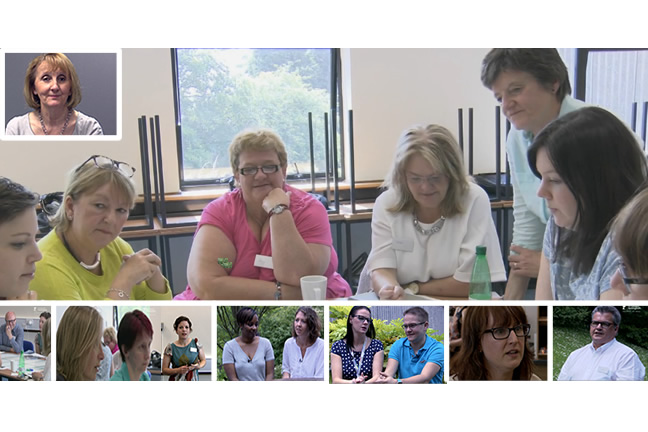 Background to Fern's project
The E-learning resource development that Fern's team wish to undertake is part of a wider project between the two Universities to foster links between staff and students as a foundation to set up 'virtual exchanges' between students from these two Midlands universities so they work together and learn from each other. The Health E-Learning and Media (HELM) team at the University of Nottingham are working alongside Fern's team to help them with the development of their resource.
You will hear from Fern's team throughout the course and you will follow Fern's experiences and see how her team progress through the design stages of her resource.
© The University of Nottingham 2016 (Creative Commons Attribution-NonCommercial-ShareAlike UK 2.0 Licence) except for third party materials or where otherwise indicated