Reusable Learning Objects - a detailed look
In this article we will look at definitions of an RLO and break it down so that you can see the various design and media components.
Wiley (2000) first proposed the definition of an RLO to be 'a digital resource that can be reused to facilitate learning'.
Since then there have been a plethora of definitions in the literature (Windle & Wharrad, 2010). One of the more pragmatic definitions (Leeder et al., 2002) is : A reusable learning object is a web-based multimedia digital resource based on a single learning objective or goal, comprising a stand-alone collection of these components:
presentation: a multimedia presentation of the story, concept, fact, process, principle or procedure to be understood by the learner in order to support the learning goal or aim;
activity: something the learner must do to engage with the content in order to better understand it;
self-assessment: a way in which the learner can apply their understanding and test their mastery of the content;
links and resources: external resources to reinforce the content of the RLO and support the learning goal or aim.
Lets look in more detail at this RLO on glove use.
More detail on Glove Use.
This RLO was designed and written by nurses from a hospital infection control team. It is one of a group of RLOs we have produced on reducing infections in hospital. Like all the RLOs, there is an audio commentary so you will need headphones or speakers to hear the narration.
Presentation
The first two screens of this RLO tells us what this RLO is about 'Why use gloves' and provides a description of what gloves are and why they are important in reducing hospital infections. There are simple images illustrating the text and notice there isn't too much text on the screen - just one or two key points are presented.
Activity
This screen shows an activity. So the idea here is to encourage the learners to build on the previous point about the choice of glove being based on the risk of transmission of micro-organisms to the patient and/or contamination by patients' blood or body fluids. This is a drag and drop activity and by completing this activity learners will know in which clinical situations to use sterile and non-sterile gloves or no gloves at all. It is important to provide feedback during an activity like this, so in this case, once the correct response has been chosen, a reason is provided.
Video presentation
The next stage is to show the learner the procedure for putting on sterile gloves. Short videos are great for demonstrating a skill or procedure.
Self-assessment
Once the learner has been presented with all the learning material, it is useful to have a short assessment for them to test their own learning. In this RLO six situations are presented and the learner has to choose whether to use sterile or non-sterile gloves. Notice that there are clear instructions for the learner at the start of the activity, and once completed the correct choices are provided for review. Whilst doing the activity, feedback is given - whether or not the correct or incorrect answer has been selected.
Feedback
Each RLO has a brief feedback form to allow learners to provide us with any positive or negative feedback about the resource. Completion of this form is optional. The image shown is an excerpt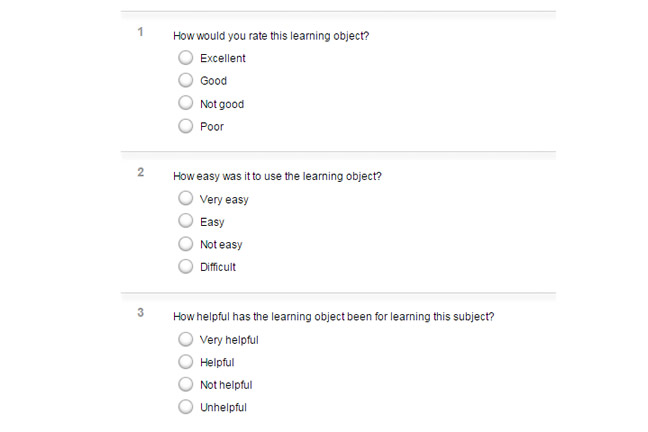 Resources
The final screen is the Resources section. Here additional links to extra reading or any supporting information is added. Having links in one place usually at the end of the RLO has two advantages. If links are embedded into the earlier sections of an RLO, when they click them they are sent out to other sites – this can be distracting. Having all the external links in one place means it is easier to update them and make sure there are no 'broken' hyperlinks.
Does the use of the different media in this RLO get the key points across? What do you think?
If you would like to read more here are some useful resources:
Wharrad, Heather and Windle, Richard (2010) Case studies of creating reusable inter professional E-learning objects. In: Interprofessional E-learning and collaborative work: practices and technologies. IGI Global, Hershey, pp. 260-274. ISBN 9781615208890
Windle, Richard and Wharrad, Heather (2010) Reusable learning objects in healthcare education. In: Interprofessional E-learning and collaborative work: practices and technologies. IGI Global, Hershey, pp. 244-259. ISBN 9781615208890
© The University of Nottingham 2016 (Creative Commons Attribution-NonCommercial-ShareAlike UK 2.0 Licence) except for third party materials or where otherwise indicated