Introduction to risks
As we saw last week, toddlers, teenagers and young adults also fall regularly.
But this is often as a result of more risky behaviour and activities. When we say falls risk factors, this sort of risky behaviour is not what we mean.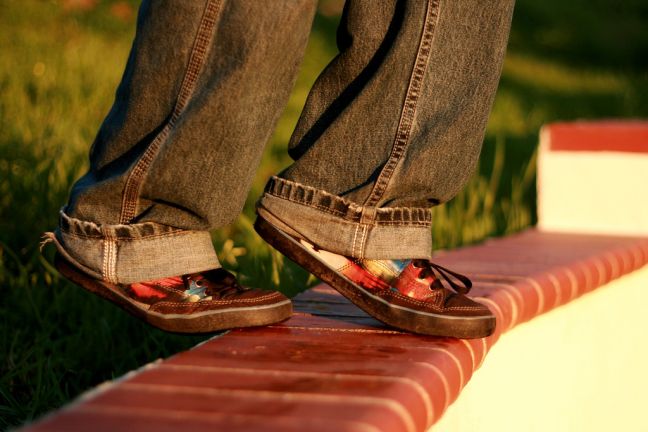 Younger people often fall because they take more risks. Image © Simple Walk by DieselDemon CC BY 2.0
A risk factor for falling is something which increases our chance of having a fall. Identifying risk factors is an essential component to preventing falls and this is what doctors, nurses and therapists would do if they were assessing someone who has fallen. Identifying risk factors relating to yourself may help you understand why you may have fallen and may help you find some simple solutions.
Some risk factors may seem fairly obvious to some people:
Poor vision or poor lighting
Poor gait (the way in which we walk)
Poor balance
Weak or stiff legs and feet
Ill fitting shoes and slippers
Loose rugs
But some risk factors may not be obvious:
Fear of falling or low confidence
Taking four or more medicines (regardless of what they are)
Using a walking stick or frame (often because it is the wrong size)
Depression or poor memory
Being incontinent of urine
Damage to nerves, particularly in the feet and joints
Problems regulating blood pressure
Unfortunately, there are over 400 risk factors for falling, so falls experts tend to focus on the most important ones which we will explore this week. But it does go to show just how complex it can be to untangle falls.
In addition, risk factors are also important when considering preventing broken bones. We will explore ways that we can keep our bones strong and healthy in Week 3.