Sites of religious practice
Gnarled trees, misty ponds, odd shaped rocks, roadside ditches, private homes, shadowy shrines and soaring temples – what might these all have in common?
All these sites and more witnessed ritual activity in the Roman period. The ubiquity of ritual offers at once a challenge and an opportunity to all students of the frontier zone. But here as elsewhere, caution is advised. It is an old and rather tired archaeological joke to claim that if we cannot understand something, it probably results from ritual. But the joke underlies a real analytical problem. What is 'ritual' and how can archaeologists distinguish it from the traces of other activities?
Strictly speaking ritual is a sequence of activities that follow a prescribed or established pattern. It may not have a religious significance, but our concern here is with rituals that do have relevance to worship. We do have some very interesting texts surviving from the Roman Empire that detail ritual procedures at cult sites, but no such detailed accounts survive from the Hadrian's Wall area. While it is reasonable to assume that the practices of major cults found across the Empire would recur on the Wall, the range of deities, beliefs and individual preferences make it unwise to generalise too widely.
So what does the evidence from our area show?
There are some key patterns certainly. Altars are widely used across many cults, though we might note that we have no way of knowing how many cults did not use altars or only used in them in a minority of cases. We will look closely at how altars were used in the next activity, 'Honouring the gods', and there are also common types of cult building. These range from the classical style temples familiar from many an image of the ancient world, through to the shrines of the mystery cults – we shall study a mithraeum or cult temple of the god Mithras in the next activity.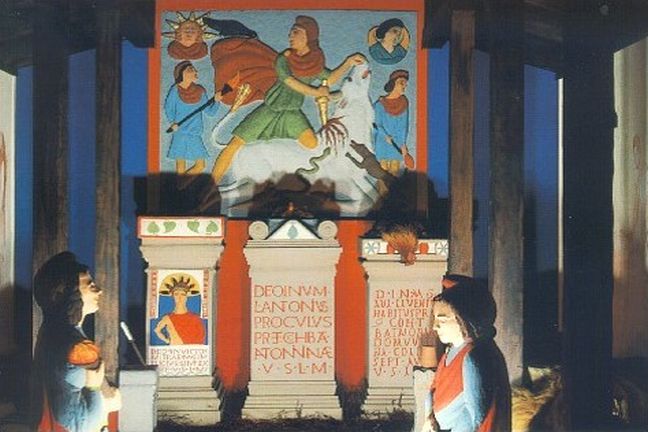 Visualisation of the interior of a Mithraeum (temple to Mithras) © Society of Antiquities Newcastle Upon Tyne
Yet, as we have already noted, ritual was not confined to shrine and temple buildings, it took place in other spaces too. To better understand ritual practice in the Roman world, we need to be prepared to look at the evidence in more detail. Sometimes a fresh look at shrines and temples tells us more about the patterns of worship, sometimes a look at their surroundings tells us more and sometimes the most remarkable evidence comes from entirely different places.
Before we look again at a cult site to try and understand the ritual practices that characterised its use, let us hone our sense of the complexity of this type of research. Consider the image below. Is this evidence of petty vulgarity or ritual practice?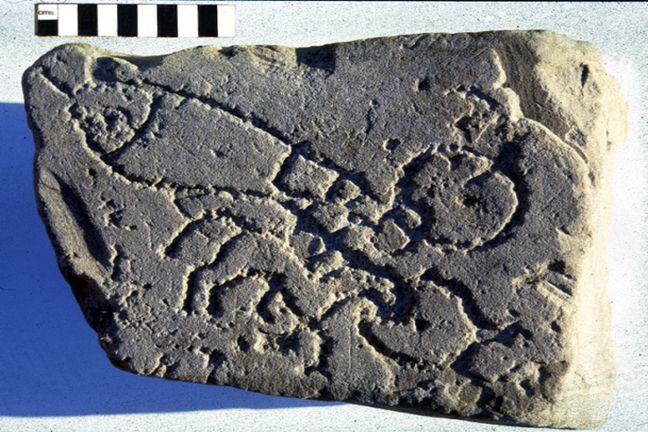 Arbeia Phallus © Paul Bidwell
What do you see? No need to write in on this one, it is pretty obvious isn't it? It depicts an exceptionally well-endowed man (facing backwards) on a horse. But why has someone carved the image this way? Simple and crude. If we tell you it comes from a barrack block at Arbeia, might that make you think differently about why it is drawn this way or not?
Before we return to the all-important issue of context (for understanding the setting in which something is used is vital to its interpretation) let us note something about the phallus in Roman society. We know that the phallus was widely recognised as a positive symbol, invoking and soliciting well-being. It frequently appeared as a charm, on jewellery, on horse trappings as well as in paintings and graffiti.
Now what if we tell you that this is one of three phalli discovered during the excavation of one barrack building? And then we tell you that each of them was built facing into the barrack wall so that they could not have been seen? And each was built into a different compartment/contubernium in about the same place?
How should we understand the incorporation of phallus imagery into this building?
How does this fit with your understanding of ritual and religion in the Roman world?