A Christian Wall?
As early Christianity was often inconspicuous, and sometimes secretive, it typically does not leave evidence in the archaeological record. Hadrian's Wall is no exception to this rule. It is not until the later 4th century that evidence for the presence of Christians becomes more common.
Perhaps the earliest Christian object from Roman Britain is a gold finger ring found outside of Corbridge, with an inscription in openwork: AEMELIA ZESES. Dating to any time between the 2nd and 4th centuries, the ZESES inscription translates as 'may you live [in God]' and it thought to be a formula of early Christians.

Gold betrothal ring found near Corbridge © Society of Antiquaries, Newcastle Upon Tyne
The best evidence for Christian practice dates to the 4th and 5th centuries. A few tentative church locations have been suggested: there is an apsidal-ended building inside the north rampart at Housesteads; at Vindolanda, an apsidal-ended building was constructed in the courtyard of the commanding officer's house; at South Shields, a possible Christian altar was erected in a niche in the courtyard of the headquarters building, with the possibility of the courtyard space converted for use as a church.
There are also objects that indicate Christian practice. A stone fragment from Vindolanda inscribed with a chi-rho (the first two letters of Christos in the Greek alphabet) may be from a portable stone altar.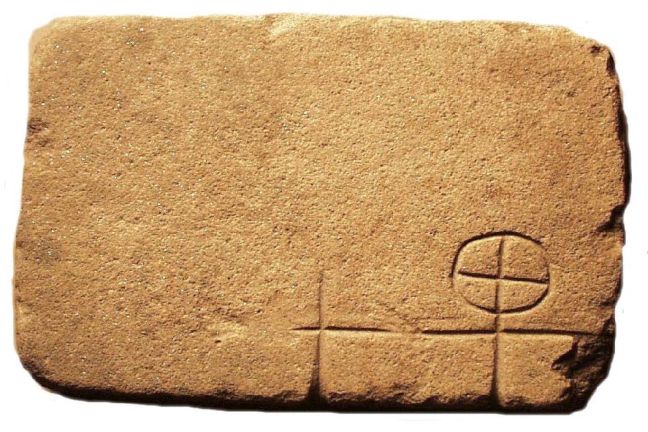 A portable altar found at Vindolanda © Vindolanda Trust and Chesterholm Museum
Another object from Vindolanda is a strap end that would have been fixed to the end of a belt strap, and probably depicts a bishop holding a crook.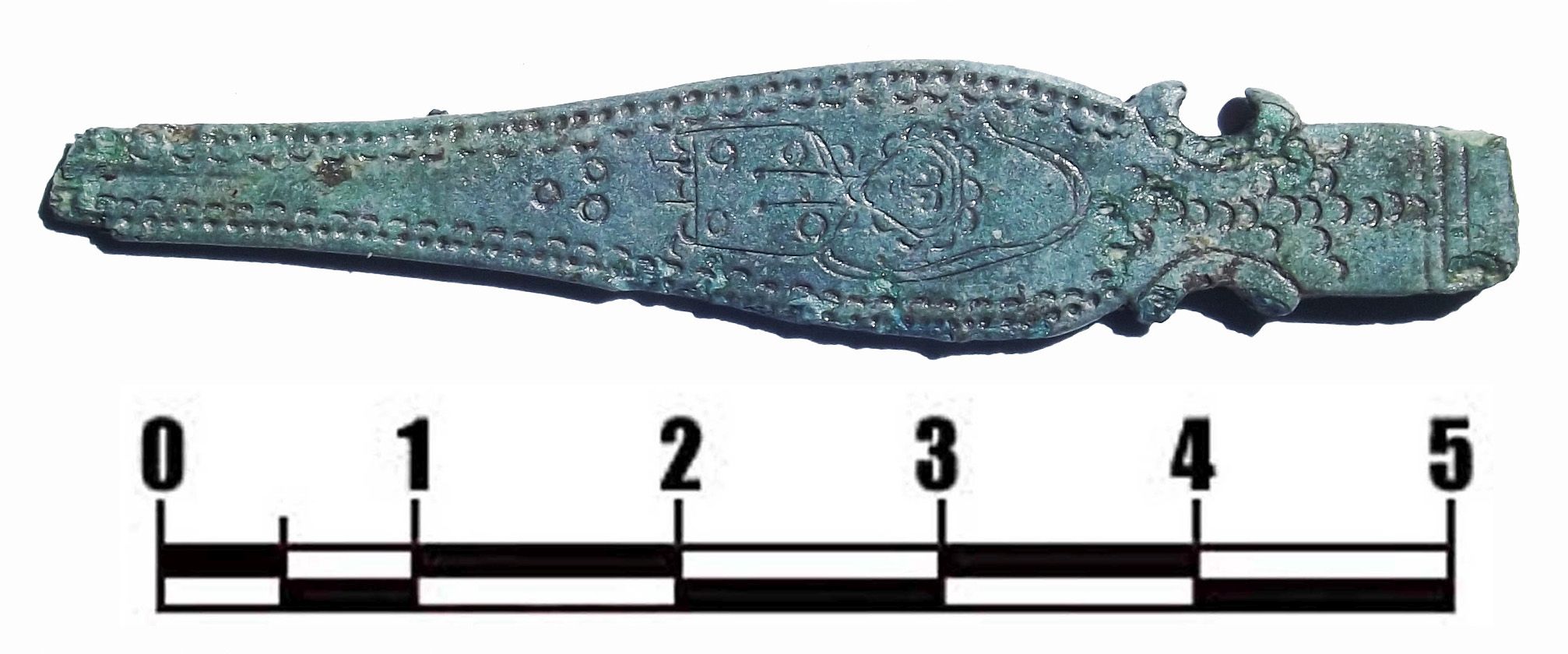 A metal strap end, found at Vindolanda © Vindolanda Trust and Chesterholm Museum. Scale shown in cm.
It is also during the late 4th century that pagan shrines or temples seem to go out of use. Coventina's Well at Carrawburgh was carefully closed in the later 4th century, perhaps in response to laws issued by the Emperor Theodosius.
Significantly, the Hadrian's Wall system continues to be an important Christian focus in the centuries following the end of Roman Britain. There are inscribed stones of what is believed to be an early medieval Christian type found in the Wall zone, for example the BRIGOMAGLOS tombstone (RIB 1722) from Vindolanda and the tombstones commemorating RIANORIX (RIB 862) and SPVRCIO (RIB 863) from Maryport.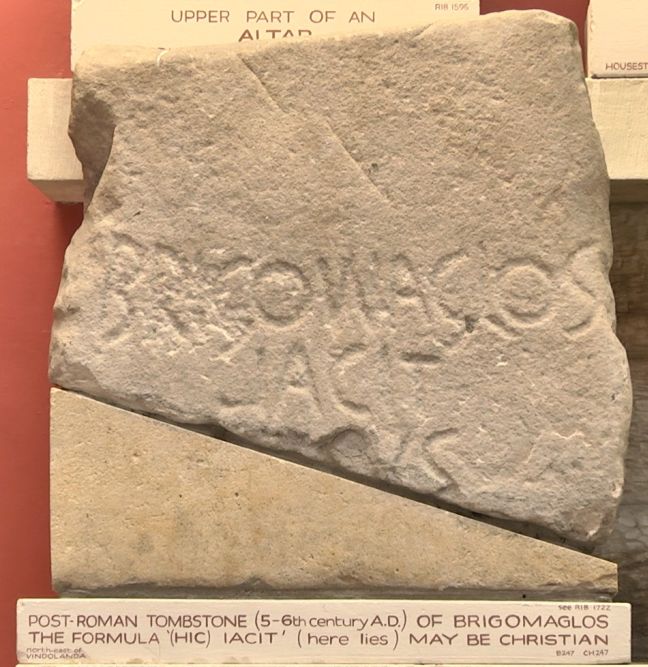 The Brigomaflos tombstone, found at Vindolanda © Newcastle University with permission from Chesters Roman Fort and Museum, English Heritage Hadrian's Wall
Christianity continued to flourish along the Wall corridor under the auspices of the kings of Northumbria. Hexham Abbey was founded by Wilfred in 674, and in 685, Cuthbert visited Carlisle and viewed a Roman 'fountain'. The Tyne Valley is also known for its fine concentration of early stone churches, arguably the best surviving concentration north of the Alps!
To learn more about the challenges of interpreting archaeological evidence for Christianity in Roman Britain, see Petts, D. 2003 Christianity in Roman Britain: An Archaeology, History Press Ltd: Stroud