The supply base at South Shields (Arbeia)
The Roman fort at South Shields (Arbeia) was a fairly typical fort of the 2nd century, with the distinct playing-card shape and the principia (headquarters building) in the centre. However, in the late 2nd or early 3rd century the fort was given a major makeover.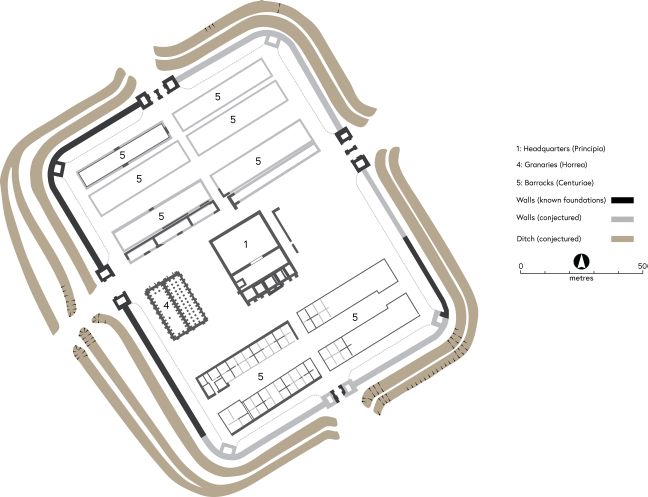 South Shields fort (Arbeia) in the 2nd century © Newcastle University
Larger version of plan of Arbeia
The length of the fort was extended in length by another third, and most of the buildings in the northern half of the fort were demolished and replaced with granaries. In total, there were 15 granaries built! The structure of these granaries with raised floors on short lengths of sleeper walls indicates that they were used to store foodstuffs. Remains of cereal grains and occasionally other plant remains have been found preserved in the subfloor space, confirming this interpretation.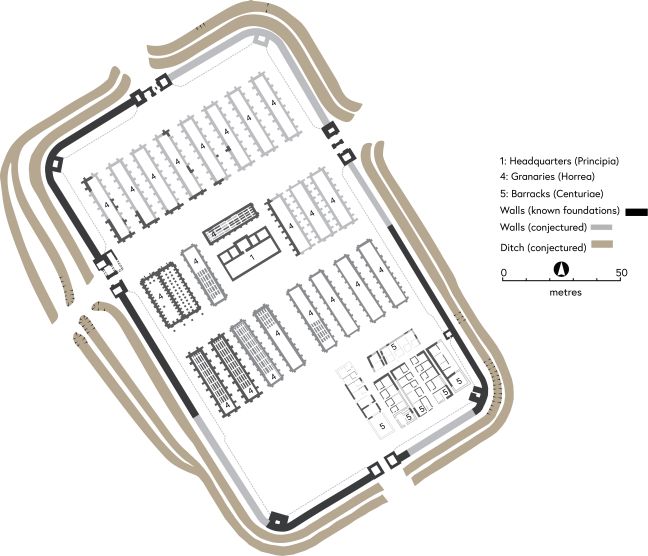 South Shields (Arbeia) fort in the supply base phase © Newcastle University
The northern half of the fort was separated from its southern half by a dividing wall across the width of the installation. Excavation in the southern half is not as extensive, but four barrack structures have been found. These discoveries suggest that the fort at South Shields was converted for use as a supply base. The northern half of the fort and its 15 granaries took supplies from sea-going vessels, while the southern half acted as a more normal garrison space.
Small finds found during the excavations of this supply phase include lead sealing that bear portraits of the Emperor Septimius Severus and his sons Caracalla and Geta. These suggest the fort was converted for supply use between 198 and 209. The renovation can probably be associated with the work of the governor Alfenus Senecio between 205-207 or the campaigns in Scotland led by Severus himself 208-209. In either case, it seems likely that part of the conversion of South Shields into a supply base was for the purpose of supporting Severus' northern campaign.
A second phase of the supply fort began around 220-235, and lasted until at least 270. This second phase saw the removal of the dividing wall and the addition of nine more granaries, bringing it up to a total of 24! A new principia was built in the southern extension, as the original fort principia was converted for use as a granary. New barracks were also built, again at the southern end of the fort.