Case Study: Bust of Ralph Vaughan Williams and Singing Stone
Now that we've got a better sense of the University of York as a built environment for displaying sculpture and the types of art in the University's collection, we can begin to look at the way sculpture is displayed at York.
The reason we started by learning more about the campus as a unique space is because environment is an influential factor in our encounter with sculpture. In other words, the place where we look at art can influence our response to that art. Art historians refer to this as the display contexts for art. Sculpture is interesting for thinking about display contexts because unlike painting, it is a three-dimensional object not nailed to a gallery wall. Therefore, there are all sorts of exciting possibilities for where to put it.
The art historian, Malcolm Baker summarises questions that are raised when displaying sculpture in an art gallery that used to live somewhere else like a church or palace:
"One central issue that any curator of sculpture has to confront is this: how are works of sculpture which were created for specific settings – often public settings – to be shown meaningfully in gallery displays which impose their own new viewing conditions and lock these sculptures into a new set of narratives? How do both curators and spectators engage with sculptures which were once site-specific but which are now de-contextualized or rather re-contextualized as gallery sculptures? For works which were envisaged from the start as sculptures to be displayed in galleries…But for devotional images which formed part of larger ensembles such as altarpieces or monuments designed from the start for a public, exterior and urban setting, the challenges are much more formidable, as any sculpture curator knows."
From this, we can see that the context of place matters. A religious sculpture from a church will have a different impact on the viewer if it is displayed in a public art gallery.
Another important context is how sculpture is displayed indoors or outdoors, and the characteristics of those spaces.
Let's turn to two examples from the University of York's sculpture collection to think about indoor and outdoor display contexts. The Bust of Ralph Vaughan Williams and Singing Stone are displayed close to one another at the Music department. However, the bust is displayed inside the concert hall and Singing Stone sits on the green space outside the building. Both sculptures are linked to important figures in music history. Ralph Vaughan Williams was a renowned English composer. Singing Stone commemorates Dame Janet Baker, a famous opera singer and former Chancellor of the University.
But how do these display contexts influence our encounter?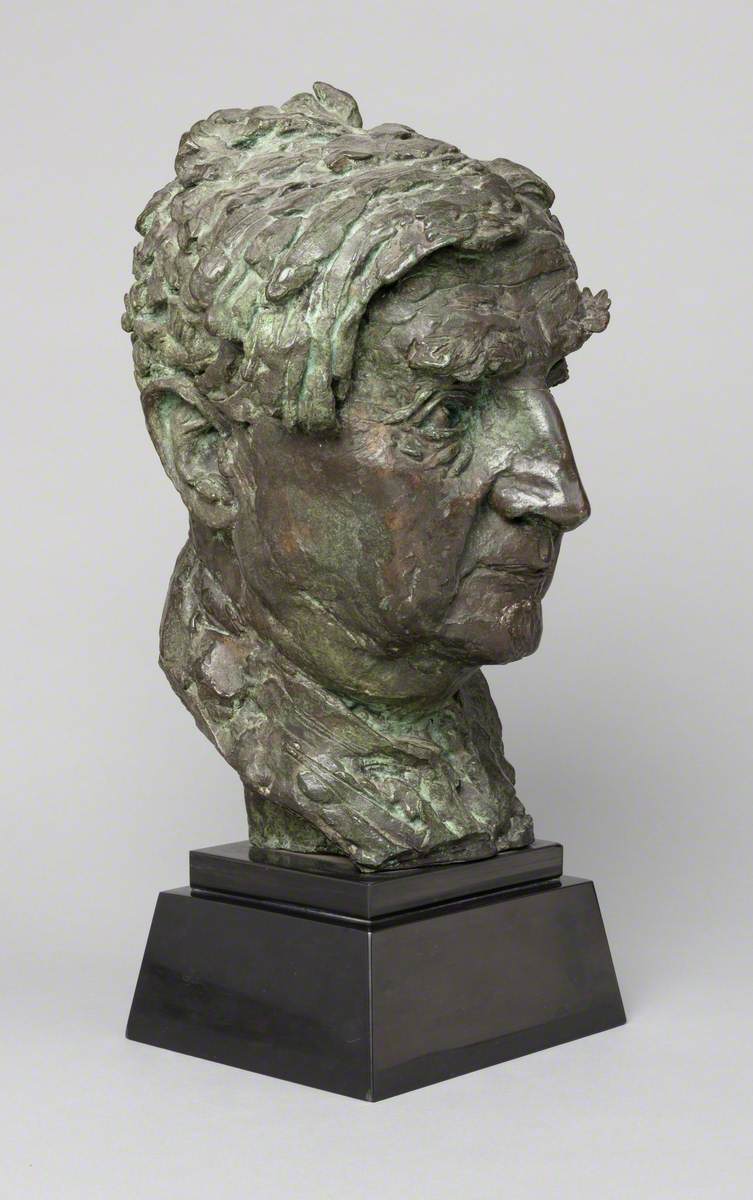 Bust of Ralph Vaughan Williams is displayed against a wall on a busy corridor at the entrance of the Jack Lyons concert hall, alongside other pieces of sculpture and awards won by members of the department. The sculpture is small, but is supported by a plinth (a heavy base) so it's eye-level with people who pass by. There is room to stop and look at the bust and examine it quite closely. In this respect, the space is quite similar to an art gallery. This sculpture might be familiar to some people – it was made by the well-known British sculptor, Jacob Epstein, and there is another edition of this bust in the National Portrait Gallery. As the viewer looks at the face of this famous composer, sounds from instruments and singing voices leak out from the concert hall. This sculpture is closely tied to the history and achievements of a national figure such as Williams but in practice, it could be displayed in any music hall or concert space.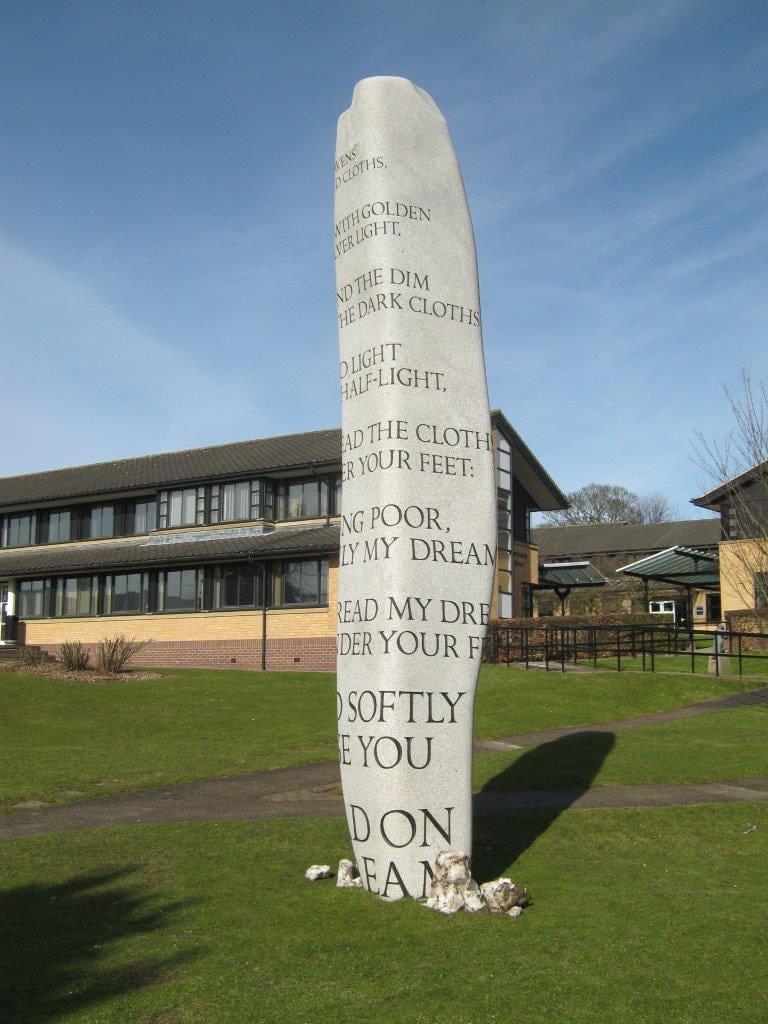 Moving outside where we'll find Singing Stone we encounter an altogether different type of sculpture. Singing Stone is a seven-metre-long glacial granite boulder from Bodmin Moor, Cornwall. Quite simply, it would not easily fit indoors! Written on its surface are lines from Dame Janet Baker's favourite poem by W.B Yeats. The words are wrapped around the boulder, requiring the viewer to walk around it to read, which suits the wide-open space where it's displayed.
Dame Janet was Chancellor of the University from 1991-2004 and while she is known as a musician, her relationship with the University of York goes beyond the Music department. When the sculpture was unveiled, she said, "I wanted to think of something that was enduring, for there to be something on the campus that everybody could enjoy for evermore. The idea of art on campus, of a statue inscribed with words was very appealing." Dame Janet wanted the sculpture to be for all students, not just the Music department, and the outdoor setting ensures that a greater number of people can enjoy the work. This sculpture is also site-specific: unlike Bust of Ralph Vaughan Williams it was designed for this exact spot.
Let's summarise the main differences between these two display contexts:
Bust of Ralph Vaughan Williams
Made by a well-known modern British sculptor, Jacob Epstein
Small-scale work
Displayed on a plinth against the wall like in an art gallery
Tied closely to the history of music and British concert halls, but not to the University of York
Singing Stone
Commissioned by the former Chancellor of the University, Dame Janet Baker
Large-scale work (could not easily be displayed indoors)
Requires an open space to read the words wrapped around the body
Tied to the University's history and intended to benefit students
Are there any unusual places where you've seen a sculpture before? How did that influence your experience? Were you surprised? Did you find it amusing or thought-provoking?
Reference
Malcolm Baker, 'Writing about Displays of Sculpture: Historiography and some Current Questions' Cahiers 8 (2016) https://doi.org/10.4000/cel.332.