0:04Skip to 0 minutes and 4 seconds Illustrated books made between the 16th and 17th century are called Nara ehon (Nara picture books). There are several theories as to why the name Nara figures in the denomination, but what seems certain is that the city of Nara has little to do with it. Moreover, some scholars use it to refer only to picture books, others also include scrolls under this denomination, while still others call illustrated scrolls Nara emaki (Nara picture scrolls). Their period of maximum popularity was the era between the late Muromachi and the first half of the Edo periods. After an initial phase, illustrated books also began to be bound in multi-section format (tetsuyōsō), but the most common format by far was this kind of "wide-page" fukurotoji-style book.
1:09Skip to 1 minute and 9 seconds Then, near the end of their period of popularity, this kind of book also became popular. If you try to hold them you immediately notice that they are rather heavy. The size is the same as these books, but they are much heavier. The difference is due to the type of paper used. It may be difficult to see it, but the surface of the paper has been coated with mica powder which gives it this characteristic sheen. The original paper, one of the pictures came off here, looks like this. These additives (rock dust, clay, etc.) were mixed directly with the vegetable fibers when the paper was produced.
2:19Skip to 2 minutes and 19 seconds The tiny particles settle in the gaps between the fibers and make the paper smooth and polished. This type of paper was made as a substitute for the opulent hishi paper and is therefore known as maniaigami (literally, "makeshift paper"). The use of this more readily available type of paper allowed to produce book in larger quantities, which is why so many of them survive. Another thing to notice in these horizontal Nara ehon are these small needle holes just above and below the lines of text. They were used to ensure the alignment of the text and to keep the number of lines per page consistent.
3:40Skip to 3 minutes and 40 seconds They are called hari kentō (needle layout) or hari meyasu (needle guides) and they were first used in Nara ehon in the late 17th century. However, they can be found in non-illustrated books dating from as far back as the late 16th century. Next time you see one of these "wide" Nara ehon check if there are any needle holes.
奈良絵本の流行
「奈良絵本」とは、室町後期から江戸前期にかけて製作された絵入写本の総称です。このステップでは、奈良絵本に用いられている装訂、サイズ、紙などについて見ていきましょう。
まず、テキストを読んだ後に、佐々木教授のビデオで実際の例を見てみましょう。
「奈良絵本」とは、室町後期から江戸前期にかけて製作された絵入写本の総称です。言葉の由来については諸説ありますが、明治時代以降の呼称であり、奈良との関係ははっきりせず、基本的に京都で作製されたものと考えられています。物語性のあるものだけでなく、和歌とそれを読んだ歌人の姿を描く「歌仙絵(かせんえ)」に属するものや、和歌の内容を絵にしたものなど、ストーリー性のないものも存在しています。これまでに見てきた絵入り冊子本も奈良絵本と称することのできるものですが、ここでは物語性のない例を上げておきたいと思います。
この『小倉山百人一首』(図1)は、有名な和歌のアンソロジーである『百人一首』に作者の肖像を加えたものです。

図1. 小倉山百人一首
Click to take a closer look
またこちらの『扇の草紙』(図2)は、和歌の内容を絵画化したものを扇の形の中に描き、傍にその和歌を書き添えたものです。実際にこのような扇も作られたりもしたようですが、和歌の内容をどの様に絵画化しているのかを楽しんだものと思われます。

図2. 扇の草紙
Click to take a closer look
奈良絵本という詞には、冊子本だけを対象とするという考え方と、巻子装をも含めるという考え方がありますが、製作の場は共通していると考えられるので、この時期の絵入巻子装本を特に「奈良絵巻(ならえまき)」と呼ぶことが広まってきているようです。
この本『しゆてんとうし』(図3)は、冊子の奈良絵本が盛んに製作されていた時代の奈良絵巻の例です。冊子との差別化をはかったのか高級な仕上げとなっています。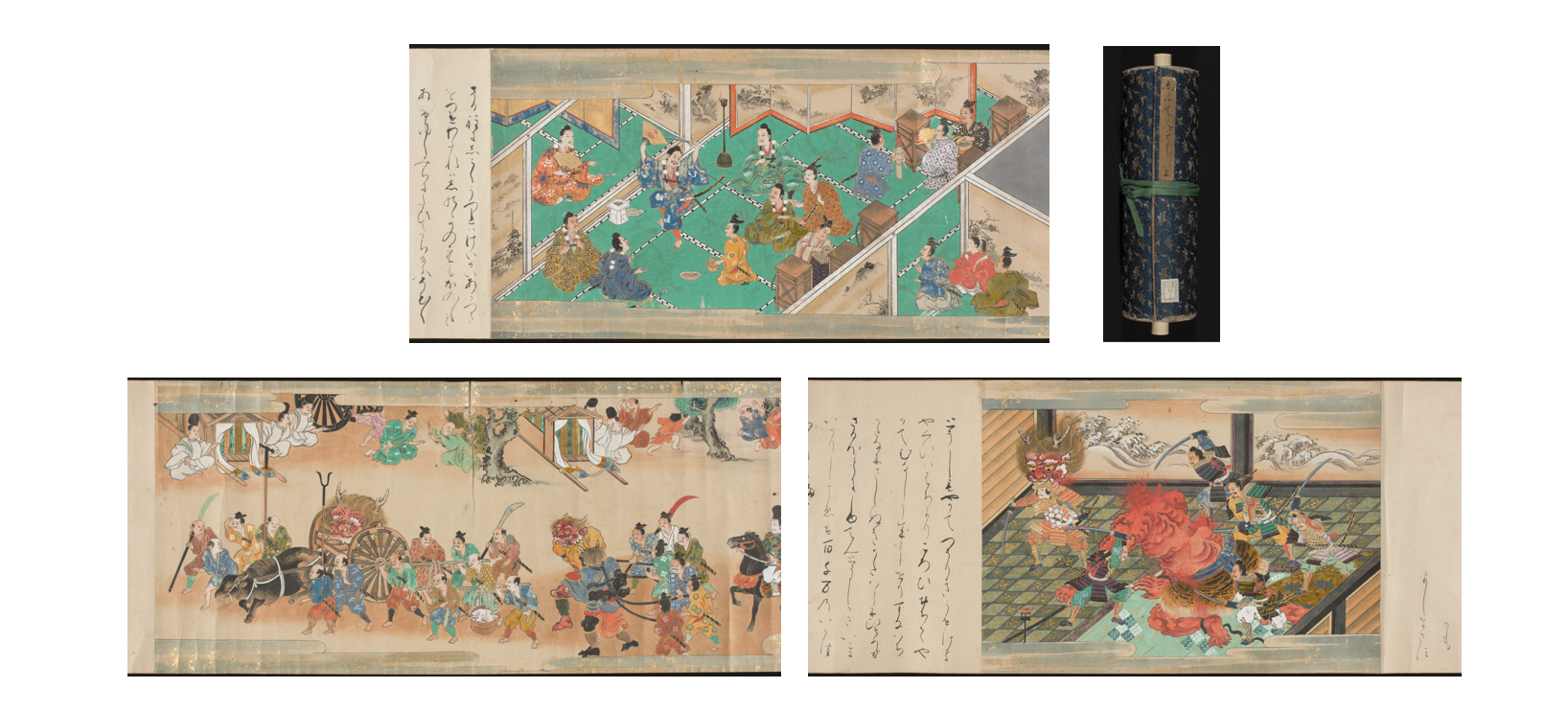 図3. しゆてんとうし
Click to take a closer look
袋綴の横本は奈良絵本の最も流布した形態と言えるものですが、17世紀後半になると高級な斐紙の代用として用いられた、石や粘土の粉を混ぜ込んで漉かれた「間似合紙(まにあいがみ)」を用いたものが目立つようになります。「間似合い」という詞は代用を意味しています。この紙を用いたものは挿絵もやや単純で、色数も比較的少ないものが多く、廉価版として製作されたことが理解できます。この本『橋姫』(図4)は、間似合紙を用いた典型的な例です。

図4. 橋姫
Click to take a closer look
また間似合紙を使った奈良絵本は、「針見当(はりけんとう)」と呼ばれる、行を揃える為に、行毎の文字の書き出しと終筆の位置に針で穴を開けた目印がついていることが多くあります。この目印は、一行とばしであったり、書き出し位置にしかなかったりと、幾種類かあるようですが、何れも行を揃えるために加えられたものです。いつから始まったのか不明ですが、少なくとも室町末頃の間似合紙ではなく、挿絵もない写本にも存在していることが確認できています。
ビデオで紹介された書籍