Prison Reform
You might recall the image below from the video in step 3.8. It's an engraving that depicts the prison reformer and philanthropist, John Howard (1726–1790). It's an idealised image, of course, and it shows Howard coming to the aid of an imprisoned soldier and his family. But it captures an image of Howard that was widespread by the end of the eighteenth century. It also offers an indirect look at prison life in late 18th-century Britain.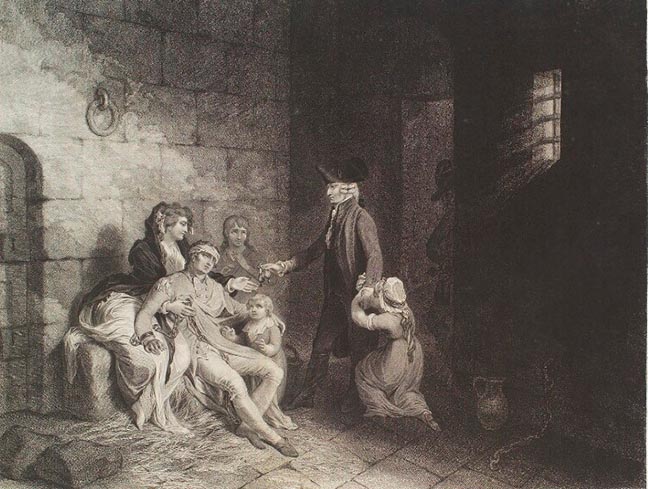 'The triumph of benevolence', by James Gillray, published by Robert Wilkinson, stipple and line engraving (1788), NPG D13059 © National Portrait Gallery, London
Does anything depicted in this engraving surprise you?

Why do you think Howard is shown giving money to the prisoner's family? Why might someone in prison in the 18th-century need money? Why might they have their family with them?

If one were to update this image in a way that depicted 19th-century prison life, what do you think might be different?
The State of the Prisons in England and Wales
Howard's reputation as a prison reformer largely rested on his seminal report on The State of the Prisons in England and Wales. This work first appeared in 1777, and it was frequently revised and reprinted thereafter. Reading through successive editions of Howard's Report can afford an insight into changes in the condition of prisons in England and Wales, such as the prison at Lancaster Castle, during the late 18th century.
Howard had a good deal to say about Lancaster Castle in the first edition of his Report. Specifically, he noted that:
THE CASTLE-YARD is spacious…. Petty offenders are sometimes sent hither, because the Bridewells1 are distant. There is a large Room for them near the Gate and they are, as they should be, kept separate from Felons.

Men and Women-felons have their Day-rooms apart, at the upper end of the Yard. Women sleep in their Day-room. —Men have for their Night-rooms two vaulted Cells. One of them, the Low Dungeon, is ten steps under ground, twenty-one feet by nine, extremely close, dark, and unwholesome; so very hot even in Winter, that coming from it in the morning into the cold air must be pernicious2. Their other Cell, the High Dungeon, is larger but close and offensive, though not under ground.

I once saw three Felons sick: but the Recorder, Mr. Fenton, gave immediate orders for their relief by better nourishment &c. and they soon recovered. No Infirmary.
1 Bridewell: a house of correction, conventionally for petty offenders.
2 Pernicious: harmful
When Howard published the second edition of his Report in 1780, he reprinted the foregoing commentary, but he added that:
These remarks were made in 1776: at my visit in 1779, I had the pleasure to find six cells made in the upper stable, 10 feet by 6 feet 8 inches, each having an aperture about 2 feet by 1½, and two good rooms fitted up for an infirmary in the dungeon tower. One of the six cells is appropriated to drunken and riotous debtors, over which this inscription is painted on a board, "This room is for unruly misbehaved debtors, to be confined in, until they promise to behave well."

At my last visit there were three new cells (10 feet by 6½), two doors in each, one of which was iron-latticed. Here was also a separate closet1 for women, which is generally wanted in gaols. —This gaol is regularly white-washed, and kept very clean.
1 Closet: privy
Now that you've read these excerpts, please respond to the following questions:
Did any of the items Howard describes surprise you? If so, what were they?

Why do you think Howard took an interest in the changes he noted at Lancaster Castle? Of which changes does he seem to approve most?

Why do you think Howard was concerned by the Low Dungeon on his visit to Lancaster in 1776?

The year 1776 coincides with a notable event in British history. What event might that be? How do you think that event might have affected conditions in British prisons?