A Last Dying Speech & Confession of Mary Chandley
In this step we will examine 'The Last Dying Speech and Confession of Mary Chandley' (1808).
This sort of handbill was not uncommon in the 18th century and early 19th century. Such items were often produced by prison officials and sold for profit around the time of a prisoner's execution with the intention that they affect the lives of readers.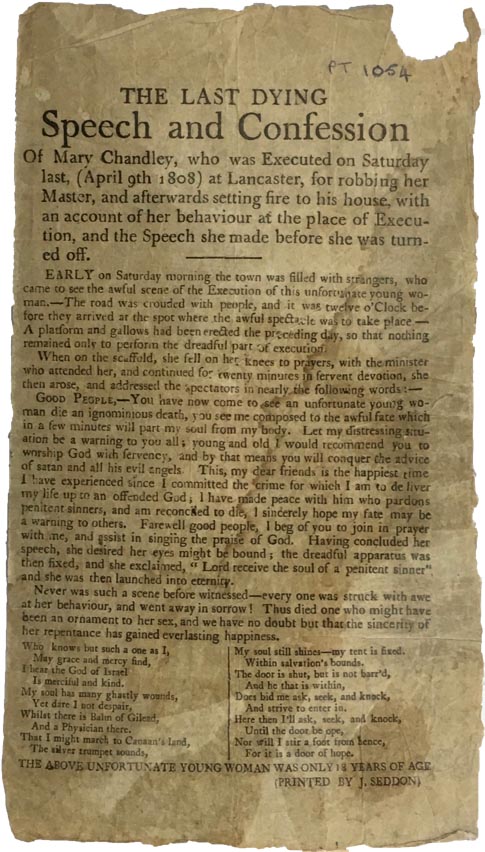 If you have difficulties reading the text, view larger image and try zooming in: jpg file or PDF.
Or see the transcript lower down.
Please consider the following questions and share your reflections online.
What do you think was the purpose of this document? What message does it try to impress upon the reader?

The text evidently contains a dying speech, but what confession does it contain?

Why does the text suggest Mary 'might have been an ornament to her sex'?

Did you notice the verses at the bottom of the handbill? These are taken from a version of the hymn 'Who knows but such a one as I' (1693), which was written by John Mason (c.1646–1694).

Who do you think arranged for this hymn to be appended to Chandley's speech? Why do you think it was included?
Transcript
EARLY on Saturday Morning the town was filled with strangers, who came to see the awful scene of the Execution of this unfortunate young woman.––The road was crowded with people, and it was twelve o'Clock before they arrived at the spot where the awful spectacle was to take place.––A platform and gallows had been erected the preceding day, so that nothing remained only to perform the dreadful part of execution.

When on the scaffold, she fell on her knees to prayers, with the minister who attended her, and continued for twenty minutes in fervent devotion, she then arose, and addressed the spectators in nearly the following words:—

GOOD PEOPLE,—You have now come to see an unfortunate young woman die an ignominious death, you see me composed to the awful fate which in a few minutes will part my soul from my body. Let my distressing situation be a warning to you all; young and old I would recommend you to worship God with fervency, and by that means you will conquer the advice of Satan and all his evil angels. This, my dear friends is the happiest time I have experienced since I committed the crime for which I am to deliver my life up to an offended God; I have made peace with him who pardons penitent sinners, and am reconciled to die, I sincerely hope my fate may be a warning to others. Farewell good people, I beg of you to join in prayer with me, and assist in singing the praise of God. Having concluded her speech, she desired her eyes might be bound; the dreadful apparatus was then fixed, and she exclaimed, "Lord receive the soul of a penitent sinner", and she was then launched into eternity.

Never was such a scene before witnessed—every one was struck with awe at her behaviour, and went away in sorrow! Thus died one who might have been an ornament to her sex, and we have no doubt but that the sincerity of her repentance has gained everlasting happiness.