Risk scoring systems and prediction models
In the previous video Dr Ramani Moonesinghe introduced us to the importance of risk assessment in the perioperative period. In this article we are going to explore risk prediction methods in a little more detail.
There are currently three methods of risk prediction available to perioperative teams with examples:
1. Serum biomarkers;
Highly sensitive Troponin T (hs TnT)
Brain Naturetic Peptide (BNP)
2. Functional assessments;
Cardio-pulmonary exercise testing (CPET - we will look at this in more detail in the next section)
3. Risk scoring systems and risk prediction models;
American Society of Anaesthesiologists Physical Status score (ASA Score)
Physiological and Operative Severity Score for the enUmeration of Morbidity and Mortality (P-POSSUM),
Surgical Outcome Risk Tool (SORT)
Lee revised cardiac risk index
Nottingham hip fracture score
A risk scoring system, such as the ASA score, assigns a score dependant on factors identified as independent predictors of an outcome. [1] Although risk scoring systems score a patient on a scale that allows comparisons with other patients, they do not provide an individualised risk prediction of an adverse outcome.
By contrast, a risk prediction model such, as P-POSSUM or SORT will, by using the patient's own data, provide an individual estimation of perioperative risk. Although risk prediction models may be more accurate predictors of an individual patient's risk than risk scores, they are more complex to use in the day-to-day clinical setting.
We will now look these risk prediction models in more detail.
Physiological and Operative Severity Score for the enUmeration of Morbidity and Mortality (POSSUM)
Developed in 1991, POSSUM was a scoring system devised for audit purposes within several surgical specialties. Multivariate logistic regression was used to identify the most significant physiological and perioperative variables for the prediction of 30-day morbidity and mortality.
It was composed of 18 components: 12 physiological status variables (of which some include a subjective assessment) and 6 surgical variables.
Physiological Parameters
Operative Parameters
Age
Cardiac
Respiratory
ECG
Systolic BP
Pulse rate
Haemoglobin
White cell count
Urea
Sodium
Potassium
Glasgow Coma Scale
Operation type
Number of procedures
Operative blood loss
Peritoneal contamination
Malignancy status
CEPOD
Figure 1. A summary of the physiological and surgical variables used in the original POSSUM score. (CEPOD = defines the urgency of surgery)
The morbidity and mortality can then be calculated using the sum of the physiological and surgical variables and entering them into two mathematical equations.
In 1998, the P-POSSUM score was developed in Portsmouth, England (hence P). It uses alternative risk equations, but the same physiological and surgical variables, and has been validated in a large, single-centre study and shown to predict in-hospital mortality more accurately than POSSUM. [2]
Calculating the risk of 30 day mortality for an individual patient using the P-POSSUM risk prediction model can most easily be done by using an online calculator [3] or downloading the app onto your mobile device.
Figure 1. Screenshots from the online p-possum risk calculator
Surgical Outcomes Risk Tool (SORT)
A new surgical risk prediction tool was developed in 2014 as part of a collaborative effort between researchers from NCEPOD and the UCL/UCLH Surgical Outcomes Research Centre (SOuRCe).
The Surgical Outcome Risk Tool (SORT) was developed using data from an observational study of over 16,000 patients conducted by the National Confidential Enquiry into Patient Outcome and Death, the "Knowing the Risk" study. [4]
The tool is simple and uses data which is all available preoperatively, and does not require any blood tests. It provides a percentage 30-day mortality risk for adult inpatients undergoing non-cardiac, non-neurological surgery. SORT has been validated for use in predicting post operative morbidity when used preoperatively for major elective surgical patients, in combination with clinical judgement. [5]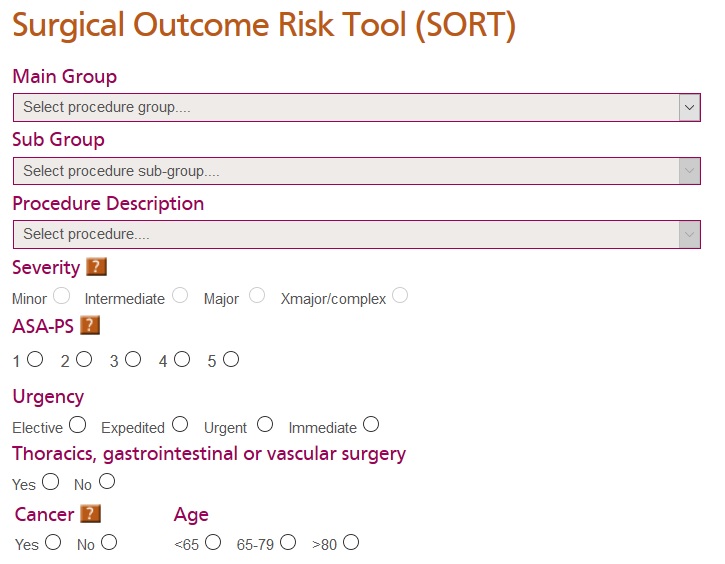 Figure 3. Screenshots from the online SORT calculator
A website [6] and app have been developed to help clinicians use it at the bedside.
After watching the next video on using CPET for risk prediction you will be given the opportunity to use these tools to provide an estimated 30 day mortality for the four patients we introduced you to in Step 2.7.
---
References
© University College London, Perioperative Medicine Master's Programme