0:11Skip to 0 minutes and 11 seconds What are the most important aspects of care for the patient with a hip fracture? – is that you've got to optimise the patient as soon as they hit the front door. There really is no time for putting anyone in a ward and not really doing anything. And I think the important aspects– the first important aspect is analgesia And I think there are lots of good places in Britain. We have a– not a uniform service where the emergency department can do nerve blocks on the patients. There are some places where they do that very well. And it's important that non-medical staff are taught to do those blocks as well. And in some hospitals, the nursing staff, physiotherapists are doing them.
1:03Skip to 1 minute and 3 seconds And even, in some countries, paramedical staff are doing. So analgesia is very, very important for a hip fracture patient.
1:16Skip to 1 minute and 16 seconds I think very, very good medical assessment of the patient and also resuscitation, so you mustn't neglect that this is a long bone fracture. The blood loss can be considerable. And if you look on average in hip fractures, they will drop– I don't know what units you want to use– 25 grammes per litre of haemoglobin or 2.5 grammes per deciliter. They'll drop 2 and 1/2, 25, depending what units you use. And you have to hydrate them. Because the patients on average age now are 85 in Britain, I think it's also important to have a good risk assessment of what's going to happen.
2:06Skip to 2 minutes and 6 seconds And the one tool which stands out is a tool devised by Iain Moppett for the Nottingham Hip Fracture Score. And that just gives you an idea of how the patient is going to do with a number of preoperative variables. In summary, up to analgesia, resuscitation– good medical preassessment, and probably a pretty good drug review as well.
2:41Skip to 2 minutes and 41 seconds How can the audit of hip fracture care be improved? So what you can see already is that we've got no standardisation of process within the health service. So I think that would really help, to everyone bought in to a truly national– I think the data would be better. Looking at the perioperative aspect of it, which is really as the patient hits the front door to the operative episode and the first couple of postoperative days, I think that we have to have more robust data collection. So for example, I think we need to know exactly what the blood pressure of the patients is intraoperatively. I think we need to know what level of sedation they're given, if they're using regional anaesthesia.
3:34Skip to 3 minutes and 34 seconds And we have to make sure that that data is collected as it's actually happening. And what I would like to see is a standardisation of the data collected for perioperative national audit.
Caring for hip fracture patients: an expert's opinion
Dr Richard Griffiths is an anaesthetic consultant at Peterborough and Stamford hospitals. He is the founder of the NHS Hip Fracture Perioperative network.
In the previous step, you learned about the National Hip Fracture Network. In the video above Dr Griffiths talks about what he believes are the most important parts of the care pathway for patients with hip fractures and also discusses the next step in collecting data on these patients to help improve care.
In the video, he mentions the Nottingham hip fracture score which can be used as a risk assessment tool preoperatively. The data required for this score is shown in the table below.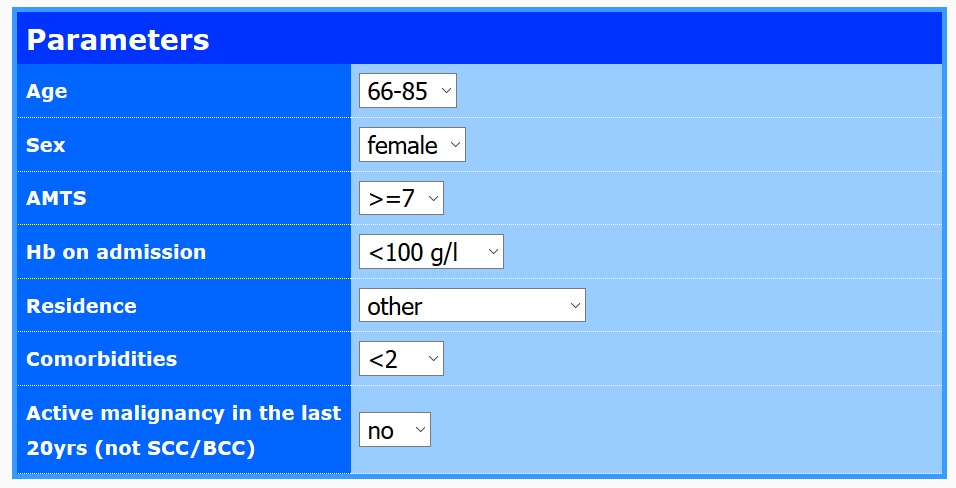 The score can be calculated using this online NHF score calculator
On the next page we will re-visit the poll you answered at the beginning of the week - have your opinions changed?
© University College London