Perioperative cognitive disorders
In this article Dr Gautam Kumar, an anaesthetic consultant at UCLH, introduces the concept of perioperative cognitive disorders, their diagnosis, management and consequences.
Any patient's cognition can be affected acutely by the insult of surgery, anaesthesia and postoperative recovery. Postoperative cognitive issues, however, are more common in those with underlying cognitive impairment and therefore in the older person.
Three perioperative cognitive issues encountered include postoperative delirium (POD), postoperative cognitive dysfunction (POCD) and dementia. [1]
Diagnosis
Crucial to making any cognitive diagnosis is an excellent patient and collateral history to elucidate the features and timings of changes in behaviour and memory. Many cognitive tests exist to corroborate a diagnosis and clinically 5 tests are commonly used:
Dementia/POCD
• Mini Mental State Examination – 30-point test. Copyrighted. Mentioned in the NICE guidelines. Possible cognitive impairment <25/30
• Montreal Cognitive Assessment – 30-point test. Free to use. Validated in 21 languages. Possible cognitive impairment <26/30. [2]
• Abbreviated Mental Test Score (AMTS) – 10-point test. Possible cognitive impairment <7/10.
Delirium
• 4AT - a newer tool that incorporates a shortened AMTS. [3]
• Confusion Assessment Method. To make the diagnosis Features 1 and 2, plus 3 or 4 must be present (see figure 1.) [4]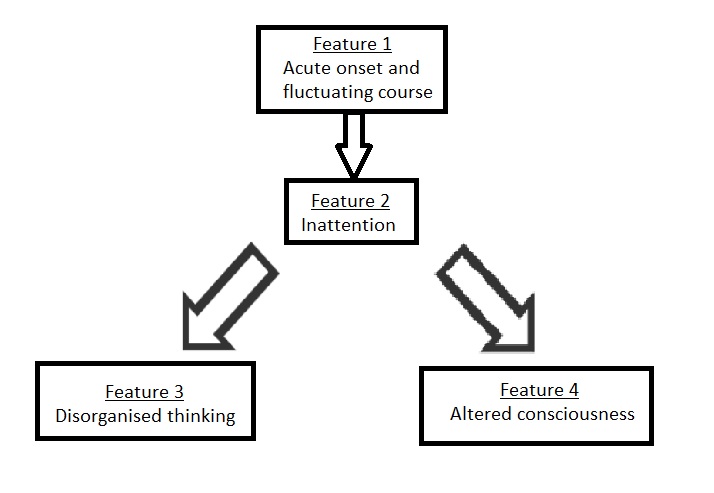 Figure 1.
It is important to realise that patients with previously undiagnosed cognitive impairment (up to 88% undiagnosed) [5] are at high risk of postoperative cognitive issues, which could have been predicted, mitigated against and if occurred, identified early for management.
Consequences of perioperative cognitive issues
Consequences of POCD and especially POD include immediately: death, morbidity (including pneumonia, pressure ulcers, falls and injuries) and prolonged length of stay, and long term: death, cognitive problems and discharge to institutional care.
The ISPOCD1 and ISPOCD2 studies looked at long-term cognitive consequences postoperatively and showed 2 major findings: [6]
POCD resolves completely by 1-2 years, but 1/10 people will develop cognitive impairment anyway as per the background rate in the general population.

Surgery and anaesthesia causes an acute change in cognition, for which most people improve within a few months. However, 1/10 will have accelerated cognitive decline.
Another study showed a high mortality rate associated with a diagnosis of delirium due to any cause. [7] The rate of death at 12 months was 14.4% vs 41.6% (figure 2). Psychological changes occur as well. Those that recall delirium report clouding of consciousness, hallucinations and delusions often related to staff and other patients.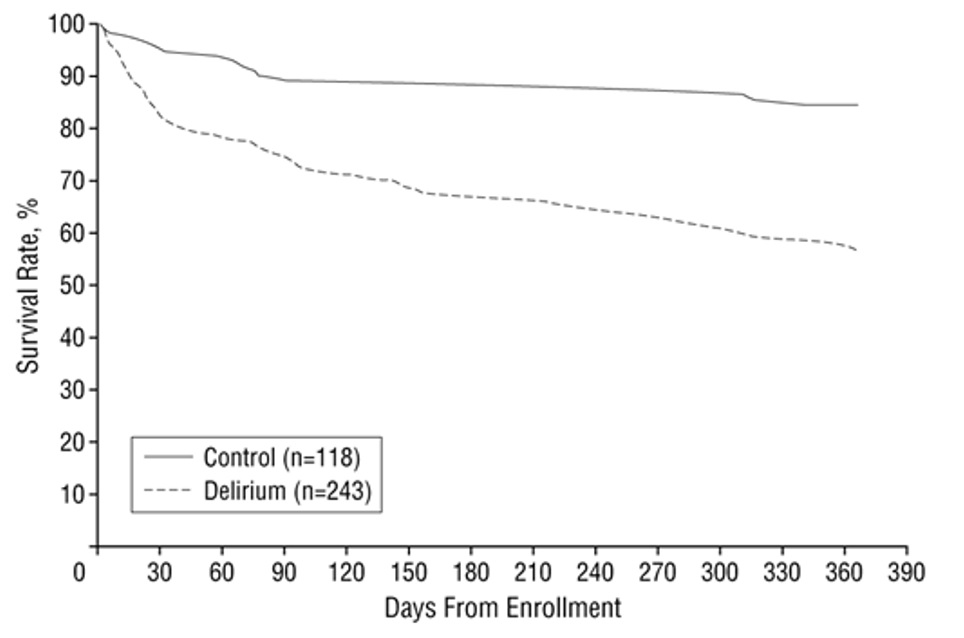 Figure 2. Unadjusted Kaplan-Meier survival curves of the 12-month mortality rate in patients with and without delirium
View the graphic on page 5 of the PDF.
Causes and management of perioperative cognitive issues
POD/POCD should be thought of as a consequence of the entire perioperative period, rather than caused by one part such as the operation or anaesthetic. It is difficult to tease out each intervention from the other; few people undergo an operation without anaesthetic, and all have a period of recovery with potential complications, any part of which can lead to POD.
At present, no evidence exists confirming which type of anaesthetic influences POD/POCD. A systematic review and meta-analysis looking at this showed no significant difference. [8] This is partly due to the heterogeneous methods of measuring and describing the syndromes - in this study 35 different methods were found, and may have been contributed by the strict inclusion criteria possibly narrowing the field of search.
Understanding the causes of delirium can lead to preoperative optimisation to reduce risk as well as postoperatively identifying and providing early management. An example of possible strategies can be broken down as:
Preoperatively - reducing use of deliriogenic drugs including benzodiazepines and anticholinergics; and identifying risks including un/diagnosed cognitive impairment, drug, nicotine or alcohol dependence, constipation, urinary retention, renal failure.

Intraoperatively - using optimal doses of analgesia and sedation such as opiates and benzodiazepines while considering renal function and body weight, and possibly using regional anaesthesia where possible (although not proven.)

Postoperatively - a multicomponent intervention including involvement of a geriatrician.
The Hospital Elder Life Program looked at a multicomponent intervention aimed at reducing the risk of developing delirium in medical patients. [9] The adapted table below looks at risk factors for delirium and possible interventions:
Risk Factor
Intervention Protocols
Low baseline MMSE (<20)
Orientation - board with names of care-team and day's schedule
Sleep Deprivation
Non-pharmacological - at bedtime: warm drink, relaxation tapes, back massage
Sleep enhancement - reducing noise and disturbance around the ward
Immobility
Early mobilisation - ambulation exercises; minimal use of immobilising equipment (e.g. bladder catheters or physical restraints)
Visual Impairment
Visual aids (e.g. glasses) and adaptive equipment (e.g. large-print books)
Hearing Impairment
Portable amplifying devices, earwax disimpaction and special communication techniques
Dehydration
Early recognition and volume-repletion (ideally orally)
Conclusion
POD and POCD are common occurrences in the perioperative period with high morbidity and mortality. Clinicians are becoming more aware that these cannot be ignored and need to be highlighted early in the surgical pathway.
---
References
© University College London