Advanced care planning and end of life discussions
In this step Dr Douglas Blackwood, an anaesthetic registrar, discusses the importance of advanced care planning and end of life discussions in perioperative care.
Whilst modern medicine has done a remarkable job curing disease and extending life no healthcare syllabus would be complete without a recognition that death and dying remain an inescapable part of the human condition.
Where possible, perioperative healthcare workers must anticipate and support patients who are likely to be coming towards the end of their life. They must be familiar with a framework for Advance Care Planning (ACP) which is both professional and sensitive to the needs of patients and those closest to them.
Is this an issue for the perioperative team?
In the UK there were 11.6 million completed procedures and interventions in 2016-17. [1] Although less than one percent of patients undergoing surgery died during their hospital admission there remained 20-25,000 deaths in the subsequent perioperative period. [2]
In the context of an ageing population [3] this becomes even more important. There is a wealth of data showing that the increasing age of a patient is associated with increasing morbidity and mortality following surgery. Examining the older surgical population, the REASON trial highlighted an increased mortality as patients get older and/or had comorbidities (Fig. 1) [4].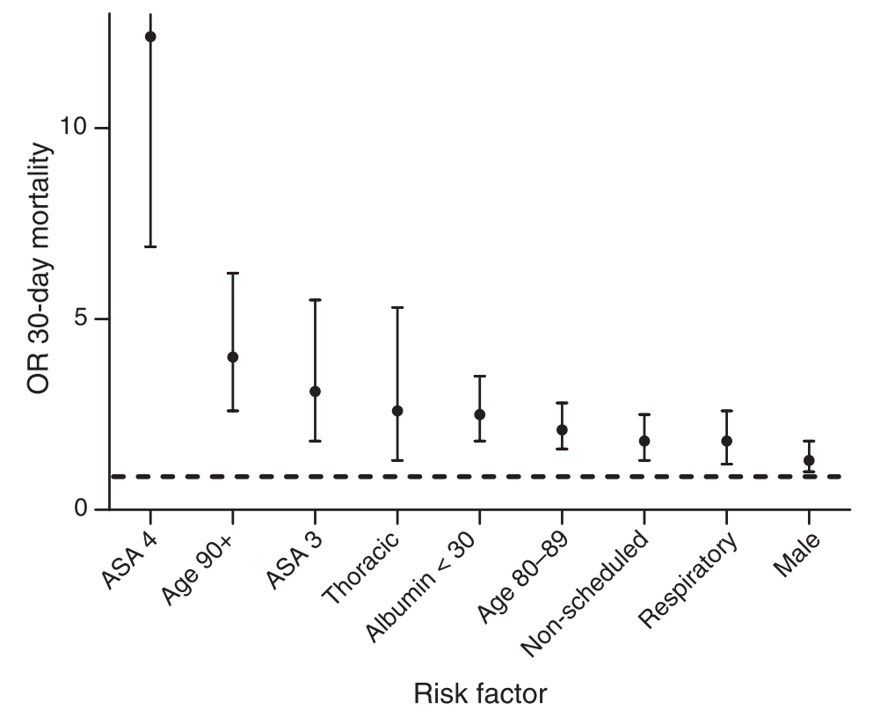 Figure 1. Adjusted Odds Ratios (OR) for 30-day mortality (dots) with 95% confidence interval (bars) for pre-operative and operative factors associated with increased mortality ranked by OR point estimate. The dotted line represents an OR of 1.
View this graphic on page 5 of the PDF.
In the US it has been demonstrated that of those over the age of 65 years who die, nearly a third will have undergone an inpatient surgical procedure in the previous year. [5]
Projections are of an increasing number of surgeries being performed in an ever-growing high-risk group of patients. Whilst for the majority, surgery proceeds without complication there is a significant, and growing, subset for whom this is not the case. These 'high risk' patients have been estimated to have a mortality rate as high as 10-15%. [2]
It would seem prudent that perioperative encounters are used as opportunities to begin the process of a constructive and documented discussion of end of life wishes.
Identifying the right patients
Whilst age is one factor in predicting 'high risk' patients it clearly has to be supplemented with other information. There are various risk scoring systems available but most look at 30-day morbidity and mortality whilst in regards to ACP and end of life matters we need to take a longer view.
The GMC (General Medical Council) defines those at end of life as "those expected to die within the next 12 months". [6]. The Gold Standards Framework Prognostic Indicator Guidance [7] has been developed for use in primary care to help community based doctors identify those patients who are likely to die in the near future. In the hospital setting, a study from Australia found that of those meeting "Gold Standards Framework criterion", fifty percent had died at one year and seventy percent had died at 3 years. [8] This work suggests that there is merit in using these criteria to try and identify patients who may be nearing the end of life.
The first step is to ask what is termed the 'surprise question': "Would you be surprised if the patient were to die in the next few months, weeks or days?" or in the inpatient setting: "Would you be surprised if the patient were to die during this hospital admission?". The idea is that the answer to this question should be an intuitive one bringing together a range of factors including clinical, co-morbidities, social and others that give a whole picture of deterioration.
Secondly, look at whether the patient has any general indicators of decline.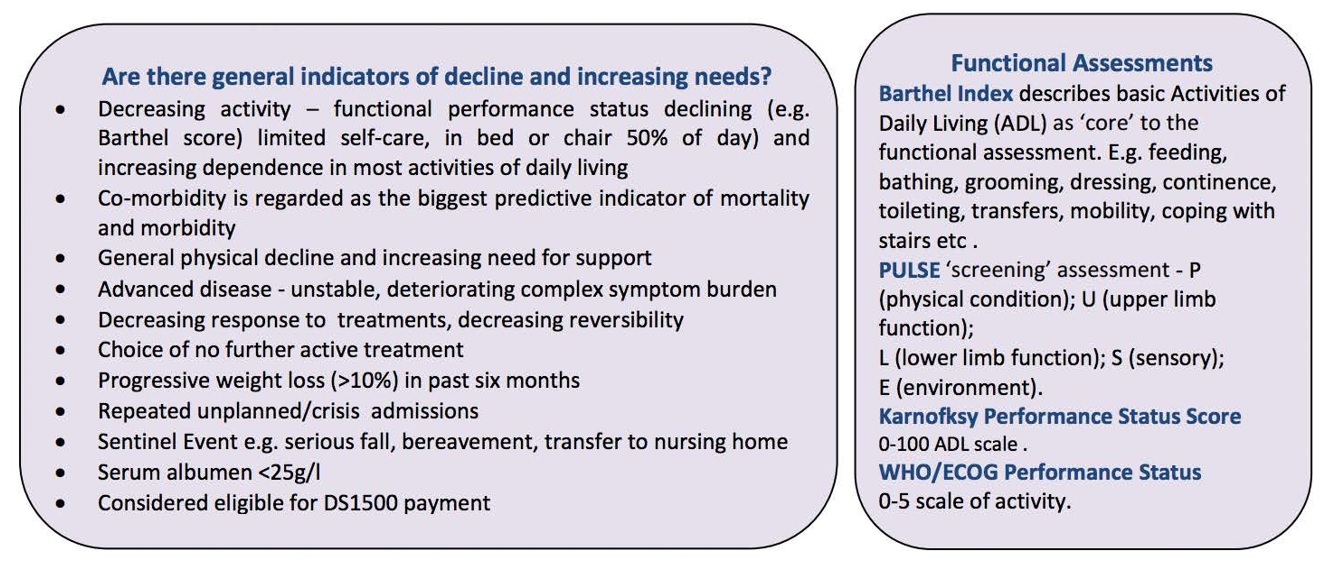 Finally, look at whether the patient has any specific clinical indicators that may suggest that they are nearing the end of life.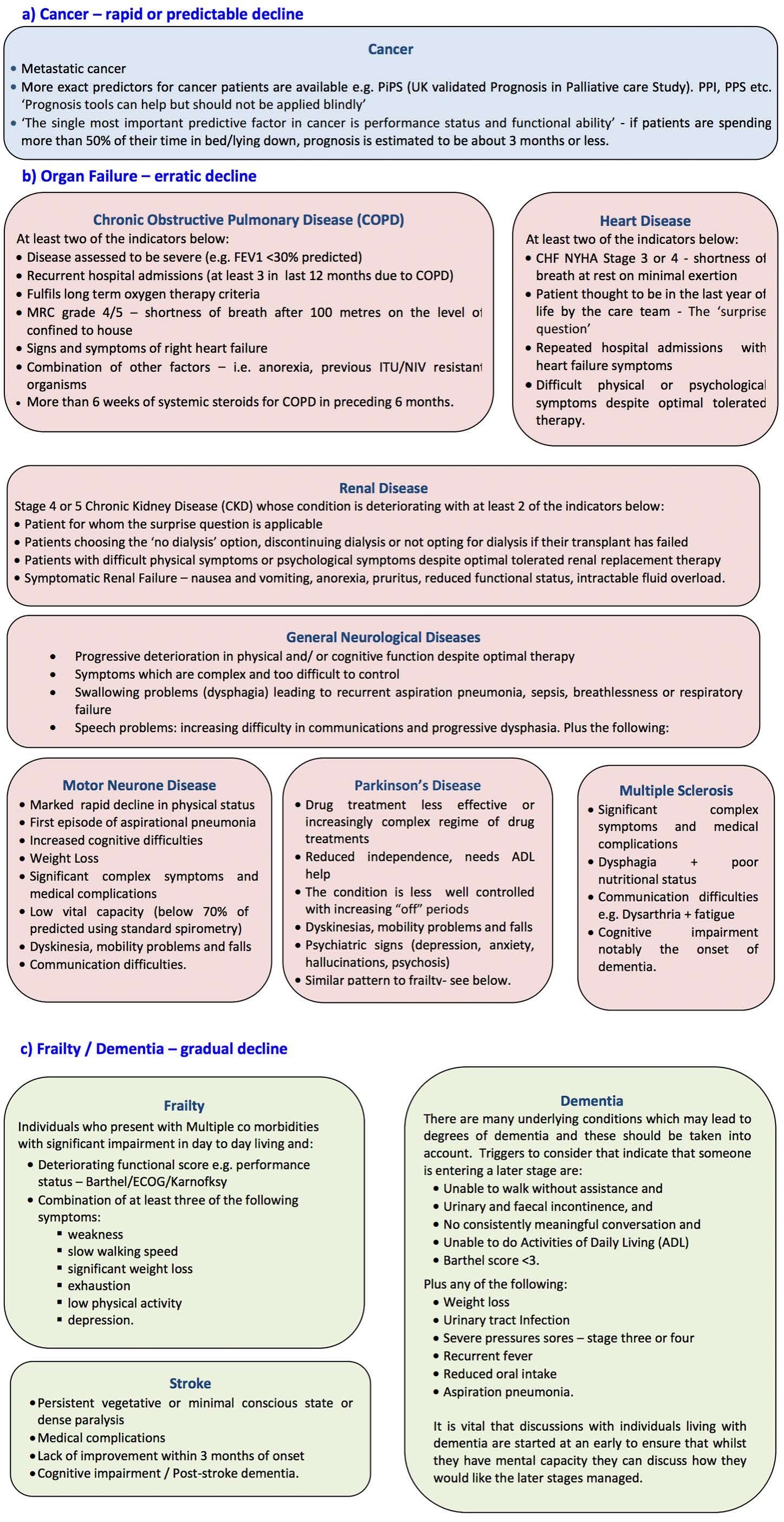 View the graphics on pages 3 and 4 of the PDF.
What is advanced care planning?
The nature of critical illness means that as we become unwell we often lose the ability to communicate our preferences and wishes. For this reason it is key to have discussions with clinicians and loved ones early before a crisis point has been reached and when capacity remains intact. In the UK the Mental Capacity Act 2005 [9] codified existing law and provides a number of ways in which patients can make treatment decisions if they lose capacity.
| | |
| --- | --- |
| Advance statement | A record of a patient's views or wishes regarding future treatment and may also include a general expression of beliefs and values. |
| Advance decision to refuse treatment (ADRT) | Allows a patient to refuse particular treatments in advance and has the same weight as a refusal by a person with capacity. Where life supporting treatment is refused, this has to clearly and specifically expressed in writing so that the professionals know when, and in what situation, the decision is to be applied. |
| Lasting power of attorney (LPA) | Enables the patient to nominate someone to make their decisions on their behalf. Decisions made by that person have the same legal standing as those of the patient. |
There has been some criticism of the above structure as few people express decisive choices in advance, but we all have general wishes and values. It is these that we should be trying to explore when having these conversations with patients.
Values-based advance care planning
A values-based conversation should focus not on specific treatment options that we may offer a patient but on more general goals. For instance, it may involve asking;
"are you more concerned that you won't get enough care or you will receive overly aggressive treatment?"
"do you want to have a say in every decision or would you rather your doctors did what they thought was best?"
"what is the most important thing to you, what are the things that if you couldn't do then your life wouldn't be worth living?"
From this, the patient, the clinician and the family can start to build an idea of what the overarching goals are for this person. It is crucial that family are involved in the discussion as almost invariably it is they who will be having these difficult conversations often with different clinicians should a crisis point be reached.
The idea should not be to supplant the decision-making process with a piece of paper detailing yes/no answers to different treatment options but to ensure that both clinicians and families are as best informed as possible to make these decisions at the time when they must be made.
---
References
© University College London