An age old problem
In the previous step we discussed ideal perioperative care for the elderly and the barriers to providing this. Here we will summarise a 2010 report from the National Confidential Enquiry into Patient Outcome and Death (NCEPOD) titled "An Age Old Problem: A review of the care received by elderly patients undergoing surgery". [1]
Setting the scene
The UK has a rapidly expanding population of elderly people, currently 1 in 5 people (12 million) are pensioners. This group is predicted to double in the next 25 years and treble in the next 35. [2] The main reasons for surgical admission in this group are fractured hip (around 50%), laparotomy (13%) and amputation. [3] Care of the patient with the fractured hip is covered more extensively in week 3.
Laparotomy and bowel resection is one of the most commonly performed operations in both the elective and emergency setting. These patients may have inadequate oral intake relative to fluid loss resulting in acute electrolyte abnormalities superimposed on reduced renal reserve which may be complicated further by sepsis and third space fluid losses. These patients require skilled resuscitation and careful perioperative management of cardiovascular parameters and fluid balance.
In this study NCEPOD reviewed a sample of deaths following emergency and elective surgery in the elderly population in order to establish shortcomings in their care and provide further recommendations for perioperative care of the elderly. Information was collected on each individual case by a review of case note extracts as well as questionnaires from surgeons, anaesthetists and an organisational questionnaire.
The sample aimed to identify key learning points based on:
Fluid management
The seniority of clinicians involved in intra-operative care
Delays in surgery
Anaesthetic management including pre-operative assessment
Acute pain management
Post-operative cognitive dysfunction
Use of critical care facilities
Nutrition
Comorbidities
Medications including thromboembolism prophylaxis
Consent
Prevention of peri-operative hypothermia
Key findings
A general assessment of the standards of care achieved is shown below.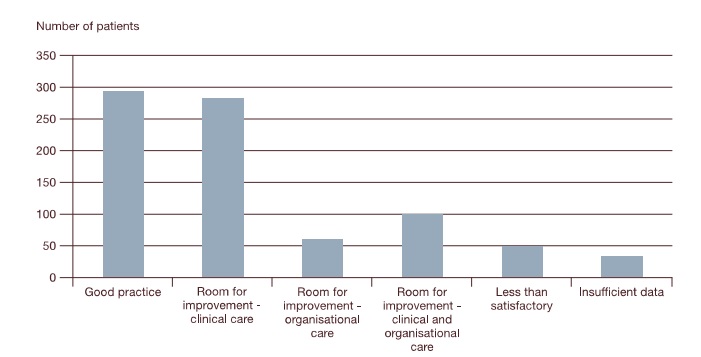 View the graphic on page 21 of the PDF.
The key finding are covered over several chapters in the full document but are summarised here in the points below:
Hospital facilities and multidisciplinary care of the eldery
There was a relative paucity of input from a Medicine for the Care of Older People (MCOP) physician at all stages of care
Mechanisms for assessment of nutrition and mental capacity were absent from a number of sites. Documentation of nutritional assessment and evidence of appropriate management was extremely poor
Patient comorbidities
Comorbidity was extremely common in the elderly surgical populations with frailty being clearly identified. Acute kidney injury at the time of admission was an additional important cause of comorbidity
| Comorbidity | n* | % |
| --- | --- | --- |
| Ischaemic Heart Disease | 814 | 81.3 |
| Hypertension | 478 | 47.8 |
| Respiratory disease | 280 | 28.0 |
| Renal disease | 217 | 21.7 |
| Previous Transient Ischaemic Attack (TIA) & Stroke | 197 | 19.7 |
| Dementia | 185 | 18.5 |
| Memory impairment | 144 | 14.4 |
| Diabetes | 136 | 13.6 |
| Osteoporosis or previous bone fracture | 132 | 13.2 |
| Parkinson's disease | 24 | 2.4 |
| Delirium | 23 | 2.3 |
| Not answered | 27 | |
Disabilities (including hearing and visual loss) were common and not well documented which could have led to difficulties in caring for these patients
Acute illness was complicated by pre-existing memory loss and dementia
Documentation of mental capacity was poor, though when patients were unable to consent the correct procedures were followed in the majority of cases
Some patients were receiving a large variety of medications with a serious risk of drug interactions
Pre-operative care
Risk assessment is particularly difficult in the elderly and should include input from senior surgeons, anaesthetists and MCOP clinicians
A clinically significant delay occurred between admission and operation in over 1 in 5 patients
Pain was poorly assessed and documented
Intra-operative care
Consultant involvement in care was high in this group of patients but there was a lack of documentation of temperature monitoring. Perioperative hypotension was a very common event.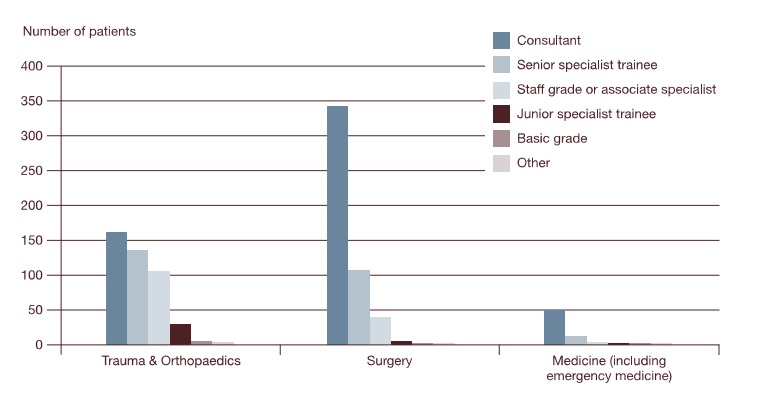 View the graphic on page 70 of the PDF.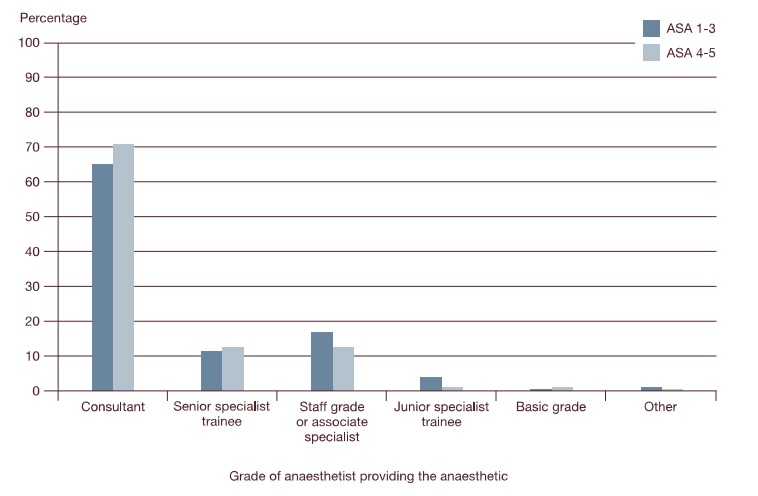 View the graphic on page 74 of the PDF.
Post-operative acute kidney injury was related to poor intra-operative management of fluids and cardiovascular status and complicated further by poor post-operative fluid management
Post-operative care
Epidurals and PCAs were used sparingly in this population
Level 2 and 3 care was utilised more than 10 years ago, however, it was still planned less often than would be expected
Remediable factors
Out of 1098 cases included in the peer review, 302 cases were identified where specific remediable factors were identified in the process of care.
| Recurring themes | n* |
| --- | --- |
| Seniority | 67 |
| Team structure | 70 |
| MCOP input | 29 |
| Decision making | 84 |
| Delay | 54 |
| Pre-operative preparation | 105 |
| Failure to optimise patient | 30 |
| Post operative care | 53 |
| Aggressive surgery without after care | 17 |
| Poor fluid resuscitation | 21 |
| Poor communication | 39 |
| Consent | 15 |
| Poor documentation | 71 |
| Poor analgesia | 7 |
Key recommendations
Routine daily input from Medicine for the Care of Older People should be available to elderly patients undergoing surgery
Comorbidity, disability and frailty need to be clearly recognised as independent markers of risk in the elderly
Delays in surgery for the elderly are associated with poor outcome. This should be audited alongside agreed standards
All elderly surgical admissions should have a formal nutritional assessment during their admission
Temperature monitoring and management of hypothermia should be recorded in the anaesthetic record
There should be clear strategies for the management of intra-operative low blood pressure in the elderly to avoid cardiac and renal complications
There is an ongoing need for level 2 and 3 (ITU/HDU) care to support major surgery in the elderly
For less major surgery extended recovery and high observation facilities in existing wards should be considered
Post-operative acute kidney injury is avoidable and should not occur. There is a need for education amongst physicians, surgeons and anaesthetists around assessment of risk factors.
Clear and specific guidance on recognition and treatment o pain in the elderly should be widely available
Greater vigilance is required when elderly patients with non-specific abdominal symptoms present to exclude significant surgical pathology
Before moving on take a moment to think about the findings and recommendations laid out in this paper. How closely do they mirror your own reflections on perioperative care for the elderly that you discussed in the previous step? Were there any findings that surprised you?
---
References
© University College London, Perioperative Medicine Master's Programme