The National Hip Fracture Database
In the previous step, we considered emergency general surgery and protocols being used to improve outcomes. A major group to consider separately from this are elderly patients with a fractured hip. In this step we will learn more about the National Hip Fracture Database (NHFD) and the excellent work they do to improve care in this area.
In 2007, orthopaedic surgeons, geriatricians and nurses set up the NHFD to collect information about hip fracture care in England, Wales and Northern Ireland. It is now a part of the Falls and Fragility Fracture Audit Programme at the Royal College of Physicians. The NHFD team publishes the best practice against which hospitals are assessed and each year releases an annual report. All the information in this article is from the 2016 report. [1]
Why is there a need for a dedicated hip fracture service?
The age and fragility of hip fracture patients means that up to a third of people die within a year of their injury. Only half of deaths that occur within a few months of the injury can be directly attributed to the fracture and surgery. However, the impact of the fracture is often recognised as precipitating the patient's final illness. Since the NHFD's inception in 2007, 30-day mortality has fallen from 10.9% to 8.5% in 2011 and 7.1% in 2016. [2]
The statistically typical patient presenting with a hip fracture is an 83-year-old woman with at least one significant comorbidity. Delirium is the most common complication of a hip fracture. The significance of delirium, perioperative cognitive disorders, frailty and multimorbidity in the elderly will be covered in detail in week 4. It is clear though that most hip fracture patients have a decreased physiological reserve which reduces their ability to cope with the stress of a fall, admission to an unfamiliar environment, surgery, anaesthesia and rehabilitation. This can be demonstrated clearly by the graph below showing cumulative mortality curves by ASA grade.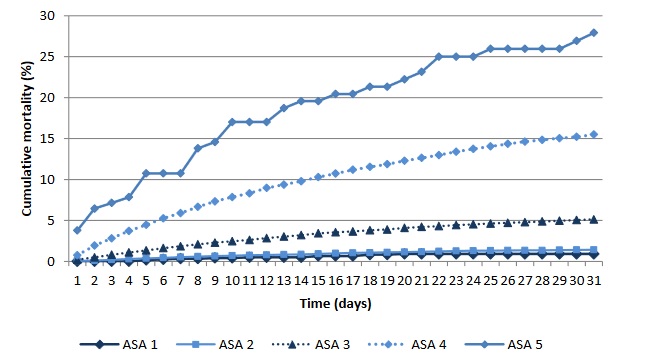 View the graphic on page 33 of the PDF.
A hip fracture is the most common serious injury in older people. Hip fracture patients take up 1.5million hospital bed days each year and cost the NHS and social care £1billion. A hip fracture programme can deliver improved, streamlined care for patients as well as reducing cost to healthcare providers.
What should a hip fracture programme include?
Details of specific pathways used in UK hospitals can be found in the patient pathway section on the NHFD website. A general pathway should include:
Orthogeriatric assessment
Rapid optimisation of fitness for surgery
Early identifications of individual goals for rehabilitations to recover mobility and independence
Continued coordinated orthogeriatric review post-surgery
Falls prevention
Bone health assessment
Liaison with primary care and social services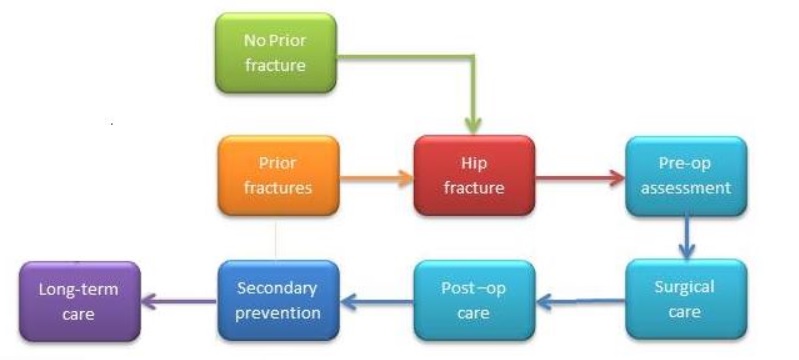 The NHFD audits hospital's adherence to guidelines laid out by the National Institute for Health and Care Excellence (NICE). Any hip fracture programme should aim to improve care by increasing the compliance laid out by these guidelines which are summarised below. [3]
Timing of surgery and planning the theatre team
Surgery should be performed on the day of, or the day after admission
Hip fracture surgery should be scheduled on a planned trauma list
Consultants or senior staff should supervise trainee and junior members of the anaesthesia, surgical and theatre teams
Analgesia
Patient's pain should be assessed immediately on arrival at hospital, within 30 minutes of administering initial analgesia, hourly until settled on the ward and regularly as part of routine nursing observations throughout admission
If paracetamol and opioids do not provide sufficient pain relief, then a nerve block should be administered. This could also be used to reduce opioid usage
Patients should be offered a choice of general or spinal anaesthesia wherever possible with full discussion of risks and benefits
All patients undergoing surgery should be considered for an intraoperative nerve block
Mobilisation Strategies
Unless medically contraindicated patients should be offered a physiotherapy session and mobilisation on the day after surgery
Multidisciplinary management
On admission patients should be placed on an acute orthogeriatric or orthopaedic ward and started on a formal hip fracture pathway
If the hip fracture complicates or precipitates a terminal illness then there should be consideration about the patients' wishes for end-of-life care and consideration of surgery as part of a palliative care approach
Coordinated work to consider early supported discharge
Patients who are admitted from care homes should not be excluded from rehabilitation programmes
Other elements
All patients should be screened for malnutrition
Patients should be offered detailed verbal and printed information about their care. The NHFD has produced an excellent patient information document for this purpose
Care should be given to minimise the risk of delirium. This and other perioperative cognitive disorders will be discussed in week 4
Falls prevention including multidisciplinary assessment with strength and balance training should be offered
Bone protection with bisphosphonates should be considered for at risk groups
Key findings from the audit
People with cognitive impairment are more than twice as likely to die during their admission than those without and stay in hospital for nearly 5 days longer
Hospitals should anticipate one hip fracture presentation for every 1000 people in its catchment population
Improvements in outcomes have proved the effectiveness of orthopaedic-geriatric collaboration in multidisciplinary hip fracture care
30-day mortality continues to improve for these patients. However, other aspects of outcome including discharge destination remain poorly defined and reported
Key recommendations from the audit
Develop protocols to assess and monitor their patients to help prevent delirium
Consider adopting standardised, protocol-driven approaches to anaesthesia and surgical care
Consider adjusting theatre, orthogeriatrician and therapist staffing to align to the times of day when hip fractures commonly present
Develop a culture of continuous improvement
Ensure clinical governance extends to cover rehabilitation, intermediate and community care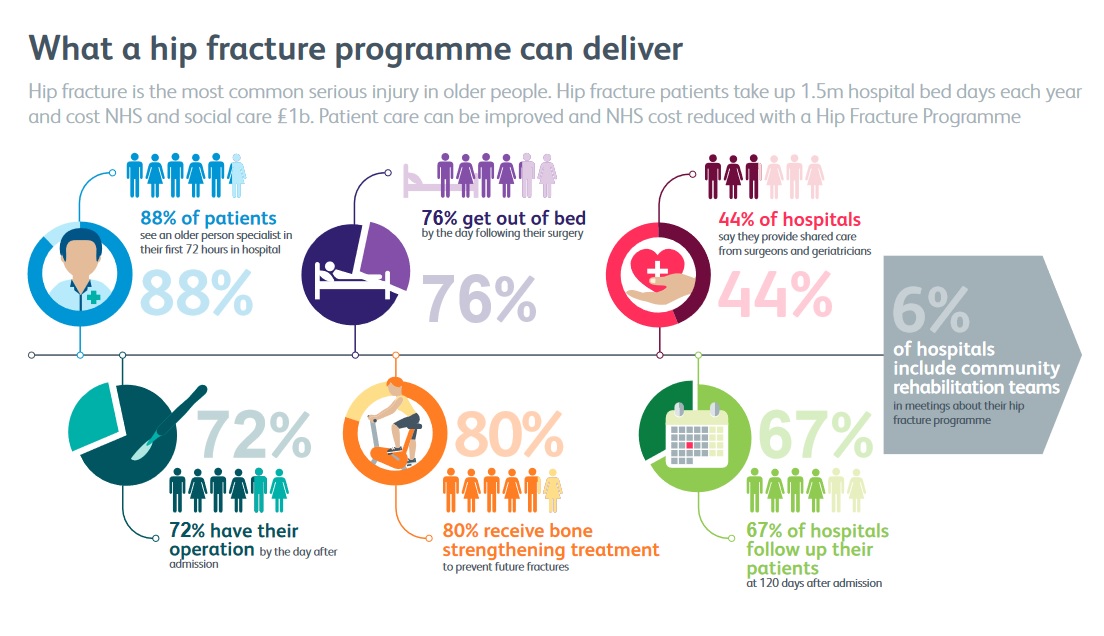 View the graphic on page 3 of the PDF.
Before moving on please reflect on the emergency care protocols you have read about in the previous two steps. Does the care described mirror that which you see in your own institutions? If not what do you think are the barriers which prevent you from providing this care?
---
References
Neuburger, J. et al. (2015). The impact of a national clinician-led audit initiative on care and mortality after hip fracture in England: an external evaluation using time trends in non-audit data. Med Care. Aug;53(8):686-91
© Material shared with permission from the Royal College of Physicians and the National Hip Fracture Network