NELA - The National Emergency Laparotomy Audit
One of the most common operations performed for non-elective patients is the emergency laparotomy. An emergency laparotomy is a complex procedure with limited time for planning and patient optimisation and the mortality far exceeds that of elective bowel surgery. In the UK NELA aims to look at the structure, process and outcome measures for the quality of care received by patients undergoing emergency laparotomy surgery.
History and aims
More than 30,000 patients have an emergency laparotomy each year in England and Wales. [1] The majority of patients who undergo this procedure have potentially life-threatening conditions needing urgent investigation and management. Many of these patients are high risk and studies have reported that overall around 15% of patients die within one month of having an emergency laparotomy. [2]
The patients' journey is often complex requiring input from multiple specialties from the emergency department through to surgery involving radiologists, anaesthetists, critical care and sometimes elderly care.
The aim of the audit is to provide robust data on care of the emergency laparotomy patient to drive local quality improvement projects and also allows good practice to be disseminated easily.
All patients aged 18 and over having a general surgical emergency laparotomy (in NHS hospitals in England and Wales) are prospectively enrolled in the project. NELA aims to compare care delivered against standards identified from NCEPOD reports and the Department of Health / Royal College of surgeons report on the higher risk general surgical patient [3] (which we covered in week 1 of the course).
As well as the broad aims outlined above the project also has more specific objectives:
To enable improvement of delivery of care to the emergency laparotomy patient using audit information
To provide comparative information on the organisation of care
To provide comparative information on patient outcomes following surgery
To explore potentials for patient reported outcome measures to be included where possible
The second patient report [4] was published in July 2016 and reports on data collected from December 2014 to November 2015. A brief summary is included below but the full report can be accessed here.
Key standards
The data submitted by local hospitals was audited against 8 key standards:
All emergency admissions must have a thorough clinical assessment by a suitable consultant as soon as possible but at the latest within 14 hours of time of arrival in hospital
If a patient is admitted as an emergency then they should have access to emergency radiology and CT scanning 24 hours a day with immediate reporting
Objective risk assessment should be mandatory and should be discussed between the surgeon and the anaesthetist
High risk cases (predicted mortality >5%) should have input from both the consultant surgeon and the consultant anaesthetist
Access to emergency theatres should match the need and these patients should be prioritised over elective patients
Any patient with suspected sepsis should be screened and have IV antibiotics administered within 1 hour of presentation
All high-risk patients should be considered for critical care and as a minimum those with a predicted mortality of >10% should be admitted to a level 2 or 3 environment
Comorbidity, frailty and disability should be recognised as independent risk factors in the elderly. These patients require early input from the Medicine for the Care of Older People team
Key findings
Detailed and local feedback can be found in the main report however the overall national adherence with the above standards is summarised in the 2 figures below.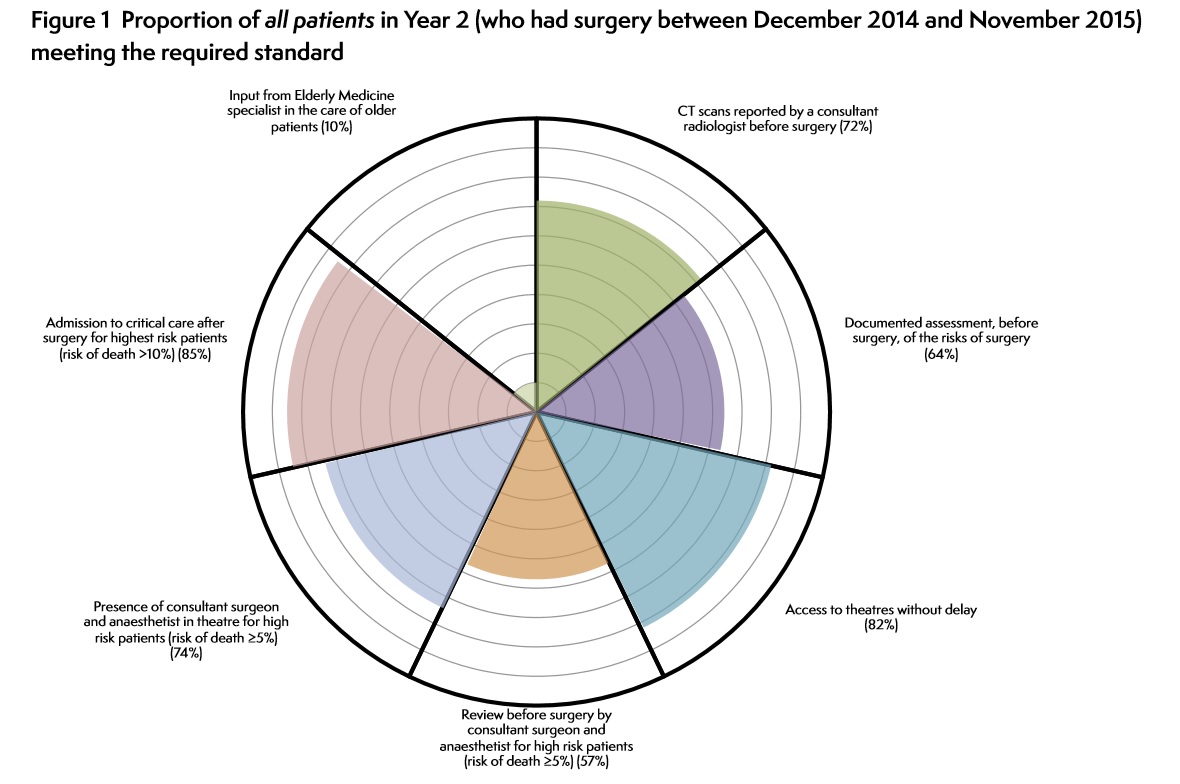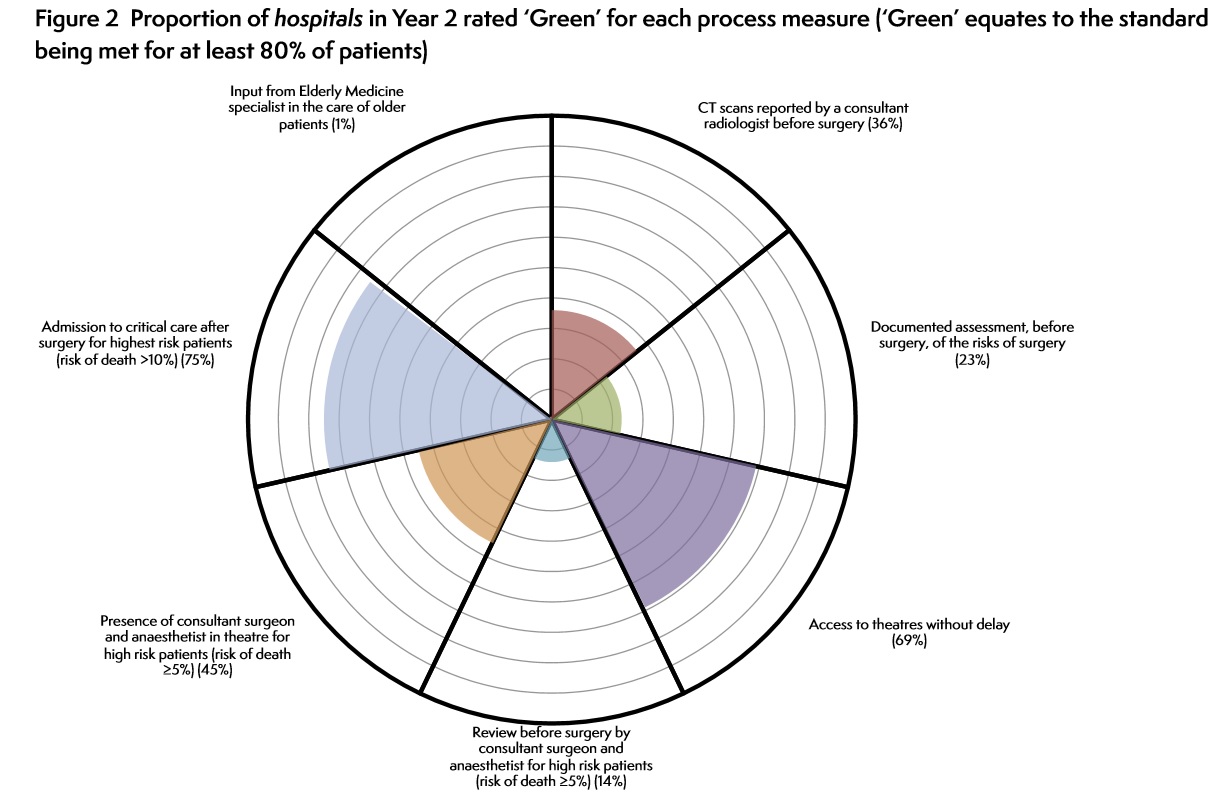 View the graphics on Page 8 of the full document.
The reported 30-day mortality was 11.1% which confirms the high-risk nature of emergency bowel surgery.
Just over half the patients who survived had a length of stay of less than 11 days after surgery. However, more than a quarter remained in hospital 20 days after surgery with older patients more likely to remain in hospital.
Key recommendations
Clinicians, hospital managers and commissioners should examine their own results and seek to determine why some patients meet the standards of care identified and why others do not and in doing so seek to deliver more consistent high-quality care. NELA suggest the following key recommendations, the details and data justifying them can be found in the relevant chapters in the original report
Commissioners and providers
Commissioners should review the audit reports for the hospitals for which they provide services. Where the hospitals fall short of standards they should ensure there is adequate commissioning of:
Multidisciplinary input across the whole pathway
Ability to provide consultant-delivered care with CT scanning and reporting 24 hours a day
Theatre capacity to ensure no delays for patients requiring emergency laparotomies
Critical care capacity to ensure all high-risk patients can be cared for in the correct environment after surgery
Elderly medicine services to provide input for the older patients
Rotas, job plans and staffing levels to reflect the need for 24-hour consultant involvement in patient care
Policies which should be developed using individual risk assessment to guide allocation of resources as well as adherence to national standards for postoperative critical care admission
Job planning so that local teams have adequate time to participate in accurate data collection and to review adverse outcomes
Clinical directors and multidisciplinary teams
To provide consistent care each hospital should implement an appropriate pathway starting at the time of admission through to discharge. Where these pathways already exist they should be re-examined to determine why standards are still not being met.
The pathways should include:
Referral of patients for surgical review
Identification of sepsis and prompt administration of antibiotics
Identification and escalation of patients needing more urgent assessment by a consultant surgeon
Efficient undertaking and reporting of CT scans
Routine documentation of risk assessment for complications and death after surgery
Presence of a consultant surgeon and anaesthetist for predicted mortality of >5%
Postoperative admission to critical care for patients with a predicted mortality of >10%
Identification of patients needing input from elderly medicine
Multidisciplinary teams should have regular meetings to review processes as well as morbidity and mortality
Quality improvement projects based on local data should be an ongoing process
NELA leads
Should review their local data to ensure case-submission is complete and should work with clinical teams to improve this if this is not the case
Should promote completion of P-POSSUM
Professional stakeholder organisations
These include Royal Colleges and specialist societies who should work together to:
Improve clarity and communication about standards of care
Bring together standards in a single unified document
Ensure their members are appropriately engaged with the issues.
In the next step we will look at an important quality improvement project centred on improving care for emergency laparotomy patients. Before learning about that take a moment to think about the findings and recommendations highlighted in the NELA report. Do they reflect what you see in your own practice? What systems and practices could be changed in your place of work to improve care for the emergency laparotomy patient?
---
References
© Material reproduced with permission from NELA