Professional, amateur, or archaeology for all?
Maritime archaeology has a long history of amateur research. Many important discoveries have come from avocational archaeologists or partnerships with them. In fact, the early development of the field was in large part due to amateurs like journalist Peter Throckmorton and electrician Richard Steffy taking an interest in shipwrecks. So what roles will amateurs and professionals play in the future?
There are numerous organisations around the world that operate amateur archaeology projects. The largest and most well known is the Nautical Archaeology Society (NAS), which is known as a training organisation, but it also run many important projects. The Gresham ship is a 16th century shipwreck in the Thames estuary of great importance, a project which was run by the NAS. The NAS conducts the long term monitoring of many historically significant archaeological sites and it is completely amateur-based field teams. While the NAS is the largest, you can find many avocational or amateur maritime archaeology groups all over the world if you are interested in participating.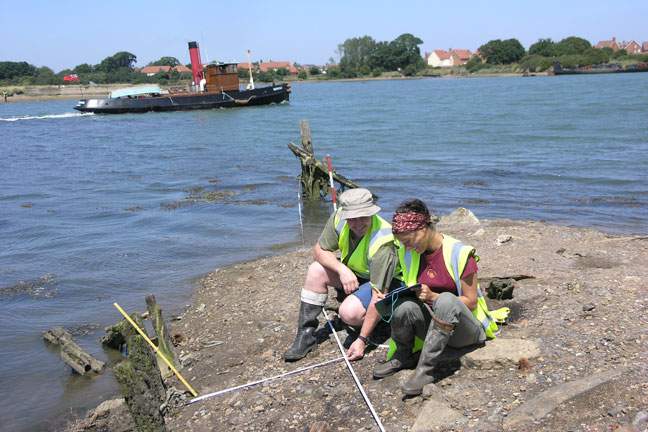 Two archaeologists surveying. Image used with kind permission of Nautical Archaeology Society. ©University of Southampton, 2017
Activities like treasure hunting keep the past in only a small number of people's hands; those that find the artefacts and those they sell them to. Professional archaeology, which generally makes use of numerous amateur project members, requires the sharing of any findings through publication and archiving of artefacts, usually in a museum. While you are used to visiting a museum to see artefacts on display, museums are in reality massive archives. Typically 1-5% of a collection is on display, while the rest of the museum's collection is a record of archaeological projects so that future researchers, amateur and professional, can visit the archive.
Archaeology is for everyone. Engagement with the past is something everyone should have access to. A professional framework that nurtures amateur interests while maintaining the best practices is the best way to ensure that everyone has the opportunity to engage and participate. Throckmorton and Steffy pushed maritime archaeology into new realms, but it was George Bass who guided their initial inquiries and maximised their findings by maintaining professional archaeological methods. The past belongs to everyone and there should not be a distinction between amateur and professional archaeology, but a discussion on how best the public can experience archaeology while professionals protect it.
© University of Southampton, 2017