Studying maritime traditions and skills
In the last couple of decades, maritime archaeologists have become increasingly interested in working with boat builders and studying traditional maritime skills.
Archaeologists have studied boat building across the world from Northern Europe to the Indian Ocean, and begun to draw upon the oral traditions of maritime communities as well as ethnographic studies. The image above, and many of the images in the next step 'Studying boat building traditions' are from south India where Dr Jesse Ransley, Dr Lucy Blue and Dr Julian Whitewright have all worked recording different boat building traditions and talking to boat builders.
Working with boat builders
Some of the boat building traditions archaeologists study are dying out as the demand for some types of boat diminishes and the need to pass on these skills to apprentices disappears. Some of this work is therefore focussed on recording boat building traditions whilst we still can. A prime example of this is the Traditional Boats of Ireland project which draws on the work of archaeologists, boat builders and maritime heritage enthusiasts to record the multiplicity of boat types around Ireland. Archaeologists are certainly not the only group involved in this kind of work. The Traditional Maritime Skills project, for example, is 'collecting and recording' as well as promoting traditional boat building skills in the Channel and North Sea area. It has great online resources about boat building skills and techniques.
This kind of research also offers maritime archaeologists a unique opportunity to deepen the research questions they ask of archaeological boat finds. Archaeologists study the materials and construction techniques of a plethora of boats found in archaeological contexts, but these vessels are often fragmented, poorly preserved or deliberately dismantled before deposition. By working with boat builders and exploring the variety and specificity of boat building traditions around the world today, archaeologists can gain new insights about the diversity of practices and processes of boat building in the past. It can also deepen their understanding of the skills and knowledges involved in boat building – the human experience and social world surrounding it.
Working with boat builders, and undertaking experimental archaeology projects using replica boat building tools, engages archaeologists with the physical labour and bodily practices involved in boat building, as well as the tools, techniques and environment. It provides insights into the time, co-operation and materials involved and the types of choices engaged in choosing timber and in moving and shaping those timbers collaboratively.
It also provides some sense of the embodied skills involved in working with the tools and the wood. Embodied skills are intuitive, learned by physical repetition and then internalised. They do not have to be consciously thought about each time they are used (the most common example of an embodied skill is driving a car – you do not need to think consciously about braking and changing down gear as you reach a junction, your body remembers how to do so). Working with timber involves a breadth of knowledge about materials and their imperfections, about timing, temperature and humidity, as well as constant tweaks and small choices, made in response to information gained as you go from working with the wood. All of which can only be learnt through practice and experience rather than from a book or lecture. When it's going well an axe moves as an extension of the body, connecting head, hand and timber, and producing a beautiful hollow, rhythmical sound – but it takes a remarkable depth of knowledge to see boat frames in tree trunks, work with and accommodate knots and splits, and to sculpt parts of a boat out of massive pieces of oak.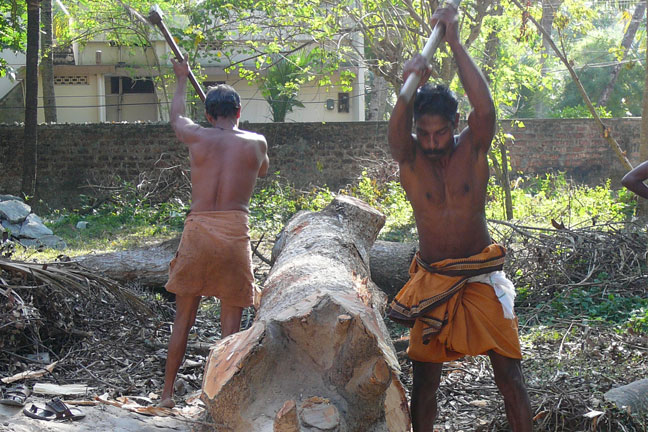 The first day of axe-work as a logboat is sculpted from a mango tree in Kerala, south India. © University of Southampton, 2017.
This kind of research remains a valuable tool in efforts to better understand seafaring and maritime communities in the past. It can open up our ideas about the connections between timber, tools, labour and the social world within which that building took place – about apprenticeship, collaboration, innovation and adaptation.
Studying maritime communities and traditions
This advanced reading, a chapter from the Oxford Handbook of Maritime Archaeology, sets out a variety of other contemporary sources (from traditional boat studies to folklore and ethnography) which maritime archaeologists can and have drawn on in their research. It explores specific examples as well as the ways in which archaeologists use knowledge about maritime communities and traditions to shape their reconstructions of maritime communities in the past.
We would like to express our thanks to Oxford University Press for making this chapter available.
© University of Southampton, 2017