The Torrey Canyon, England (1967)
The image that most people have of maritime archaeology might well be one of a medieval wreck (like the Mary Rose or the Vasa) lying partly exposed on the sea floor. However, as we hope you have understood from the content of this course so far, the breadth of maritime archaeology is far wider than this; from submerged prehistoric landscapes to … well, until now.
For some of you on the course this may have been a surprise, that maritime archaeology includes not only material remains from our more distant past, but also our present. Victor Buchli and Gavin Lucas have termed the study of current material culture and that from the last few decades as 'archaeologies of the contemporary past'. This is an exciting new frontier for research and is an increasingly important part of the discipline.
Why study the contemporary past? Why would we as archaeologists value material that was deposited very recently? Could we not simply leave this form of investigation to our colleagues in anthropology who study current societies and social groups, or the historians who have access to endless written records from the digital age?
The answers lie in how archaeological investigation takes place. Where an anthropologist would talk to and engage with people, and the historians and sociologists might blend this with documentary evidence, archaeologists focus on the material remains and these can often tell us a different story to that which we tell ourselves, or that we write down for posterity. Think about the different conclusions you could draw about yourself by looking at the written records that exist about you (your passport, birth certificate, perhaps your tax documents) and what your personal possessions might demonstrate. Sometimes in studying the material remains even of the recent past we discover things that surprise ourselves, or help draw attention to things we may find difficult or uncomfortable to discuss.
Contemporary maritime archaeologies
There are a great many wrecks around the world from the modern era. Even with advanced navigational technologies bad weather and human error can all lead to wrecking incidents. Not all of these wrecks will be of the same archaeological significance. The value we place on things archaeologically often relates to their connections to the story of human society, changes that they may have helped instigate or their part in an important story from our past. Thus a mass manufactured fibreglass boat sunk on a sandbar just out of port may not be of vast archaeological significance. We would have the ship's plans and records of ownership and manner of loss. However, there are times when even recent wrecks can be seen to have significance.
A good example of this can be seen in the case of the Torrey Canyon, an oil tanker that sank off the south coast of England in 1967. Built in 1959 by Newport News Shipbuilding and Drydock Company (USA), then enlarged in Japan in 1965 she became one of the largest oil tankers traversing the globe. On the 18th March 1967 due to a navigational error she wrecked on the seven stones reef (a group of rocks that lie between the Cornish coast and the Isles of Scilly). Attempts were made to re-float her, but in rough seas she finally broke her back. This led to an environmental disaster as 119,000 tons of crude oil spilled into the sea.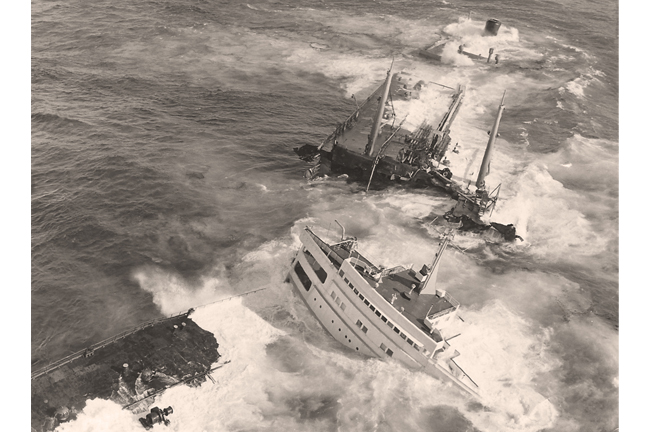 The Torrey Canyon after breaking her back. © University of Southampton, 2014
Even though she was a large ship, this itself does not make her a significant wreck. The pivotal part of the Torrey Canyon's significance is that the environmental disaster she created forced a shift in ship design, from 'single skinned' ships to 'double hulls' where an extra steel skin is stretched over the vessel to offer additional protection to hazardous cargo. Thus the Torrey Canyon wreck materialises a pivot point in our thinking about maritime technologies.
The Torrey Canyon stands as an example of a whole range of wrecks that are from our very recent past but are of specific archaeological value. In the comments section, we'd be interested to hear what you think about archaeologies of the contemporary past and wrecks from the modern era that you would see as significant.
© University of Southampton, 2017