The Rise of the Mitanni
Last week, we saw how Tuthmosis I faced a 'foe' in northern Syria. This week, we focus on that enemy: the Mitannians, and their rise to superpower status.
Unlike Egypt, we have no detailed documents or lists of kings from Mitanni. We know that their homeland was northern Syria, and although we know the name of their capital city (Washshukanni), we aren't entirely sure of its location. With a lack of information from the Mitannians themselves, we have to patch history together from reports from other areas. One very useful source of information is the inscribed statue of Idrimi, discovered at Alalakh.
Idrimi was on the scene in the Near East just after the Hyksos had been expelled from Egypt, and when the early New Kingdom kings, like Tuthmosis I, were expanding into Syro-Palestine. The translation below is taken from Amiélie Kuhrt (1995) The Ancient Near East c. 3000-330 BC, Volume I (London and New York: Routkedge): pages 289-291.
First, Idrimi tells us who he is:
"I am Idrimi, the son of Ilimilimma, servant of (the gods) Teshub, Hepat and Shaushga, the lady of Alalakh, my mistress."
Next, he gives some history on his circumstances, explaining how he was the ruler of Aleppo, but was forced to flee. It appears that Idrimi fled to Emar (mid-Euphrates), but had no power there, likening his position to a slave. So he moved again, this time to settle in Amiya (reckoned to be just south of Tripoli in Lebanon), where other refugees who had also fled from Aleppo recognised him as their leader. Idrimi now needed a city-state to rule, so with the support of the storm-god, Teshub, he marshalled troops and sets sail to claim part of his rightful domain, arriving in Alalakh (a city-state within Aleppo's territory), where his people rallied around him and recognised him as king.
Next comes the episode in which we learn about his close neighbours: the Mitannians:
"Further: for seven years Parrattarna, the mighty king, the king of the Hurrians, had been been hostile to me. In the seventh year I sent to Parrattarna the king, the king of the Hurrians, Anwanda and told him about the efforts of my fathers: that my fathers had allied themselves, that our ancestors were acceptable to the kings of the Hurrians and that they had sworn a mighty oath with each other. The mighty king heard about the efforts of our ancestors and the mutual oath and was afraid of the content of the oath. Because of the wording of the oath and because of our efforts he accepted my greeting-present. In the month of Kinunu, I made extensive libations. Thus I brought back to him the house which had been in flight. In my noble mind, in my loyalty, I swore him friendship. Thus I became king of Alalakh.
And so Idrimi tells us the name of one of Mitanni's first known kings, Parrattarna, whom he managed to find favour with, and by whose consent Idrimi was allowed to rule Alalakh. It seems likely that Idrimi's positioning at Alalakh was entirely beneficial to the Mitannians, for whom Idrimi was a pawn ruling a vassal-state that served as a buffer between themselves and the expanding Egyptians.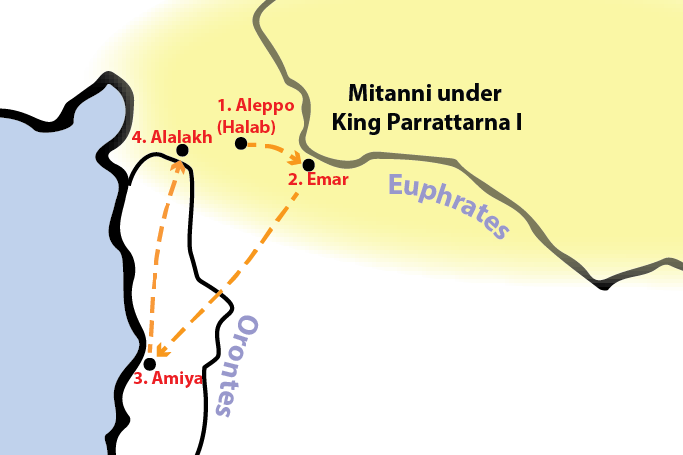 Idrimi's Journey from Aleppo, to Emar, to Amiya, to Alalakh
So in Egypt's early New Kingdom, we see the Egyptians face a formidable foe in the Mitannians, an expanding power edging their way into areas of Egyptian interest, cleverly manipulating their Syro-Palestinian city-states. The Mitannian control of city-states like Idrimi's suggests that they were capable of playing some role in the expansion of Kadesh, resulting in the battle of Megiddo. And it was that battle that changed everything, as we will see in the next step.
© University of Liverpool