0:04Skip to 0 minutes and 4 seconds One of the things that I find most interesting about international correspondence during the Late Bronze Age are all of the issues and politics that surround diplomatic marriages. Great kings in the Near East were supposed to be like brothers. They were supposed to exchange gifts of equal value as a sign of their mutual love and their equality. The ultimate gift was to give your daughter or sister in marriage, not least because this was a way of transforming this symbolic brotherhood into an actual family relationship. Now, unfortunately, in practise, things didn't always go this smoothly, not least because Egypt didn't seem to really buy into this whole principle of equality between kings.
0:47Skip to 0 minutes and 47 seconds So while the pharaohs were very eager to acquire Hittite or Mitanni or Babylonian princesses, they do not seem to have sent Egyptian princesses in the opposite direction. This calls the big problem for the other kings, since it would have been quite obvious to members of their kingdom that their princesses were going to Egypt and no Egyptian princesses were coming in return. It seemed like something of an insult. In fact, the Babylonian king was so frustrated that he wrote to the pharaoh and he said, you wrote to me saying "from time immemorial, no daughter of the king of Egypt is given to anyone." I wrote to my brother saying "someone's grown daughters. Beautiful women must be available.
1:32Skip to 1 minute and 32 seconds Send me a beautiful woman as if she were your daughter. Who's going to say she is no daughter of the King?" In other words, send me a beautiful Egyptian woman– any woman– and I'll pass her off in Babylon as an Egyptian princess. This is an extremely patriarchal world, one in which the women being exchanged seem to have very little agency or voice– that indeed, in many cases, the princesses are not even named. However, a strong woman could turn these conventions on their head. And that's what the Hittite queen Puduhepa did while negotiating with Ramesses the Second over a marriage between the pharaoh and her daughter.
2:12Skip to 2 minutes and 12 seconds Puduhepa was the wife of the Hittite king Hattusili III, but she was also a very powerful figure in her own right. And when she writes to Ramesses about diplomatic marriage, very interestingly, the men– her husband and her son– quickly disappear. And instead, diplomatic marriage becomes about a famous mother-in-law acquiring exotic daughters in law. And she writes to Ramesses and she says, "the daughter of Babylonia and the daughter of Amurru, whom I, the Queen, took for myself– were they not indeed a source of praise for me before the people of Hatti? It was I who did it. I took each daughter of a great king, though a foreigner, as a daughter-in-law.
2:55Skip to 2 minutes and 55 seconds And if at sometime the King's messengers come in splendour to the daughter-in-law or one of her brothers or sisters comes to her, is this not also a source of praise for me? Was there no woman available to me in Hatti? Did I not do this out of consideration for renown? Puduhepa reminds Ramesses that although kings may have been in the business of swapping daughters like gold or horses, each of these diplomatic marriages also involved a mother-in-law. And in this case, at least, this mother-in-law not only had a voice and agency, she also had fame and renown.
The Balance of Power: The Amarna Letters, Gift-Giving and Diplomatic Marriages
In the previous step, we saw how warfare gave way to peace between Mitanni and Egypt, with Tuthmosis IV marrying Artatama's daughter to seal the deal. Egypt now entered an era of peace and prosperity, and for the first time in history, we have an archive of texts that give detail on the international system in place at this time…
The Amarna Letters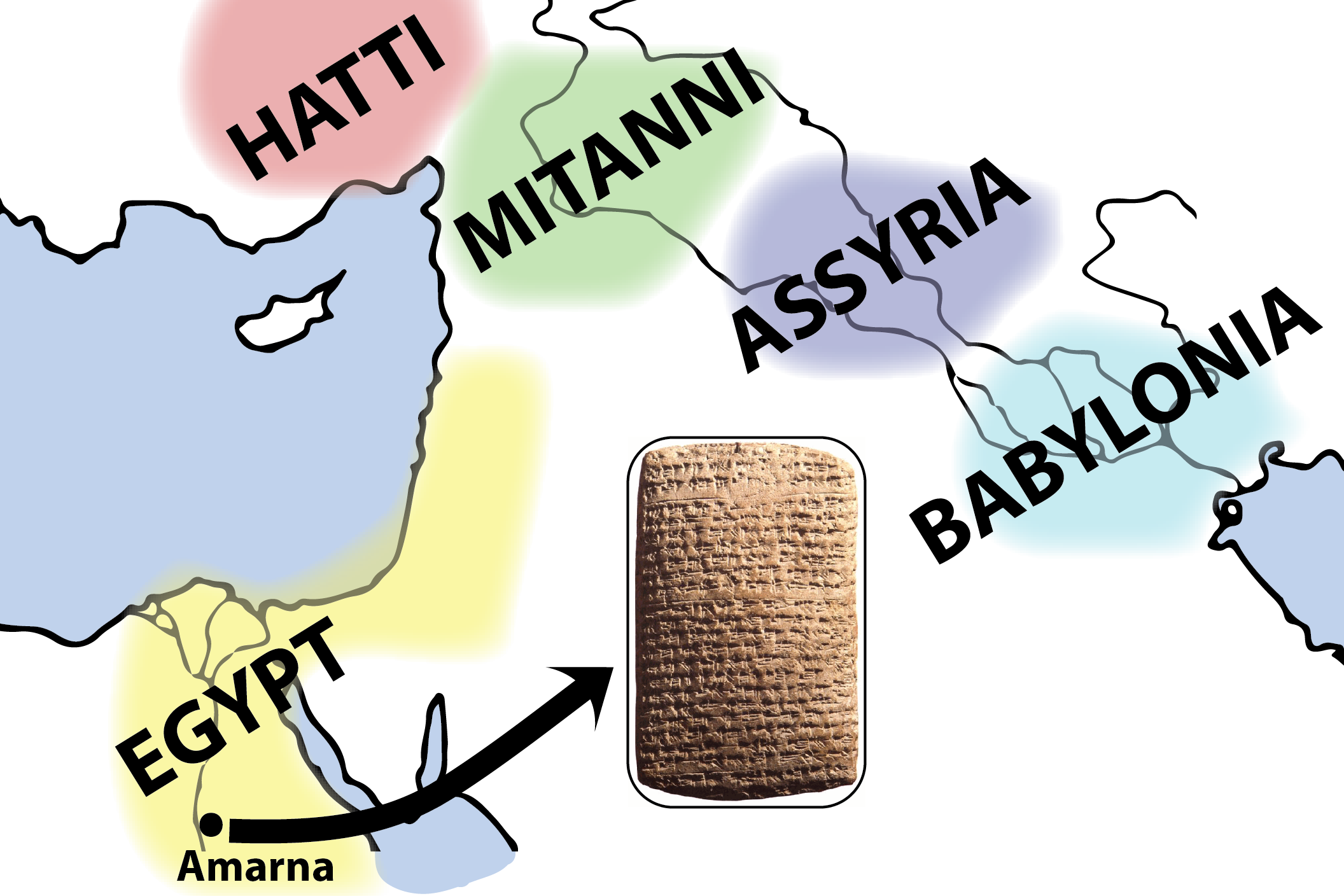 The Amarna Letters are an archive of correspondence that were discovered at the capital city of one of Egypt's most famous kings: Akhenaten. Akhenaten began life as Amenhotep IV, son of Amenhotep III. However, early in his reign he promoted a lesser Egyptian god to supreme deity, and along with this came significant cultural change seen, not least, in the art of the period. Unfortunately, an examination of this fascinating individual is beyond the scope of this course, but for an excellent introduction, listen to the BBC Radio 4's In Our Time episode (available as a download at the bottom of this page), in which three leading experts (Elizabeth Frood, Richard Parkinson and Kate Spence) discuss Akhenaten's reign.
Amarna Letter Key Facts:
Discovered in 1887 at Amarna in Middle Egypt
c. 350 cuneiform tablets, mainly letters sent to Egypt, but a few drafts of outgoing letters
Largely covers the reigns of Amenhotep III and his son, Akhenaten (of Egypt's 18th Dynasty)
Two types of correspondence:
The Superpowers Club: International Relations between Egypt, Hatti, Mitanni, Assyria and Babylonia. Members of this exclusive club are known as "Great Kings", and refer to each other as "brother". In this video, Bruce Routledge references the Amarna Letters to illustrate the ancient Near Eastern culture of exchanging gifts which lay at the centre of the diplomatic system that existed between superpowers. In addition to goods, family members were also used as bargaining chips to bond together kingdoms through marriages. Bruce also considers how in some cases the gift giving could be a little one sided.
The Syro-Palestinian City-states: Domestic affairs between Egypt and its c. 40 vassals. The letters between Egypt and its vassals are quite different. One of the most prolific writers, Rib-Hadda of Byblos, exemplifies the type of issues that these letters cover. He sent about 60 of the Amarna Letters to Egypt, complaining that his neighbours, Amurru, were expanding their territory and threatening his territory.
This website, presents some translations of both types of Amarna letter, including a flavour of Rib-Hadda's relentless missives.
Finally, the letters provide us with names of Great Kings ruling at the time, so we can add to our list of Mitannian rulers:
| Egypt | Mitanni |
| --- | --- |
| Ahmose | |
| Amenhotep I | |
| Tuthmosis I, Tuthmosis II | Parrattarna, Kirta (These kings of the newly emerged Mitannian state seem to belong somewhere in Egypt's early New Kingdom, perhaps being the enemy faced by the likes of Tuthmosis I). |
| Tuthmosis II , Tuthmosis III | Shuttarna I, Parsatatar (As above, a rough guess might put these kings around here. One of these names could then be the driving force behind the city-state coalition at the Battle of Megiddo). |
| Amenhotep II | Saushtatar (From evidence discovered at Nuzi, we know that Saushtatar ruled a large empire, and who his predecessors were). |
| Tuthmosis IV | Artatama (This placing seems fairly secure, not least since Tuthmosis IV married Artatama's daughter, ushering in a new era of peace between these two great superpowers). |
| Amenhotep III | Shuttarna II, Artashumara, Tushratta (Amenhotep III had several foreign women sent to Egypt to marry, including daughters of Shuttarna II and Tushratta). |
| Amenhotep IV/Akhenaten | Tushratta (Tushratta complains that Akhenaten is neglecting his international obligations, and not engaging in gift-giving and diplomatic marriage in the way his father had before him). |
© The University of Liverpool