Drones: half-way between fieldwork and remote sensing
One of the most exciting technological advances in the study of glaciers in recent years is the application of drone-technology (or Unmanned Aerial Vehicles (UAVs)).
Drones are popular and widespread for all sorts of purposes, and often get a bad press when they are flown in built up areas, close to airports, or in otherwise peaceful parts of the countryside! However, used correctly and in the right places, they present themselves as an excellent investigative tool for glaciologist, particularly when they are equipped with a camera or other sensors.
What is a drone?
Drones could be considered as somewhat of a half-way house between remote sensing and fieldwork approaches. This is because while strictly speaking, they are indeed 'sensing' the environment from a platform that is 'remote' from the earth itself, they are only a short distance from the earth's surface and are conventionally deployed as part of the suite of tools available to fieldworkers.
Like conventional remote sensing image-gathering, drones provide an opportunity to gather imagery of a glacier, but as it is done from so much closer to the glacier, the resolution of imagery can be exceptionally high – perhaps even enabling features to be visible at the centimetric scale. Compared to satellite technology, drones are also cheap and relatively easily deployed.
Drones are in essence model aircraft. They can look more like aeroplanes (in which case they are known as 'fixed wing') or they can look a little bit like helicopters, having one or more or rotors (and thus they are known as 'single rotor' or 'multi-rotor'). Figure 1 shows a fixed-wing drone being launched in Greenland, while Figure 2 shows a multi-rotor drone.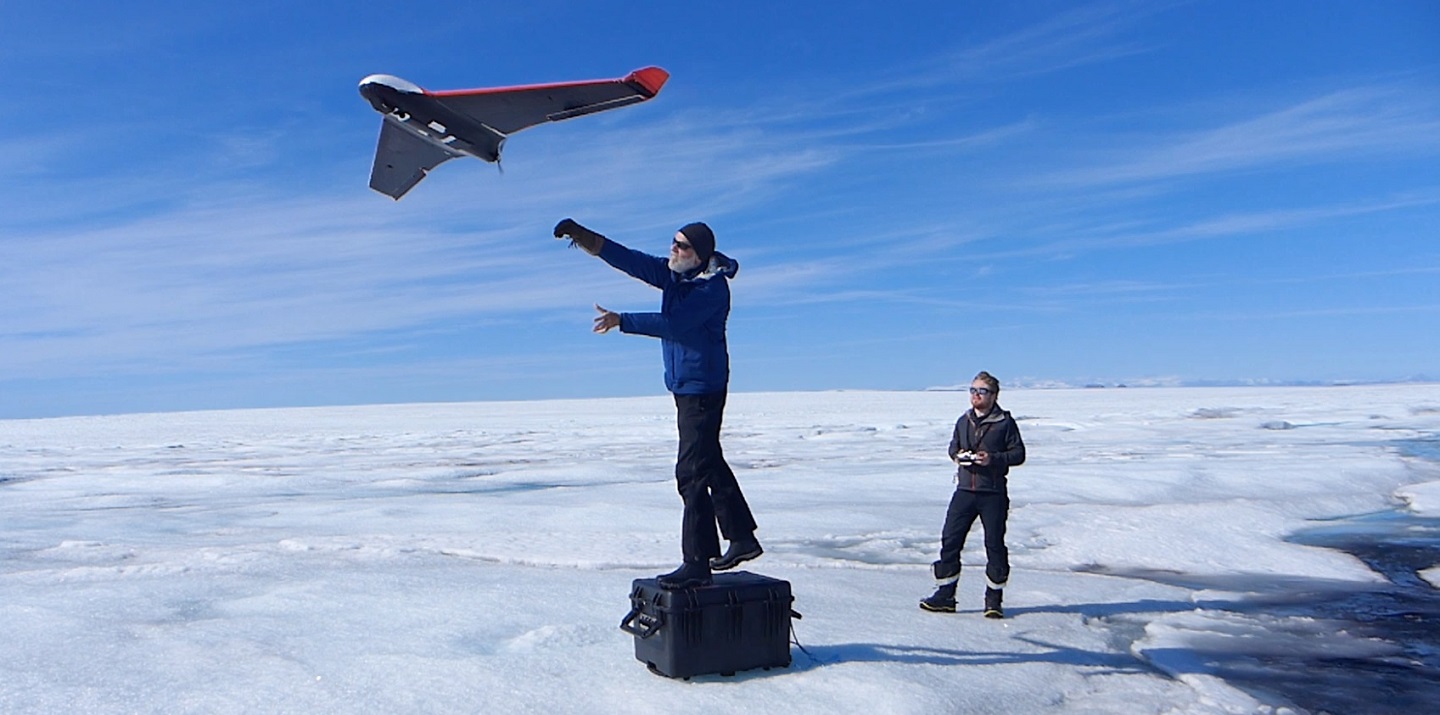 This image shows some work being carried out by glaciologists at Aberystwyth University and the University of Cambridge (Image: Tom Chudley).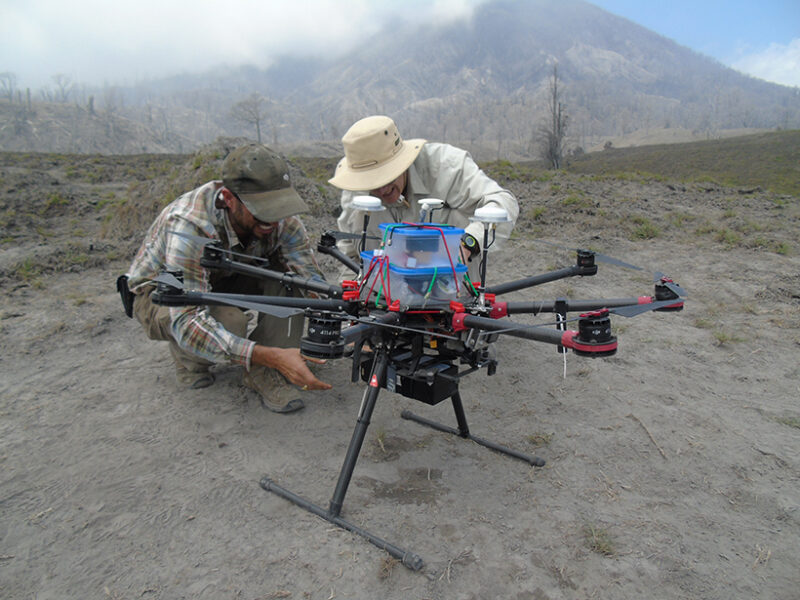 A multi-rotor drone being prepared for use (Image: Fiona D'Arcy).
This image illustrates some work being done in a non-glaciated environment to measure gases emitted by a volcano. Clearly, drones are therefore very useful since they enable data gathering in places where human beings could not venture.
What can drones do?
Often, drones carry a small camera, but can also carry other sensors, capable of sensing thermal or infra-red energy. As described in volcano story (see 'Further Resources' below), they can also carry tools capable of measuring gases too. Currently, drones are not able to carry heavy loads, and cannot travel great distances. However, in the future as technology improves, they are likely to be able to carry more and over greater distances, and thus will be able to carry different, bigger bits of equipment.
A lot of recent glaciological research that utilises drones also uses an approach known as Structure from Motion or SfM. SfM is a technique which relies on gathering dozens or even hundreds of images of a scene or object from multiple different locations. We then use complex computer vision techniques to locate millions of points in 3-dimensional space, and these can then be used to build a 3-dimensional model of (in this case) a glacier surface. The short animation below demonstrates how lots of images are gathered over a scene and how these are used to generate a 'point cloud' of millions of features.
This is an additional video, hosted on YouTube.
The second animation below shows how these can then be merged to create a 3-dimensional model.
This is an additional video, hosted on YouTube.
Research at York using drones
The example shown here is from a small area of the Russell Glacier in western Greenland and the images were gathered using a small, standard compact camera attached to a commercially available drone. This is work that is being done by Lauren Rawlins, a Ph.D. student in the Department of Environment and Geography at the University of York.
If you look closely at the second animation, you will see that the ice surface can be seen to be very undulating. However, the main focus of the work carried out here was the streams that flow through the lower regions of this terrain, and the patches of dust which darken the surface and thus reduce the albedo. As discussed earlier, albedo is an important control on the amount of melting that takes place, and so it is of great interest to investigate how the extent of debris cover, and its impact on melt rates, changes over time.
Digital elevation modeling
As well as producing beautifully-detailed 3-dimensional images, SfM also enables us to determine the elevation of points all over the surface. We call such a product a digital elevation model or DEM. If we work carefully, then these DEMs can be highly detailed and extremely accurate. It means that if we return to the same location multiple times and build DEMs over the same glacier or region, we are able to apply a technique known as DEM-differencing in which we simply subtract one from the other. The result tells us about changes that have gone on over the surface. Focussing on the example shown above, we might therefore be able to measure how much additional surface lowering (and thus melt) takes place over areas that are darker due to sediment cover (and thus have a lower albedo) than adjacent areas that have no sediment cover.
As you will realise now, measuring and assessing change is paramount in glaciology. The use of drones and SfM techniques enables us to observe change over time as with satellite remote sensing, but to do so at a much higher spatial resolution. As it is carried out 'in the field' though, it presents the possibility to associate the changes we observe and measure with the processes that we might be exploring using other, more conventional field-based approaches. It is therefore a really exciting technology that is starting to reveal fascinating insights in our study of glaciers.
Further resources
If you're really interested in drones and SfM, then take a look at this short film too. It tells the story of an ambitious project to use drones to map the three-dimensional nature of the Matterhorn in the Swiss Alps.
This is an additional video, hosted on YouTube.
Click here to read more about the work carried out by the team from Aberystwyth University.
Click here to read more about the work on volcanoes illustrated above