Jack's comfort care plan
Watch this video to see how Jack's comfort care plan was developed to meet his changing needs
As Jack's dementia progresses his comfort needs are changing.
Having already met with Jack and discussed his needs with his daughter, the nurse specialist meets with senior care home staff to talk about how they can respond to meet these changes. The nurse specialist suggests developing a comfort care plan to meet his changing comfort needs. Using the comfort care daisy, the nurse specialist works with the care home staff. They plan Jack's care together. Their goal is to keep him safe, secure, and comfortable as his dementia progresses. The purpose of the session today is to talk about Jack and how we can plan to meet its need for comfort. The care home staff who look after Jack have got to know him well. Jack's somebody who is quite advanced in his dementia.
He's not able to communicate his needs to us very well. He relies on you now for all his self care. But you know him best, as does his family, and I am going to share this information with the family once I've pulled the care plan together. They are able to draw on their knowledge and experience of caring for Jack, to think about what makes him happy and what makes him feel distressed in relation to his comfort needs. It's also important to be mindful that there are things that he would have liked in the past that maybe he doesn't necessarily like now. We've got to take that into consideration.
The staff work together with the nurse specialist to review Jack's needs and plan changes in his care and environment to respond to his changing needs. From a staff's perspective, how do you meet his physical needs? They use the comfort care daisy to map out ways of meeting his physical, social, and emotional needs. Using the comfort care daisy they bring together the views of all those involved in caring for Jack, including themselves, his daughter, and the GP. When he goes to bed he likes two pillows. First they think about Jack's physical needs. They recognise that he can now no longer get out of his bed or chair alone and needs assistance, which Jack sometimes finds distressing.
As Jack can no longer tell them why he finds this distressing, they discuss how to best communicate with him. At the very beginning he used to become quite anxious on the hoist and things. So we kind of worked around that by distraction. And when he's in the hoist, we ensure that we're talking to him throughout. And again, putting music on. So why don't we start to come on to think about his emotional needs. We've talked about him having some control. We've talked about what he looks like when you're not meeting that need. What other things to you do to help you feel good? We ensure someone's there always to give him a hand.
The staff talk about how they help him at meal times, and know that Jack has a sweet tooth and enjoys drinking milk. They discuss how to support him to continue to enjoy the food he has always enjoyed. So he has a rummage sweet tin. So again, it gives him a bit of control, he's also getting that nice sensation. They also come up with the idea of a rummage tin which has a selection of his favourite sweets, as he enjoys the stimulation of the colours and textures as well as the taste of the sweets. He's always got a selection of CD's in his bedroom and again, when dealing with personal or anything we will pop it on and it relaxes him.
Thinking about Jack's well-being and happiness, the staff know that Jack loves listening to music, and plan to talk to his daughter to ensure he has his favourites and a good selection of music to play on his CD player. They have the whole room singing and dancing. They get tambourines out. They also talk about having access to his music in other areas of the home, such as in the lounge, and making sure that all who look after Jack are aware of his love of music and how this can be used to keep Jack calm when he's distressed about bathing and being moved by the staff. The care home staff know that his daughter's visits bring Jack a lot of pleasure.
Although Jack is now unable to tell them this, they understand his reactions and recognise this through his laughter and smiles. Is he able to watch TV still? Yes he likes watching You've Been Framed. Anything that's to do with laughter, really, isn't it? We just have to be mindful when he's in bed and we re-position him to make sure the telly moves with him so he can still see it. Is there anything else that we've missed? Because there's quite a lot– The team also consider other aspects of Jack's physical, emotional, and social comfort needs, and any new changes in his care to support meeting his needs as dementia progresses.
They understand the importance of sharing the new comfort care plan with other staff in the home. The manager suggests small flash meetings during handovers to ensure that as many staff is possible understand changes in Jack's care. They will review the new comfort care plan to ensure that it evolves to meet with Jack's changing needs.
The nurse specialist met with Jack's daughter to review the comfort care plan and discuss if it is helping to meet Jack's changing needs. The purpose of today is to meet up and just to discuss how you feel the staff are meeting your dad's care needs around comfort. They review the comfort care plan and talk about whether she feels that her father's needs are being well met. I think there's been a noticeable difference over the last six months, particularly when he moved from one unit within the care ward– Jack's daughter is pleased with the changes in her dad's care and thinks that they have made a difference to his well-being and comfort.
She feels that her dad is genuinely calmer and more settled. The staff are all meeting your dad's need. They feel that he smiles more, he's more engaged, he responds, he taps to music. The care home staff can also see a difference in Jack. He seems to cope better when they have to move or lift him, and also think that he genuinely seems more comfortable in their care. I think he enjoys seeing the sort of interaction of the residents. They continue to review the plan and to make any changes when necessary to meet Jack's comfort needs.
Watch this video to see how Jack's comfort care plan was developed to meet his changing needs. This video illustrates how the nurse specialist worked with the care home staff and Jack's daughter to find out more about Jack's comfort needs. You will see how the nurse specialist and the care home staff worked together to produce a comfort care plan using the daisy template to ensure all of his needs are considered. This helped everyone involved in Jack's care to help meet his needs.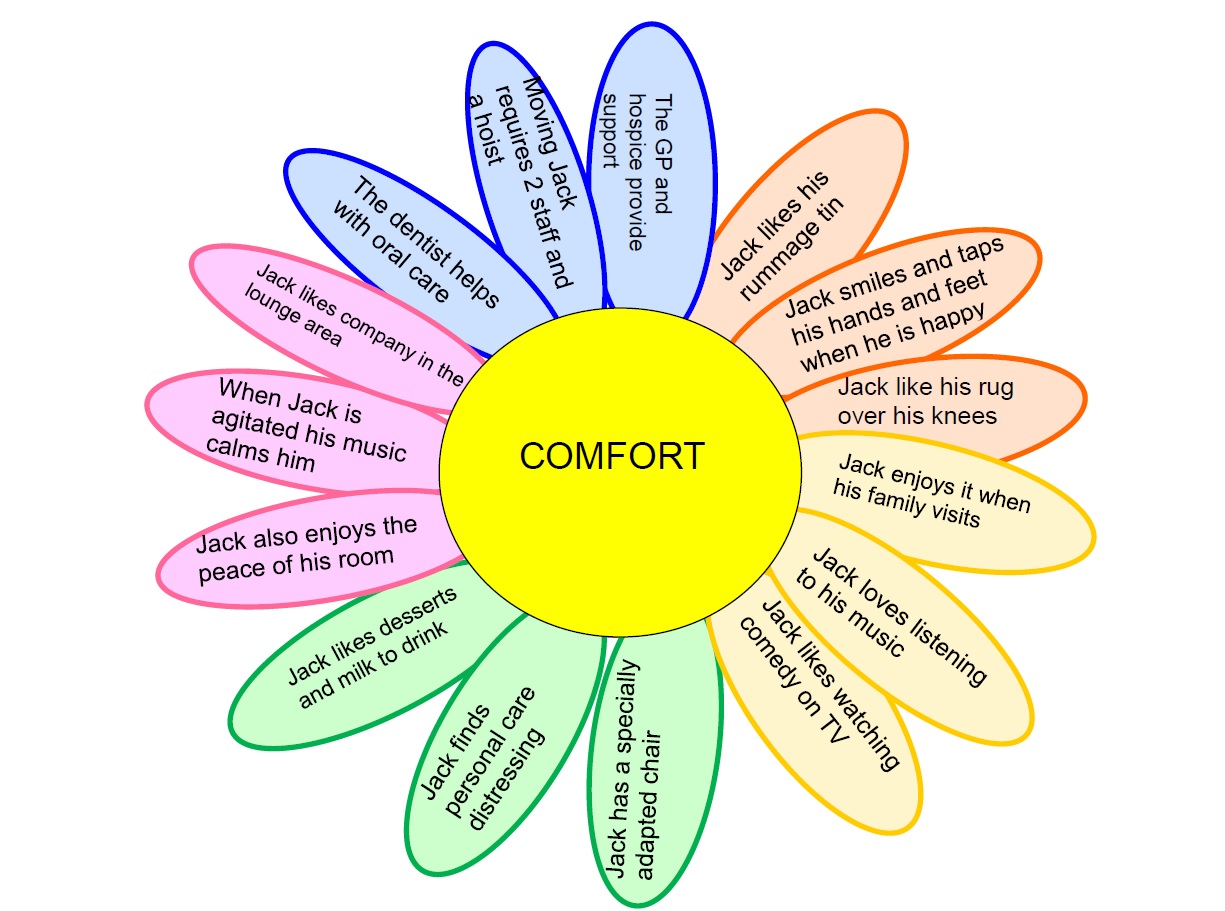 Larger/text version of this image
Jack's daughter and nurse specialist review the comfort care plan and discuss how the plan has changed how he is cared for and how it helps staff to meets his changing needs.
This article is from the free online
Dementia Care: Living Well as Dementia Progresses
Our purpose is to transform access to education.
We offer a diverse selection of courses from leading universities and cultural institutions from around the world. These are delivered one step at a time, and are accessible on mobile, tablet and desktop, so you can fit learning around your life.
We believe learning should be an enjoyable, social experience, so our courses offer the opportunity to discuss what you're learning with others as you go, helping you make fresh discoveries and form new ideas.
You can unlock new opportunities with unlimited access to hundreds of online short courses for a year by subscribing to our Unlimited package. Build your knowledge with top universities and organisations.
Learn more about how FutureLearn is transforming access to education