What Are the Different Decision Aids in Healthcare?
In this article, Dr Theresa Hinde introduces several national and international aids used in shared decision making.
© University College London
Dr Theresa Hinde is an anaesthetic fellow at Torbay and Southern Devon Health and Care NHS Trust. In this article, she introduces several national and international aids used in shared decision making. Some health and treatment decisions do not have a single best choice. In these circumstances, patients need help to decide what is the best choice for them based on:
The best available evidence
Their own values and preferences.
Decision aids are designed to supplement, not replace, clinician counselling and should make it easier for patients and healthcare professionals to discuss treatment options.A good decision aid will improve the likelihood that the patient's choice is based on the things that the patient felt mattered the most to them.
What are they?
After a rapid proliferation of decision aids from 1999, the International Patient Decision Aids Standards (IPDAS) collaboration was formed to assess the quality of decision aids and to help standardisation.
[1]
They produced the following definition of decision aids:
"Evidence based tools designed to prepare clients to participate in making specific and dedicated choices among healthcare options."
The best available evidence
Evidence should be provided in a clear manner to help patients understand more about the health problem and treatment options and may include information about:
The health condition including the prognosis with or without treatment
Options: all the treatment or self-management possibilities
Benefits and harms from all the options
Any uncertainty in the evidence or the outcomes.
Patient feedback has suggested that decision aids help them to convey more confidently their healthcare preferences to clinicians, family and friends.
Ways to evaluate their own values and preferences
The aid should help to clarify values i.e. what benefits, harms and uncertainties are most important to that individual patient, and help to guide them through the steps of decision making. Their aim is to allow the patient to imagine what it could be like to experience the resulting physical, social and emotional effects of the different options.
Illustrating options with an individual patient's circumstances may be useful to help personalise the benefits and risks of treatment options, so helping the patient make the best decision for themselves.
For example in a patient who has osteoarthrosis of the knee, to weigh up whether increasing their mobility and having less pain is more important to them than avoiding potential post operative complications or a lengthy recovery. Expectations and the likely reality need to be explored, clarified and discussed during a face-to–face encounter with a healthcare professional.
Timing
Although decision aids can be used at any point in the care pathway, patients ideally should have the opportunity to consider them in their own time after a possible surgical intervention has been identified, but before returning to clinic to further discuss the available options and start planning. Once in the clinic, the aids can then also help guide the clinical conversation around the most suitable options for the individual.
Interface
Due to different patient needs, decision aids need to be available in a variety of media e.g. paper based or electronic options, bearing in mind that provision may need to be made for patients with difficulty in reading, medical literacy, language barriers or limited access to computers. Sometimes patients benefit from a family member, friend or health coach taking them through the decision aid.
More sophisticated interactive web based tools exist which have the advantage of tailoring information according to the user. Some websites allow patients to access only the level of information and detail that they choose. This format can allow information to be saved and updated and enables the patient to share information easily with others if they choose.
The presentation of options in tables with 'headline outcomes' is a popular format. Examples of these can be seen at
Option Grid Decision Aids
.
The NHS has commissioned the development of a collection of decision aids via NHS Right Care, several of which relate to operative procedures – the website can be found
here
.
An example of the shared decision aids pathway is shown below.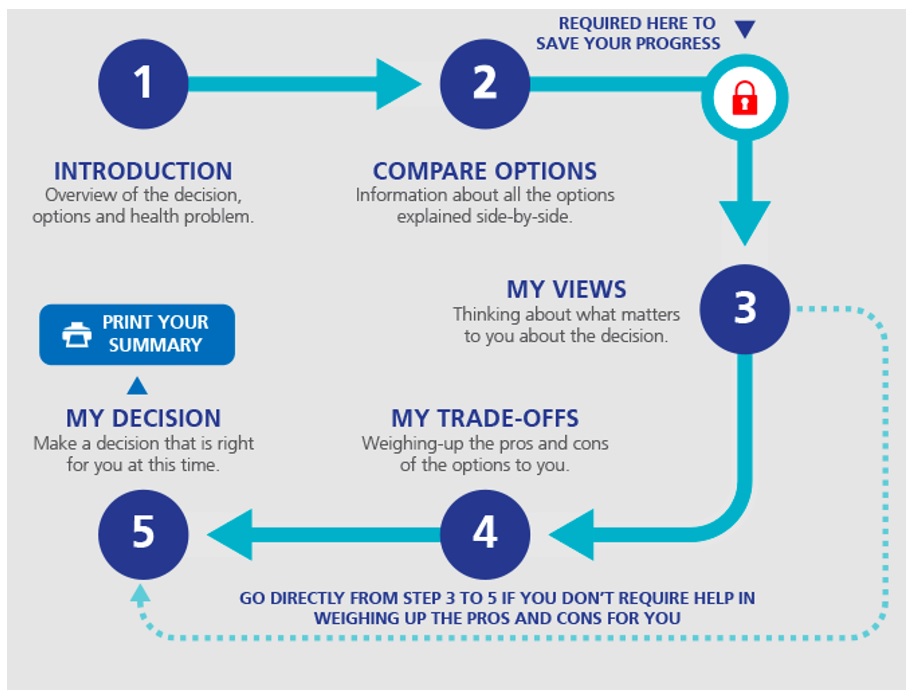 Communicating risk
Explanation of risk is the key component to any effective decision aid – this can be difficult to achieve.
A Cochrane review of shared decision aids concluded that improved knowledge of risks and likely outcomes led to more accurate risk perceptions, especially if probabilities were expressed in numbers.
[2]
Tools which predict survival or risk of complications from surgery exist and are useful in a preoperative setting. They can take into account individuals' demographics and background, as well as data from clinical tests such as blood results, giving a more individualised assessment of risk.
As an example, one group of perioperative physicians developed a survival calculator for patients considering abdominal aortic aneurysm surgery. It uses variables available before surgery against observed survival following scheduled repair of abdominal aortic aneurysms.
[3]
They concluded that the survival calculator should be used to inform patients considering whether or not to proceed to scheduled repair of an abdominal aortic aneurysm and that it might also be used for men considering screening for abdominal aortic aneurysm.
Evidence behind aids
There is accumulating evidence behind the use of decision aids. A Cochrane review concluded the following:
[2]
High-quality evidence that shared decision aids:
– Improve people's knowledge regarding options
– Reduce their decisional conflict related to feeling uninformed and unclear about their personal values
Moderate quality evidence that shared decision aids:
– Stimulate people to take a more active role in decision making
– Improve accurate risk perceptions when probabilities are included in decision aids, compared to not being included
Low quality evidence that shared decision aids:
– Improve congruence between the chosen option and the patient's values
Further evidence that shared decision aids:
– Enable more informed, values-based choices
– Improve patient-practitioner communication
A variable effect that shared decision aids:
Reduce the number of people choosing discretionary surgery
There are no apparent adverse effects on:
Health outcomes or satisfaction
There is a need for further evaluation of:
The effects on adherence with the chosen option, cost-effectiveness, use with lower literacy populations, and level of detail needed in decision aids
Little is known about:
The detail that decision aids need in order to have a positive effect on attributes of the choise made, or the decision-makinf process
Embedding their use
To make decision aids part of routine clinical practice, it is probably not enough just to make aids available. They need to be embedded in IT or decision support systems, and signposted so that clinicians are encouraged to use them. They should be included in training programmes for healthcare professionals and their development should include input from both patients and clinicians.
Conclusions
Well-designed decision aids may help patients to make high quality, personalised decisions. They cannot achieve this in isolation, but they can help to improve communication between patients and clinicians in face-to face encounters by initiating a conversation.
Many decision aids exist – patients and clinicians should be encouraged to embrace their use, and for greater impact and consistent utilisation they should be embedded in clinical systems where possible.
---
References
Stacey D, Légaré F, Col NF, Bennett CL, Barry MJ, Eden KB, Holmes-Rovner M, Llewellyn-Thomas H, Lyddiatt A, Thomson R, Trevena L, Wu JHC. Decision aids for people facing health treatment or screening decisions. Cochrane Database of Systematic Reviews 2014, Issue 1
© University College London
This article is from the free online
Perioperative Medicine in Action
Our purpose is to transform access to education.
We offer a diverse selection of courses from leading universities and cultural institutions from around the world. These are delivered one step at a time, and are accessible on mobile, tablet and desktop, so you can fit learning around your life.
We believe learning should be an enjoyable, social experience, so our courses offer the opportunity to discuss what you're learning with others as you go, helping you make fresh discoveries and form new ideas.
You can unlock new opportunities with unlimited access to hundreds of online short courses for a year by subscribing to our Unlimited package. Build your knowledge with top universities and organisations.
Learn more about how FutureLearn is transforming access to education