Economic challenges to health care provision
Dr Dalia Dawoud discusses the current economic challenges to health care provision and suggests some solutions
© University College London
In this article Dr Dalia Dawoud, a senior health economist with the Royal College of Physicians, highlights the current economic challenges to health care provision and suggests some potential solutions.
Health Care – a basic human right
Spending on health care is a controversial and highly-debated issue for governments around the world, as it relates to one of the basic human rights. The human right to health means that "everyone has the right to the
highest attainable standard of physical and mental health
, which includes access to all medical services, sanitation, adequate food, decent housing, healthy working conditions, and a clean environment."
[1]
This principle is an important one in the World Health Organisation (WHO) constitution, prompting it to encourage governments to take the necessary measures to allow for Universal Health Care Coverage.
[2]
However, this is easier said than done as the cost of health care provision continues to increase exponentially. This has been attributed to several reasons including the ageing population as well as the fast pace at which new, expensive medical technologies and innovations are produced (for example pharmaceuticals, diagnostics, medical devices, surgery techniques, mobile- and tele-health tools etc.). This challenges health care systems to continue to provide the latest "cutting edge" technologies.
A world wide issue?
The financial challenges that face governments has forced many countries to reduce spending in general, including on health care provision, with austerity measures implemented in developing and developed countries alike to help cut budget deficits and government debt, especially in Europe.Spending on healthcare varies considerably among countries. Data published by the Organisation for Economic Co-operation and Development (OECD) in 2016 show that in 2015 health care spending by EU countries ranged from 5% (in Romania) to 11.5% (in Switzerland) of Gross Domestic Product (GDP) (see Figure 1).
[3]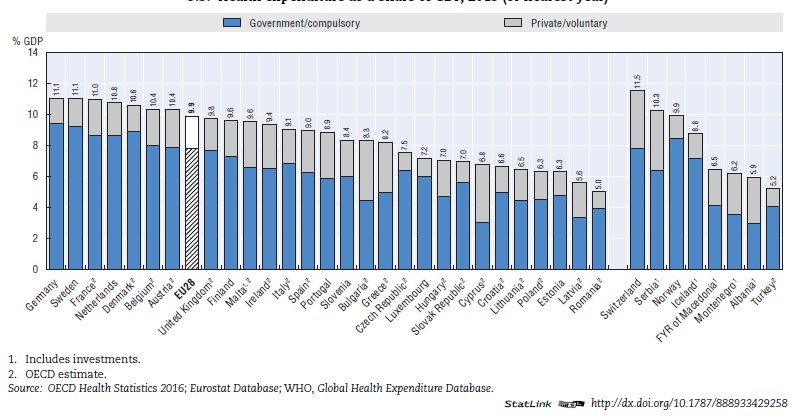 Figure 1. 2015 Healthcare spending by EU countries as a percentage of GDP
View the graph on
page 119 of the PDF
.Doubt remains, though, regarding the causal link between higher spending and better health outcomes. Compared with their counterparts in 10 other industrial countries, older adults in the USA are reported to be sicker and more likely to have problems paying their medical bills and getting needed health care despite the USA being the country with the highest level of health care spending in the world as a percentage of GDP (16.9% in 2015).
[3]
,
[4]
Spending our money wisely?
[5]
Perhaps what is required is not more money but better value for the money spent on health care. Indeed, it could be argued that the most important focus of health care financing and policy should not be on how much to spend but on how to decide on which services to fund.This is why health economics, an interdisciplinary science that is focused on studying the allocation of scarce health care resources to achieve the highest value for money, has recently attracted a lot of attention from health care providers. In particular, economic evaluation to assess the cost effectiveness of health care interventions before deciding on making them widely available has been gaining momentum across the world, supported by the WHO.
[6]
Evaluation of health care interventions and technologies in terms of both their clinical and cost-effectiveness to assess whether a service/technology is worth investing in is one tool that could help health care systems to wisely choose which technologies to fund and who has the potential to benefit.
[7]
This will discourage the inappropriate use (both overuse and underuse) of health care resources, which is a major source of waste that also could lead to harmful outcomes.
Evidence based spending and clinical effectiveness
Front-line clinicians and health care providers play an equally important role in the rational use of resources by taking into consideration the balance of costs and clinical effectiveness for each of these resources when providing them to patients. Examples include careful consideration of the need for preoperative tests and rational prescribing of antimicrobials to name a few. Ensuring that the money spent on health care delivers the maximum value is the key to maintaining and improving access to health care; as no health care system in the world, rich or poor; can afford the provision of every single intervention to everyone who needs it at any time.
What are your thoughts on allocation of health care budget and resources in your place of work? Have you come across circumstances where you feel budget cuts have impacted on care (please keep all comments anonymous with regards to patient and individual trust details).
---
References
© University College London
This article is from the free online
Perioperative Medicine in Action
Our purpose is to transform access to education.
We offer a diverse selection of courses from leading universities and cultural institutions from around the world. These are delivered one step at a time, and are accessible on mobile, tablet and desktop, so you can fit learning around your life.
We believe learning should be an enjoyable, social experience, so our courses offer the opportunity to discuss what you're learning with others as you go, helping you make fresh discoveries and form new ideas.
You can unlock new opportunities with unlimited access to hundreds of online short courses for a year by subscribing to our Unlimited package. Build your knowledge with top universities and organisations.
Learn more about how FutureLearn is transforming access to education