Welcome and introduction to the course
In this video, you will be introduced to the University of Southampton course: Shipwrecks and Submerged Worlds: Maritime Archaeology.
FRASER STURT: Hello and welcome to Shipwrecks and Submerged Worlds. I'm Dr. Fraser Sturt and I'm here with Dr. Jesse Ransley. DR.
JESSE RANSLEY: Over the next four weeks, we're going to be exploring maritime archaeology. We're going to be looking at the history of maritime archaeology. We'll be looking at submerged prehistory and geophysical techniques. We'll be looking at shipwrecks and what they can tell us about seafaring worlds in the past. And we'll also be thinking about the methods of maritime archaeology and some of the ethics and politics that's involved. DR.
FRASER STURT: And we're going to do this through a series of videos, like this, articles and features on the website. But also, most importantly, and most exciting for us, is going to be through response to your comments and ideas. What's maritime archaeology like in your part of the world? And what do you think about the topics that we're looking at? DR.
JESSE RANSLEY: So we hope you enjoy the course as much as we've enjoyed putting it together.
In this short video
Dr Fraser Sturt
and Dr Jesse Ransley describe what's included in the course and how it will be delivered. During the course, you will be introduced to different researchers in fields relevant to the content of that week. The course educators include: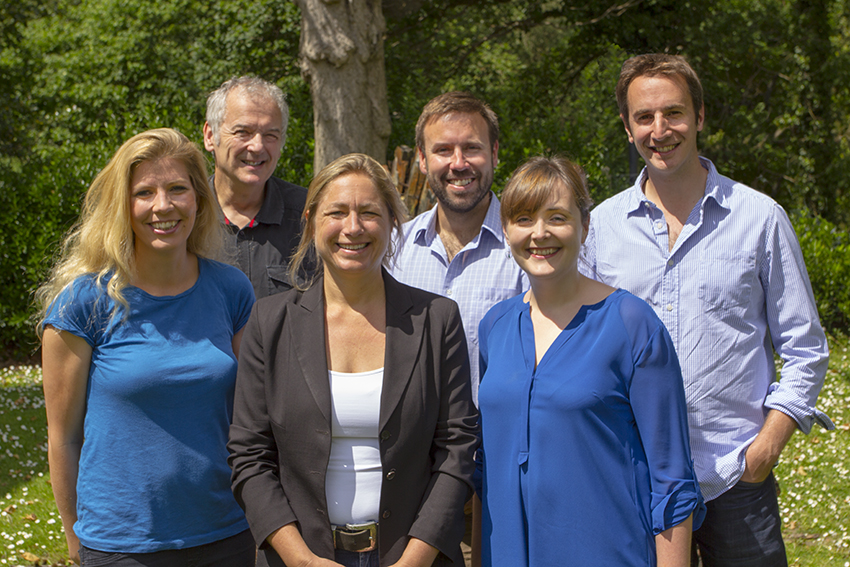 Some of the course educators: (L-R) Dr Helen Farr, Professor Jon Adams, Dr Lucy Blue, Dr Julian Whitewright, Dr Jesse Ransley & Dr Fraser Sturt
You can find out more about the team on
our course blog
.
---
For more information about what to expect about learning in the course, how to report technical problems, and what kind of assessments there are, please read the information in the steps that follow. You may also find it helpful to read our blog post
Before the course starts
.
---
We've structured the course so that you learn some of the basics of maritime archaeology, before moving on to consider seafaring through the ages, followed by looking at the changing marine environment and survey techniques before finishing the course with a look at the practical side of archaeology as well as discussing ethics and legislation.The course team will focus on responding to comments in the current week, but please feel free to skip ahead to any of the topics that are of particular interest to you. For example, this week we're looking at the basics of maritime archaeology and finding out
what you think maritime archaeology is
, so that you are ready to look at some
early boats
.
classical world
before moving onto the
Vikings
. You will have the opportunity to learn about
medieval seafaring
before moving onto the
Age of Sail
(including
pirates
).Week 3 discusses the
importance of sea-level change to archaeologists
as well as teaching you more about the
geophysical techniques
that are used in Maritime Archaeology. You will also have the chance to
play the role of a maritime archaeologist
.Week 4 includes a number of case studies from different eras (including the
Grace Dieu
and the
Torrey Canyon
). The final week of the course also looks at
ethics and legislation
in more depth. We will also signpost
further opportunities for you to get involved in maritime archaeology
and opportunities for you to
meet the team
.Every Thursday during the course, (9th, 16th, 23rd & 30th November) the
Shipwrecks Academic Team
will be taking part in a TweetChat from 20:00-21:00 GMT. To join in, follow the hashtag
#FLShipwrecks
.
---
It is possible to share your response in the discussion area. Have a look at other learners' comments. If you can relate to a comment someone else has made, why not 'Like' it or leave a reply?When you've finished a step just click the pink 'Mark as complete' button. This will allow you to see at a glance which steps you have completed on your 'to do' list, and so we can show you how much you've completed on your
Progress page
.
This article is from the free online
Shipwrecks and Submerged Worlds: Maritime Archaeology
Our purpose is to transform access to education.
We offer a diverse selection of courses from leading universities and cultural institutions from around the world. These are delivered one step at a time, and are accessible on mobile, tablet and desktop, so you can fit learning around your life.
We believe learning should be an enjoyable, social experience, so our courses offer the opportunity to discuss what you're learning with others as you go, helping you make fresh discoveries and form new ideas.
You can unlock new opportunities with unlimited access to hundreds of online short courses for a year by subscribing to our Unlimited package. Build your knowledge with top universities and organisations.
Learn more about how FutureLearn is transforming access to education