A new technology: from clinker to carvel
What were the differences in shipbuilding techniques in northern Europe and the Mediterranean? Read Prof Jon Adams' explanation of clinker and carvel.
© University of Southampton, 2017
What were these changes in ship technology? They arose out of the differences between the shipbuilding traditions of northern Europe and the Mediterranean. Medieval ships from London, Bruges or Riga would have shared certain technological characteristics and would have looked similar at a distance. On the other hand they were very different in design, construction and appearance from their counterparts from Pisa, Venice or Alexandria. These differences were the result of thousands of years of development in which the people of these two regions devised their distinctive ways of building ships constrained by various social, material and environmental factors.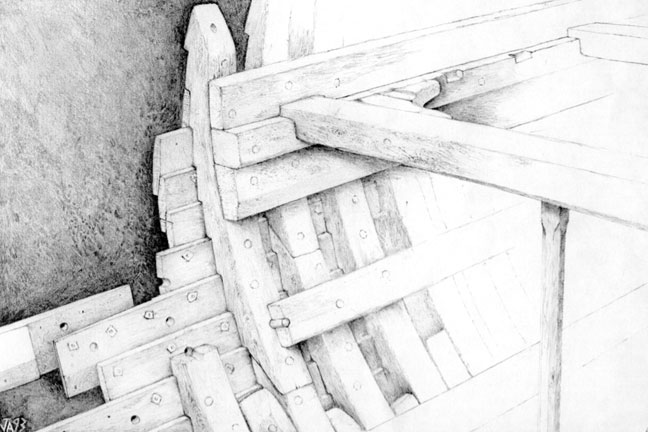 An example of clinker construction drawn by Jon Adams. © University of Southampton, 2017.
In the north there were two dominant ways of building ships but both shared an important and recognisable characteristic: their hulls were either partly or entirely built with overlapping planks into which frame timbers were fitted to enhance hull stiffness. The greater and longest-lived tradition of building ships this way originated in Scandinavia and is known as 'clinker', from the words clinch or clench, because the nails that fastened the planks together were 'clenched' over a rove or washer (see image above). In the Mediterranean a different method had been devised in which it was the frames that were shaped first, the planks being attached to them in a smooth edge to edge layer (see image below). It is because the frames of Mediterranean-built ships made a more or less coherent structure in their own right that this method is sometimes known as 'skeleton construction'. As well as their hulls, the sails that propelled these ships (the rig) were also different. In the north seagoing ships of the medieval period were propelled by a single large square sail but Mediterranean ships favoured triangular 'lateen' sails set fore and aft on one or more masts depending on the size of the ship. Another important difference was that Mediterranean ships had side rudders while those of the north had more efficient stern rudders that were less easily damaged or lost.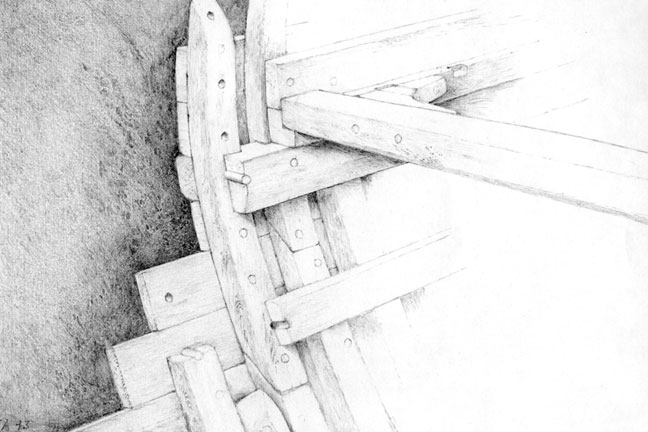 An example of carvel construction drawn by Jon Adams. © University of Southampton, 2017.
Mary Rose
, The Scottish
Great Michael
, the Swedish
Mars
, and a host of other great ships of the period, capable of exerting terrifying power through the muzzles of their guns but also of projecting the dynastic power, status and prestige of their renaissance rulers.
Jon Adams
© University of Southampton, 2017
This article is from the free online
Shipwrecks and Submerged Worlds: Maritime Archaeology
Our purpose is to transform access to education.
We offer a diverse selection of courses from leading universities and cultural institutions from around the world. These are delivered one step at a time, and are accessible on mobile, tablet and desktop, so you can fit learning around your life.
We believe learning should be an enjoyable, social experience, so our courses offer the opportunity to discuss what you're learning with others as you go, helping you make fresh discoveries and form new ideas.
You can unlock new opportunities with unlimited access to hundreds of online short courses for a year by subscribing to our Unlimited package. Build your knowledge with top universities and organisations.
Learn more about how FutureLearn is transforming access to education