Meet the Educators
Meet the Educators: short biographies of the course team.
© University of Roehampton
The University of Roehampton team of educators will lead you through your journey among the Tudor dynasty. Please feel free to introduce yourself to them, or follow them on FutureLearn!
Professor Suzannah Lipscomb
profile
Professor Suzannah Lipscomb is Professor of History at the University of Roehampton, and a Fellow of the Royal Historical Society. She received her DPhil from Balliol College, Oxford; writes a column for History Today; and has presented numerous history documentary series. Suzannah is author of five books about the sixteenth century:
The Voices of Nîmes: Women, Sex, and Marriage in Reformation Languedoc
,
1536: The Year That Changed Henry VIII
,
Witchcraft: A Ladybird Expert Book
,
The King is Dead
, and
A Visitor's Companion to Tudor England
. She was appointed Professor while this MOOC was being created, so at times you'll find her referred to as Dr Suzannah Lipscomb. On Twitter, her handle is @sixteenthCgirl, which tells you everything you need to know. She is the academic programme lead for the University of Roehampton's MA in Tudor Studies.
Professor Glyn Parry
profile
Professor Glyn Parry specialises in early modern (1500-1750) environmental history, political/intellectual history, religious history, magic, and the history of scholarship. He attended the University of Cambridge, gaining a PhD in History in 1981. In 1987 he published
A Protestant Vision: William Harrison and the Reformation of Elizabethan England
with Cambridge University Press. Glyn joined Roehampton in 2012 after several years teaching at Victoria University Wellington, New Zealand.
Professor Ted Vallance
profile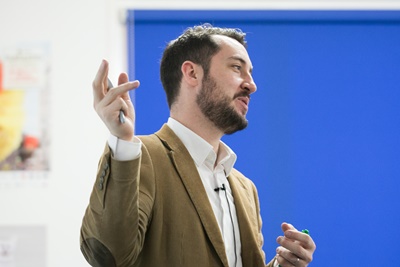 Professor Ted Vallance is Professor of Early Modern British Political Culture at the University of Roehampton, London. His research focuses on "subscriptional genres" (oaths, petitions, and loyal addresses), and on the memory of the English revolution. Ted's latest book is
Loyalty, Memory, and Public Opinion in England, 1658–1727
(MUP, 2019).
Dr. Andy Kesson
profile
Dr Andy Kesson is a Reader in the Department of English and Creative Writing at the University of Roehampton. Andy has written extensively on early modern theatre, performance, and prose fiction including books on John Lyly and print in early modern England. His research interests are vast spanning popular culture and book history, the reception of early modern writers and the literary canon, gender, queer and disability studies, and pedagogical theory and practice.
Gillian McIver
profile
Gillian McIver received a BA and MA in History from the Universities of British Columbia and Toronto, before moving into film-making and film research. She is interested in how visual images communicate ideas about history. Gillian is the author of "Art History for Filmmakers" (Bloomsbury Press, 2016).
Mark Frederick Wilson
profile
Mark Wilson is currently reading for a PhD at the University of Roehampton. He has previously read History and English Literature at Roehampton. He also has two postgraduate degrees; one MA from Roehampton and an MPhil in Early Modern History from the University of Birmingham. Mark is an experienced History teacher and has been a guide at Shakespeare's Birthplace, Stratford.
Professor Michael Patrick Cullinane
profile
Professor Michael Patrick Cullinane is Professor of U.S. History, and a neophyte to sixteenth century Tudor history. His only real lens through early modern history is
Blackadder
and so he works entirely behind the scenes with the real experts to put together a top-class online course.
© University of Roehampton
This article is from the free online
The Tudors
Our purpose is to transform access to education.
We offer a diverse selection of courses from leading universities and cultural institutions from around the world. These are delivered one step at a time, and are accessible on mobile, tablet and desktop, so you can fit learning around your life.
We believe learning should be an enjoyable, social experience, so our courses offer the opportunity to discuss what you're learning with others as you go, helping you make fresh discoveries and form new ideas.
You can unlock new opportunities with unlimited access to hundreds of online short courses for a year by subscribing to our Unlimited package. Build your knowledge with top universities and organisations.
Learn more about how FutureLearn is transforming access to education