Types of knives
What types of knives do chefs usually use? In this article we will explain each type of knife used in a professional kitchen.
© International Culinary Studio
Choosing a knife is one of the most important activities that you need to do as a chef.
After all, they say workman is only as good as his tools! When selecting a knife, it is essential that you hold and feel the different knives and that you make sure that that it feels comfortable in your hand.
There are many things to consider when choosing a knife and you have many choices. You need to consider:
Which brand do you prefer, and which materials have been used to make the knife?
How much does it cost and how much do you have available or are willing to spend?
What style? There are many different styles and weights of the individual knives and how they balance in your hand.
Your role in the kitchen and which knife or knife set is going to best suit the job you are doing.
Colour coded? Some kitchens use colour coded handles on their knives to avoid cross contamination. Do you want them to be colour coded?
The following picture shows a typical selection of knives that a chef would use in a kitchen.
Before we start describing the different kinds of knives, Chef Andy is going to take you through Safe Knife Use.
Different types of knifes
As we mentioned above, there are many different types of knives and each knife is used for a different job that needs doing.
Chef's Knife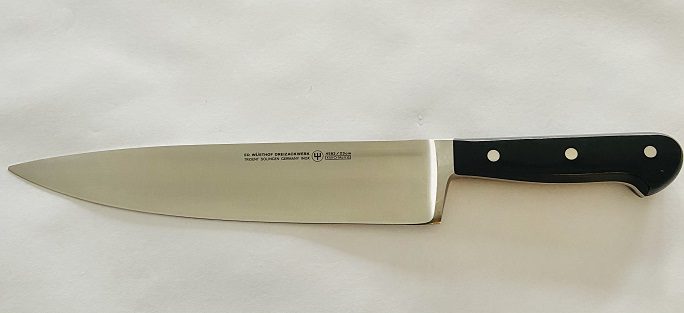 A chef's knife or cook's knife has a long, wide blade and a straight edge. It is widest across the heel (part of the blade closest to the handle) and tapers off to a finely pointed tip. It has a curved blade that makes it perfect for chopping and dicing a lot of vegetables at once using a rocking motion.
The thicker broad heel makes it stronger and can stand more pressure so it is ideal for thicker foods and more heavy duty cutting for example onions, carrots and potatoes. A chef's knife is the one knife that all chefs have as it is the most versatile and can be used for chopping, mincing, dicing.
Bread Knife

A bread knife has a long, evenly sized, sharp, grooved serrated blade allowing a chef to saw though softer textured items without crushing and ruining the shape of the item.
The bread knife is used for cutting breads, croissants, bagels, bread rolls and can also be used for slicing through a cake with a soft fluffy texture without damaging or collapsing it by knocking out the air of the cake.
Paring Knife

A paring knife has a short, thin evenly sized blade and can be serrated or not. One of the most popular knives in the kitchen, it can be used to chop, slice, dice, cut fruit and vegetables but can also be used for various other kitchen tasks such as peeling, de-coring and trimming.
Filleting Knife

A filleting knife has a long, thin flexible blade and a sharp tip, allowing you to pierce skin of fish and delicately remove flesh from bone without damaging the flesh of the fish. A filleting knife looks similar to a boning knife but is lighter and more flexible.
Boning Knife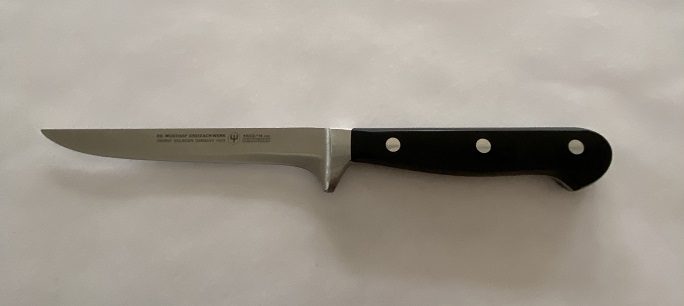 A boning knife is short and slim with a rigid, very sharp blade and a fine pointed tip. The boning knife is used to cut through cartilage and is perfect to debone a meat cut, removing the bone without damaging the flesh. More delicate meats such as duck and chicken will require a flexible boning knife which are also available.
Palette Knife

The chef's knife is the chef what a palette knife is to a pastry chef! A palette knife is not really a knife but is a flat, blunt lifting tool. The palette knife is used to lift and move delicate pastry items without damaging them. It can be used to lift and cleanly turn crumpets and biscuits. It can also to smooth cake fillings and smooth toppings when making baked dishes.
Salmon Knife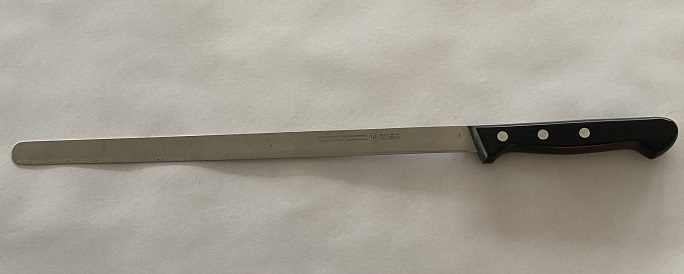 A salmon knife has a very long, flexible blade with a double edge. Salmon knives are used to slice, fillet and skin larger fish such as hake and salmon. The blade is slim enough to be inserted between the skin and the flesh without damaging the fish and then cut the fish into neat and tidy fillets. Salmon knives can also have indentations in the blade (dimpling) which helps to stop the raw fish from sticking to the blade.
Carving Knife

A carving knife has a long, slim blade, tapering to a sharp point. Its narrow, long blade produces less drag creating a clean cut through the meat. The carving knife will produce neat, thin and even slices of meat and is perfect for carving poultry, beef, lamb and pork. Because if its length, it is also useful for cutting through large fruit and vegetables such as melons, squash, pumpkins and courgettes and can even be used for cutting cakes.
Butchers Knife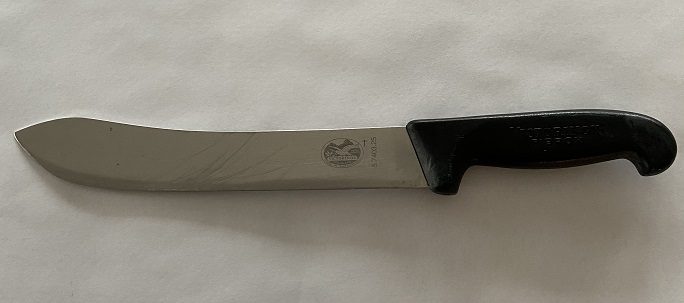 Butchers knives are used for butchering animal carcasses.
Santoku Knife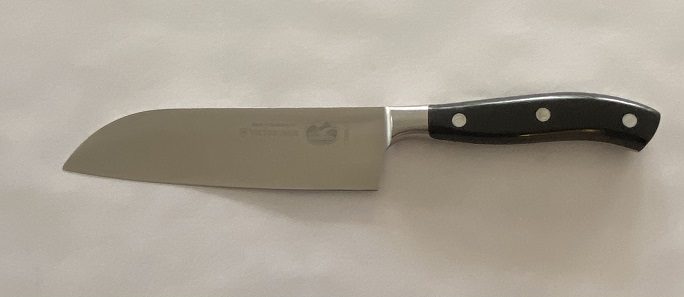 A Santoku knife, native to Japan, originally called santoku bocho knife or knife with 'three uses'. The Santoku knife can be used for precise cutting, dicing and mincing. It has a long, slightly tapered blade and a drop point, usually with dimpling on the blade to prevent food sticking to the metal whilst cutting. This blade allows it to be used for intricate cutting work and you will usually see them used for cutting raw fish or preparing sushi.
The Santoku knife is versatile and can be used for various tasks such as cutting vegetables and it can also stand in as a utility knife or chef's knife when needed.
Nakiri Knife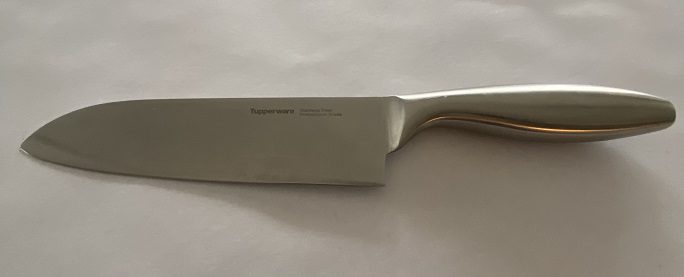 The Nakiri knife or Japanese vegetable knife looks like a small meat cleaver. It is broad, rectangular and has a very sharp, hollow ground edge.
Nakiri knives are used to chop vegetables. Unlike the chef's knife that needs to be rocked backwards and forwards; the Nakiri knife can be brought down in one chop, cutting through to the chopping board in one motion.
The Nakiri knife is useful when cutting large, hard vegetables such as butternut squash and for shredding cabbages and lettuce. Because of their extremely sharp blade they can be used to cut very thin slices or ribbons of vegetables for example to garish a dish.
Curved Paring knife

The curved paring knife has a rigid, short, curved blade with a very sharp edge. It is used to peel vegetables and fruit. The handle has been carefully designed to prevent slipping when peeling making it safer to use.
Cleaver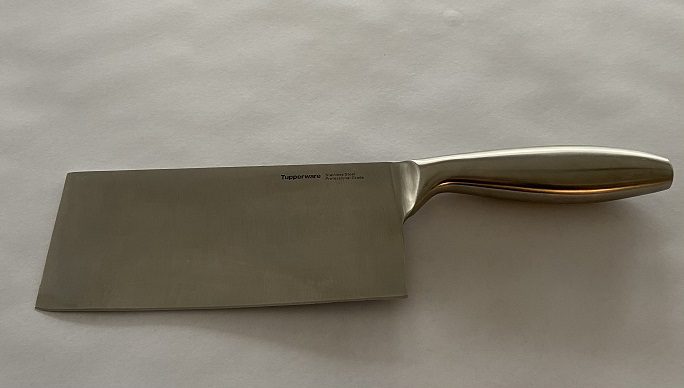 A cleaver has a flat, rectangular-shaped flat blade and is often referred to as a butcher's knife.
Used in butcheries, a cleaver is used to chop raw meat, chop through bone or to portion meat before cooking.
Cleavers come in a variety of sizes from small to large and the choice will depend on what it is to be used for.
Because of its size and weight, it is also useful to crush garlic or ginger on a chopping board.
Honing or sharpening steel

A chef will normally also have a honing or sharpening steel in their knife set to sharpen their knives.
Chopping boards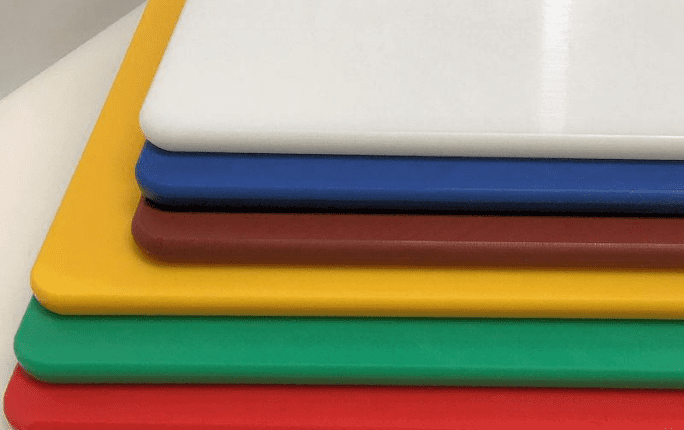 Whilst not a knife, we cannot go further without mentioning chopping boards because they are essential when using knives.
Chopping boards are an essential part of any food preparation area or professional kitchen. Colour-coded chopping boards safeguard your kitchen from cross contamination by ensure that raw and cooked foods do not transfer bacteria from one to the other.
Chopping boards can be purchased in a variety of different types of material including wood, bamboo and plastic. In a professional kitchen, colour-coded chopping boards are used by professional chefs to ensure that a high degree of hygiene and to reduce the possibility of cross contamination.
For home chefs, it is recommended that you purchase at least a yellow and red board, this will reduce the risk of illness to you and your family.
We will briefly look at what each board is used for:
Red – Raw meat and poultry. Never used for cooked meat.
Yellow – Cooked meat and poultry. Never used for raw meat. If you only have a red or yellow board, you should use the yellow board for working with raw or cooked fish however you must wash the board well before reuse.
Blue – Fish and shellfish.
White – Dairy and bakery items for example cakes and pastries.
Green – Washed raw fruit, salad and vegetables.
Brown – Washed root vegetables that have been in contact with soil for example potatoes, sweet potatoes, carrots, and parsnips. This bord should also be used for fungi such as mushrooms.
Purple – used to prepare 'free-from' foods such as gluten free or nut free. This will prevent any allergens from entering food. Some people have very serious allergies that can result in death and so this board should not be used for anything that can cause an allergy.
Chopping boards should be washed well between use, plastic boards can be placed into a dishwasher.
Activity
Have you purchased any knives yet or do you have any favourites? What are they and why are they your favourite? Start considering what knife or knives you are going to purchase or use as later in this course we will be using a knife to practice knife skills. Note: If you are considering buying any knives, first get through the discussion on Recommended Knife Brands before buying any.
© International Culinary Studio
This article is from the free online
Professional Knife Skills
Reach your personal and professional goals
Unlock access to hundreds of expert online courses and degrees from top universities and educators to gain accredited qualifications and professional CV-building certificates.
Join over 18 million learners to launch, switch or build upon your career, all at your own pace, across a wide range of topic areas.
Register to receive updates
Create an account to receive our newsletter, course recommendations and promotions.

Register for free