The Grace Dieu, England (1439)
In this article, Thomas Dhoop explains the significance of Henry V's flagship The Grace Dieu.
© University of Southampton, 2017
In the mudflats of the River Hamble, near Bursledon lies a piece of unique medieval maritime heritage, one that has a special relationship with the University of Southampton. Here lies the wreck of the
Grace Dieu
, Henry V's flagship. When it was finished in 1420, it was the biggest royal ship ever built. In fact, no bigger ship was built in England for another 200 years. The story of the
Grace Dieu
is unique from a historical, but also from an archaeological point of view. In July 1416, work began in Southampton to construct the fourth, last and largest of the great royal warships of Henry V. The new ship was to be 1400 tons, the biggest ship ever constructed. She was blessed in 1418, but did not make her maiden voyage until 1420. It turned out to be a disaster. When at sea, a number of men from Devon mutinied and insisted on being put ashore at St. Helen's on the Isle of Wight.
Grace Dieu
's brief naval career was over and she was never called on to put to sea again. By the end of 1420, the vessel was moored in the River Hamble and functioned as a technological marvel to impress foreign dignitaries. Albizzi, the captain of a Florentine galley fleet was invited to dine on board the
Grace Dieu
and wrote in his diary that he had never seen 'so large and splendid a construction'. In 1434, she was towed up the River Hamble to Bursledon, where she was laid up in a specially constructed dock in the mudflats. On 7 January 1439, lightning struck and a major part of the hull burnt out. Only the keel and some of the bottom planking remained embedded in the mud.At extreme low tides, the impressive wreck would surface from the river. The Victorians thought the wreck was a huge Danish Viking ship, because the hull was clinker-built. It was R. C. Anderson who, in 1934, first advanced the idea that it was the
Grace Dieu
. As she was a royal warship, the rightful ownership of the wreck lay with the British Crown. On 30th January 1970, the University of Southampton bought the wreck for a sum of £5 and her care lies with its Department of Archaeology. In 1973 the Protection of Wrecks Act was passed, and it was one of the first sites to be designated as of historical and archaeological importance.It is very rare that archaeologists are able to tell such a detailed and accurate story of the life-span of an archaeological shipwreck. This is one of the rare occasions when a medieval shipwreck can be linked to a known historical ship, much like the
Mary Rose
and the
Vasa
from later periods. We can state that the wreck from the River Hamble is the
Grace Dieu
with a high degree of certainty because the documentary evidence tells us that she was laid up at this location. Furthermore, the remains are simply too big to be anything else.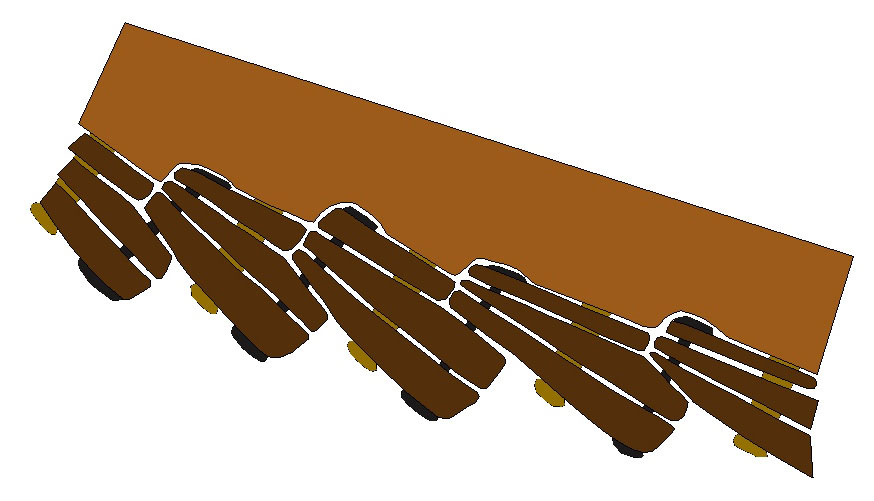 Triple layer planking Grace Dieu. © University of Southampton, 2017.
Also from a technological point of view, the
Grace Dieu
is unique. She is clinker-built and has three layers of planks. She is, by far, the largest clinker-built vessel ever constructed. She would have measured over 60m (200 feet) long, with a beam of 15m (50 feet) and her forward castle probably stood around 15m (50 feet) above the waterline. A fighting force of 200 men would have manned the ship. No diagrams or shipwright's plans were made, but copies of some of the commissioning documents and accounts survive. These give us an invaluable insight into the resources that were necessary to construct a mastodon like the
Grace Dieu
. 23 743kg (52 241 lb) of iron clench nails and roves held together planks and timbers made out of 3906 trees, 70% of which oak, the remainder mostly beech.For the longest time, clinker-built vessels were regarded as small, primitive and rudimentary vessels, destined to 'evolve' into the bigger, more sophisticated carvel-built ships. However, this unique find and its rare symbiotic relationship with the historical record always acted as a silent reminder of the fact that large clinker-built ships existed and were once some of the most sophisticated pieces of engineering developed by man.
Grace Dieu
provided unequivocal proof that medieval shipwrights were technologically capable of building extremely large clinker-built ships, without the use of drawings or diagrams. In all likelihood, temporary moulds were used to construct this mastodon.
Newport, Wales
(30m) now seems inappropriate. Finally, the recent discovery of a section of clinker-built hull at Barceloneta, Barcelona, Spain has provided definite physical evidence for the entry of clinker-built ships into the Mediterranean. It was the
Grace Dieu
that challenged established truths and provoked the minds of archaeologists to continue their research and come to the new insights of today.
For help with nautical terminology see the MaritimeArchaeology.com glossary.
Thomas Dhoop
© University of Southampton, 2017
This article is from the free online
Shipwrecks and Submerged Worlds: Maritime Archaeology
Our purpose is to transform access to education.
We offer a diverse selection of courses from leading universities and cultural institutions from around the world. These are delivered one step at a time, and are accessible on mobile, tablet and desktop, so you can fit learning around your life.
We believe learning should be an enjoyable, social experience, so our courses offer the opportunity to discuss what you're learning with others as you go, helping you make fresh discoveries and form new ideas.
You can unlock new opportunities with unlimited access to hundreds of online short courses for a year by subscribing to our Unlimited package. Build your knowledge with top universities and organisations.
Learn more about how FutureLearn is transforming access to education