Texts and Mahayana Buddhism
test
Texts have two primary functions: one is to give a stable form to words, which are by nature volatile and transient; we may call this function "giving material form to people's thoughts." The other is to give someone's words wider circulation by reproducing them; we may call this second function "giving a larger audience to ideas." In other words, texts are one of the mediums that connect people's thoughts across time and space. In the textual medium, the message―a long and carefully structured segment of text―is encoded in words and images. Text reproduction is not an abstract process. Here I have prepared three books. They are three different editions of the same book, the Shijing which were published during the Edo period (1603-1868).
If we look inside, we can see that they are all woodblock printed editions produced at different points in time, specifically, one in the early, another from the middle, and then late Edo period. Thus, we can say that books not only bridge the geographical gap between different places (China and Japan), but also connect different points in time as well. Since the beginnings of history, people living in different parts of the world have been exchanging ideas through texts and developing their own unique cultures. We are going to define cultures that have placed a high importance on texts as "textual cultures." East Asia, of which Japan is part, possesses an incredibly rich textual culture with a very long history.
It would be impossible to talk about East Asian textual culture without considering the role of
Mahayana
Buddhism. Before reading the article below, let us watch the video and reflect on the role of books within culture. Prof. Sumiyoshi will show you three different editions of the same book published during the
Edo
period, in the 17th, 18th, and 19th century respectively. You will see how approaches to publishing evolved over a period of 200 years.
Books introduced in this step

Shijing (J. Shikyō) , Classic of Poetry, known also as the Book of Songs [Left: Late Edo period (1865)] [Center: Middle of Edo-Period (1791)] [Righ: Early Edo period (1664) ]
Shijing is the oldest existing collection of Chinese poetry, comprising more than 300 works dating approx. from the 11th to the 7th centuries BCE. The content of the songs varies. One of the most famous poems is "The Pulchritudinous Peach Tree" (桃夭) (Shijing I.1.6) which celebrates the beauty of a young bride. Though this course is about Japanese culture, you will learn a lot about Chinese books, too!
Mahayana Buddhism
It would be impossible to talk about East Asian textual culture without considering the role of Mahayana Buddhism.Mahayana Buddhism developed in Northern India at the beginning of the Christian era and gradually spread to China as part of the contacts between the central-Asian Kushan empire and China during the
Later Han dynasty
(25-220 C.E.). (fig.1, fig.2)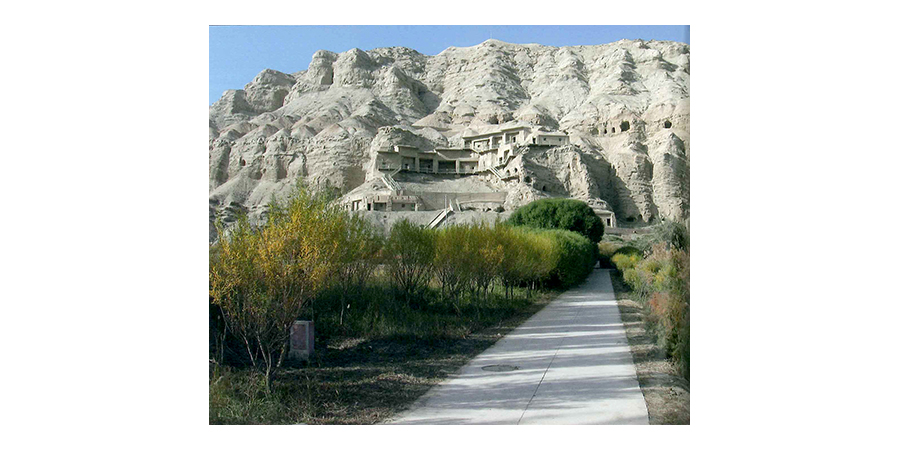 Fig. 1. "The Kizil Caves complex", associated with the ancient Tocharian kingdom of Kucha, located in the current China, Xinjiang Uyghur Autonomous Region. [Take a closer look] (From the "EXPEDITION SILK ROAD" exhibition catalog)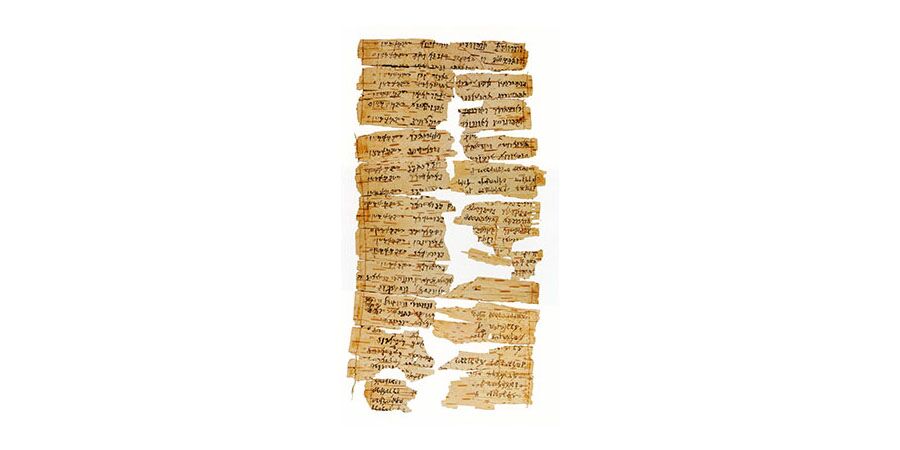 Fig. 2. Ancient Khotan, Archaeological Explorations, Dhammapada, Manuscript, Birch bark, Russian Academy of Science [Take a closer look] (From the "On the trail of texts – Along the Silk Road" exhibition catalog)
The eastward expansion of Buddhism is one of the great events in East Asian history and its significance goes well beyond the history of religion. It affected the everyday life of people, of course, but also the development of textual culture. In particular, Buddhist sutras (
okyō
) played a fundamental role in the development and spread of books in East Asia. (fig.3)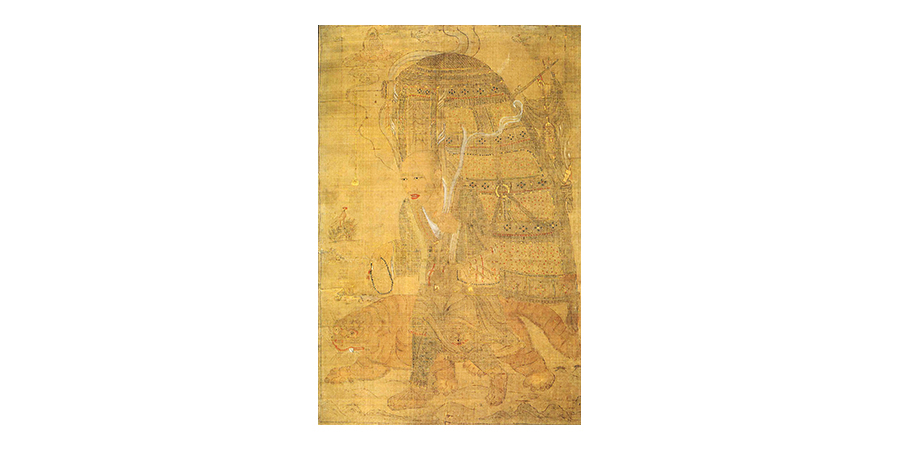 Fig. 3. Priest on a journey to obtain Buddhist sutras [Take a closer look] (From the "EXPEDITION SILK ROAD" exhibition catalog)
"Sutra" is a general term for Buddhist texts of any school or sect. The reason for focusing on Mahayana texts in particular here is that Mahayana Buddhism placed a particular emphasis on the production and circulation of written works. The
Lotus Sutra of the Sublime Law (J. Myōhō rengekyō)
, for instance, the most representative work of Mahayana Buddhism, repeatedly urges its readers to "accept," "recite," "explain," and "copy" the sutra. From the very outset, Mahayana Buddhism urged its followers to copy its sacred texts in order to spread its teachings more widely, and nowhere was this more literally and emphatically applied than in China and its neighboring countries, where Buddhist texts circulated in Chinese translation.
Explore more about books
As mentioned in Step
1.1
, you can view the images of most books—introduced in this course—in larger size by clicking the links marked
Click to take a closer look
. The link takes you to an
online library
where you can enjoy quality images and detailed information but it gives you more than that.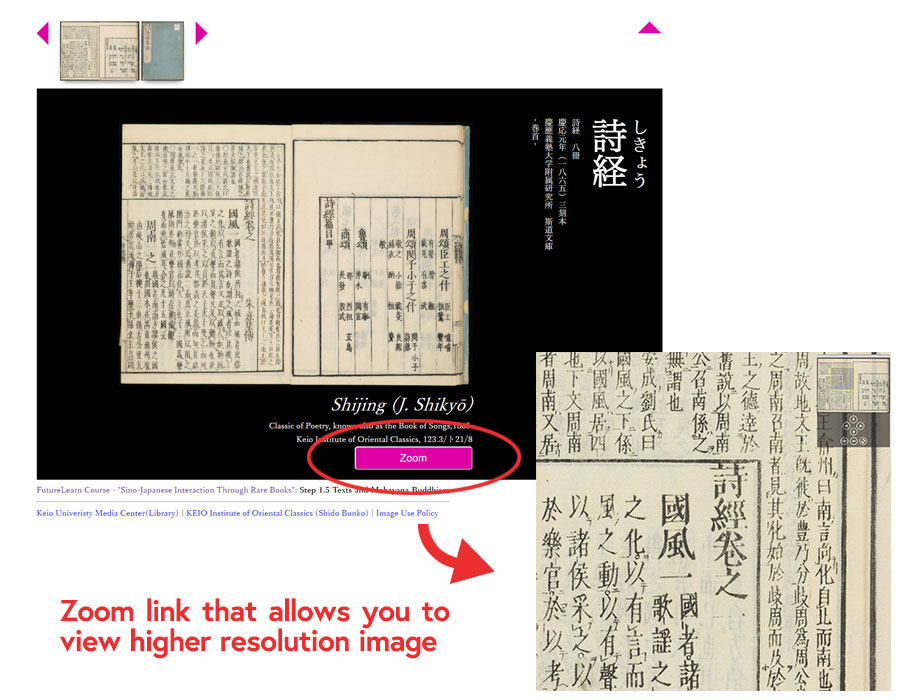 This article is from the free online
Sino-Japanese Interactions Through Rare Books
Our purpose is to transform access to education.
We offer a diverse selection of courses from leading universities and cultural institutions from around the world. These are delivered one step at a time, and are accessible on mobile, tablet and desktop, so you can fit learning around your life.
We believe learning should be an enjoyable, social experience, so our courses offer the opportunity to discuss what you're learning with others as you go, helping you make fresh discoveries and form new ideas.
You can unlock new opportunities with unlimited access to hundreds of online short courses for a year by subscribing to our Unlimited package. Build your knowledge with top universities and organisations.
Learn more about how FutureLearn is transforming access to education