How technologies might help
Some technologies are specifically designed to be used by or with a person living with dementia. Others can support carers and people with dementia enhance their interactions, so can help carers to be more confident day to day, even at a distance.
Technologies can improve connections, assist decision-making, encourage creativity and provide stimulation. They may be simple 'low-tech' solutions, such as post-it notes, books or fabrics, or 'high-tech' solutions like wearable devices or touch-screen technologies.
Categorising technologies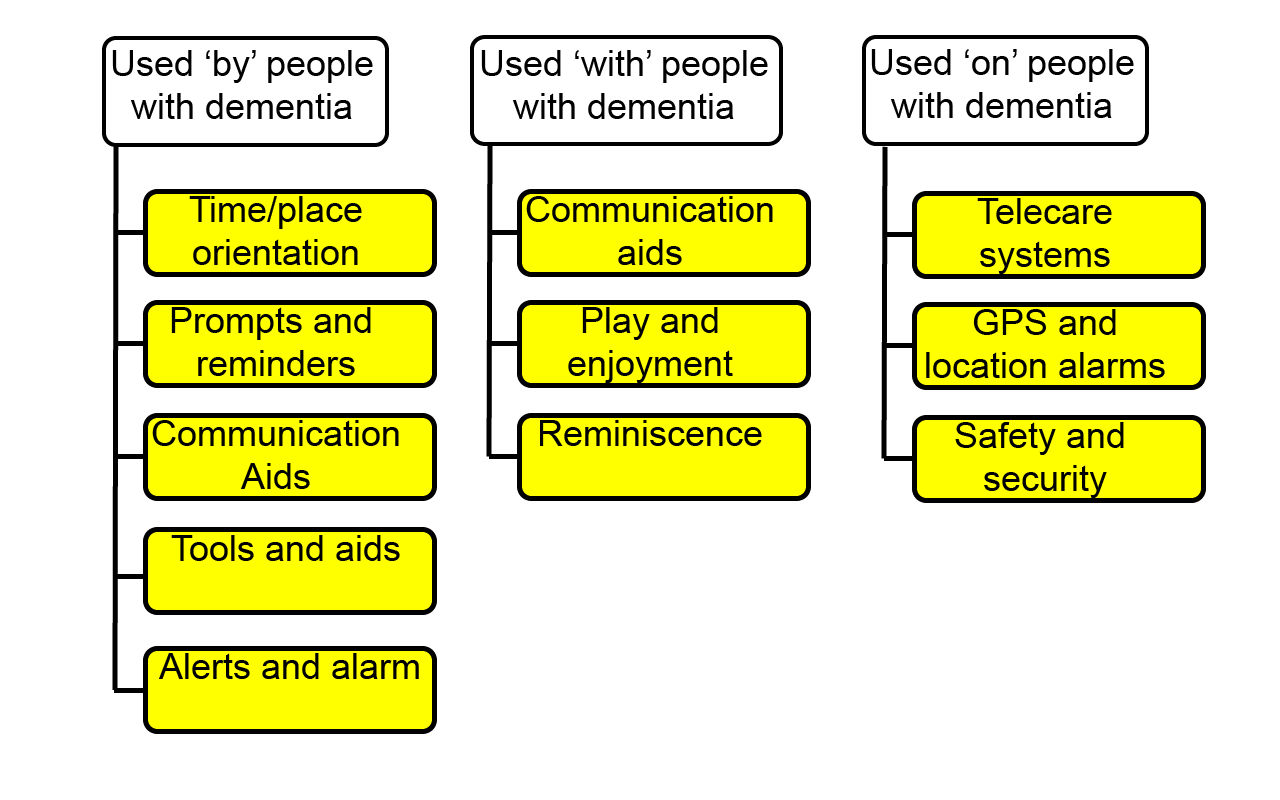 Detailed version of this diagram (pdf)
Inter-personal conversations
There are phones designed or adapted to be used by people living with dementia. Many such phones are inexpensive and are readily available in high street stores. Landline and mobile 'photo' phones can attach photographs to speed dial buttons, allowing calls to be made by a single button press or by touching an image on screen. More specialist phone designs can limit calls to pre-selected numbers via a single button speed dial function, making them easier to use. But without a conventional keypad, they no longer looked like conventional telephones. Their changed visual appearance could therefore be problematic for people with dementia.
Decision-making
Some devices are aimed towards professional carers who are looking after people in later dementia who may have lost much of their verbal communication skills. Examples include Talking Mats - a card-based communication tool to help people with dementia make choices or put across their opinions.
Creativity and stimulation
There are a number of devices which promote individual or group forms of play that can stimulate creativity and enjoyment. Some are 'High Tech' commercial products (e.g. Nintendo 'DS' and 'Wii' video games consoles), but some are simple, inexpensive games and puzzles. They can form the basis for music, art, reminiscence or cognitive stimulation therapies. Several products also use touch, sound and light to stimulate a range of sensory experiences, such as sensory cushions or muffs comprising different colours, materials and textures (e.g. twiddlemuffs), or even simulate living animals, such as the Paro robot.
Reminiscence therapies
There are also a range of reminiscence aids which encourage social interaction, both low tech and high tech. These can be photographic books evoking past events or historic objects which can encourage a familiar sense of place. These could be digital; in paper form; use video, music and animations; or use touch, taste or smell to create differing sensory experiences. They can be really powerful tools, but they require time, sensitivity and biographical knowledge of the person to gain their full benefit - as we saw from the paper-based book created by Ashley for his Mum. Take a look at the link below for an example of the creation of digital jewellery that supports reminiscence.
Multi-purpose devices
Smartphone and tablet apps are now being designed to incorporate a number of functions. An online app' called Mindmate, for example, has been developed by researchers at the University of Glasgow, with additional support from Newcastle University's Dementia Innovation Hub and the National Innovation Centre for Ageing contains a number of activities that can potentially support improved communication, including games, a life story tool, list-making function, reminders, advice of exercise and nutrition and personalised music.
Going forward
The current evidence of the benefits of assistive technologies is not robust, so we need to learn more about how useful these technologies are. Also, people are not always well informed about currently available assistive technologies, and rely on general practitioners for guidance. But often, GPs have little knowledge in this area. So as well as considering emerging devices, future research needs to explore why some assistive technologies are more popular than others.
How confident are you about using technologies to support communication?
© Newcastle University - image © Gibson et al (2014)