0:12Skip to 0 minutes and 12 seconds Why was there a need for ELPQuiC (Emergency Laparotomy Project Quality Improvement Care Bundle)? So ELPQuiC was a project we ran based in Guildford across four hospitals around the southern part of UK. It started in 2012, really as a result of the publication of our mortality rates from the emergency laparotomy network. So we realised at that stage we had a pretty high mortality rate, I think 22% in Guildford. And the average on that publication was about 15%. So we realised there's this massive difference between our elective cases and our emergency cases. And we started to think about what could we do about it.
0:54Skip to 0 minutes and 54 seconds What is the basis for the main components of the ELPQuiC bundle? So we sat down. And we're pretty conversant with the concepts of enhanced recovery after surgery and a standard care pathway, so we adopted most of those types of approaches. And we tried to identify five or six key elements which we thought were evidence-based and lacking consistently in the care of patients who are undergoing emergency laparotomy. So between a small group of us we worked out that identifying a sick patient with a early warning score or a lactate. We realised that there's a really poor administration of antibiotics for people who are septic or had intraabdominal infection.
1:39Skip to 1 minute and 39 seconds There's at that time a real problem about getting people to theatre, so we had to put some timelines up, and said that all patients should get to the operating theatre within six hours of presentation. We're keen on standardising fluid administration, so we suggest that people should use some form of gold directed fluid therapy. And then we insisted, really, that people went to intensive care afterwards. I think prior to that point there'd been really poor admission rates across the country for intensive care. And I think covering all that was the involvement of consultant surgeons and anaesthetists throughout the care of the patient. So it's really just a very simple pathway.
2:23Skip to 2 minutes and 23 seconds How did ELPQuiC change outcomes? So we were pretty surprised with the results. We found there was a reduction in crude mortality rate was 25%. And using P-POSSUM and risk adjustment, there's a 42% reduction in 30 day mortality rate. OK, so let's put another way– for every hundred patients we treated, about seven more patients survived to hospital discharge than we'd done previously, so that's quite a dramatic change in outcomes.
2:49Skip to 2 minutes and 49 seconds What is happening now as a results of ELPQuiC? So after ELPQuiC we were invited to apply for funding to do a much bigger project. So it's called Emergency Laparotomy Collaborative. And my research fellow, Dr. Aggarwal is going to tell you all about that. The ELC is an extension of ELPQuiC. Essentially we're scaling up ELPQuiC. We're working with hospitals in the south of England– so 29 hospitals, 27 trusts– to put in the ELPQuiC care-bundle but also embed a quality improvement methodology. So anyone who is interested can go and can do this quality improvement that we're teaching them– so things like process mapping, driver diagrams– and then go back and do any project using that same quality improvement methodology.
3:43Skip to 3 minutes and 43 seconds We started off doing the basics of QI. We're now also heading down towards decision making and leadership, and just teaching all of that side of things.
3:57Skip to 3 minutes and 57 seconds What has happened during the time the ELC has been running? I like seeing the change. So over the past two years, we've seen people very sceptical about the project and also a lot of questions. But actually over two years we've seen the changes being magnificent and everyone is really on board with things. And also then introducing the leadership and decision making side of things, what we find is that people, they're hungry for that. They really want to know how to do those things, and don't really get taught that in medicine until, so actually offering something that is not widely available is nice, and does get you good feedback on those days. It's beautiful.
4:42Skip to 4 minutes and 42 seconds What is the future of improving care for the emergency laparotomy patient? The future is the care-bundle, which is just becomes part and parcel of the care of these patients. It's just simple evidence-based care. However, there does need to be future work on the emergency laparotomy patient. We haven't really focused on the elderly but it's slowly coming. So they have a very high mortality and morbidity, so it'll be interesting to try and work on that specific group of patients. And then that also really fits in with decision-making and making sure that we're doing the right thing for these patients, if they have a high mortality. By operating, are we giving them the best possible care?
5:31Skip to 5 minutes and 31 seconds So questions and decisions based on shared decision-making, quality of life after surgery, dependency– that side of things is very important so that's where I'd like the work to go.
The Emergency Laparotomy Quality Improvement Care Bundle - ELPQuiC
In the video Dr Nial Quiney, consultant anaesthetist at the Royal Surrey County Hospital and leader of ELPQuiC, and Dr Geeta Aggarwal, a fellow working alongside Dr Quiney, detail the development of ELPQuiC, an important quality improvement project centred on improving care for patients having emergency laparotomy surgery.
They go on to examine the results of that project and the follow-on work currently being undertaken through the Emergency Laparotomy Collaborative (ELC) which is a significantly larger quality improvement project.
The images below give some more information on the ELC and the bundle of care they are promoting. For more information, we would highly recommend visiting the ELC homepage.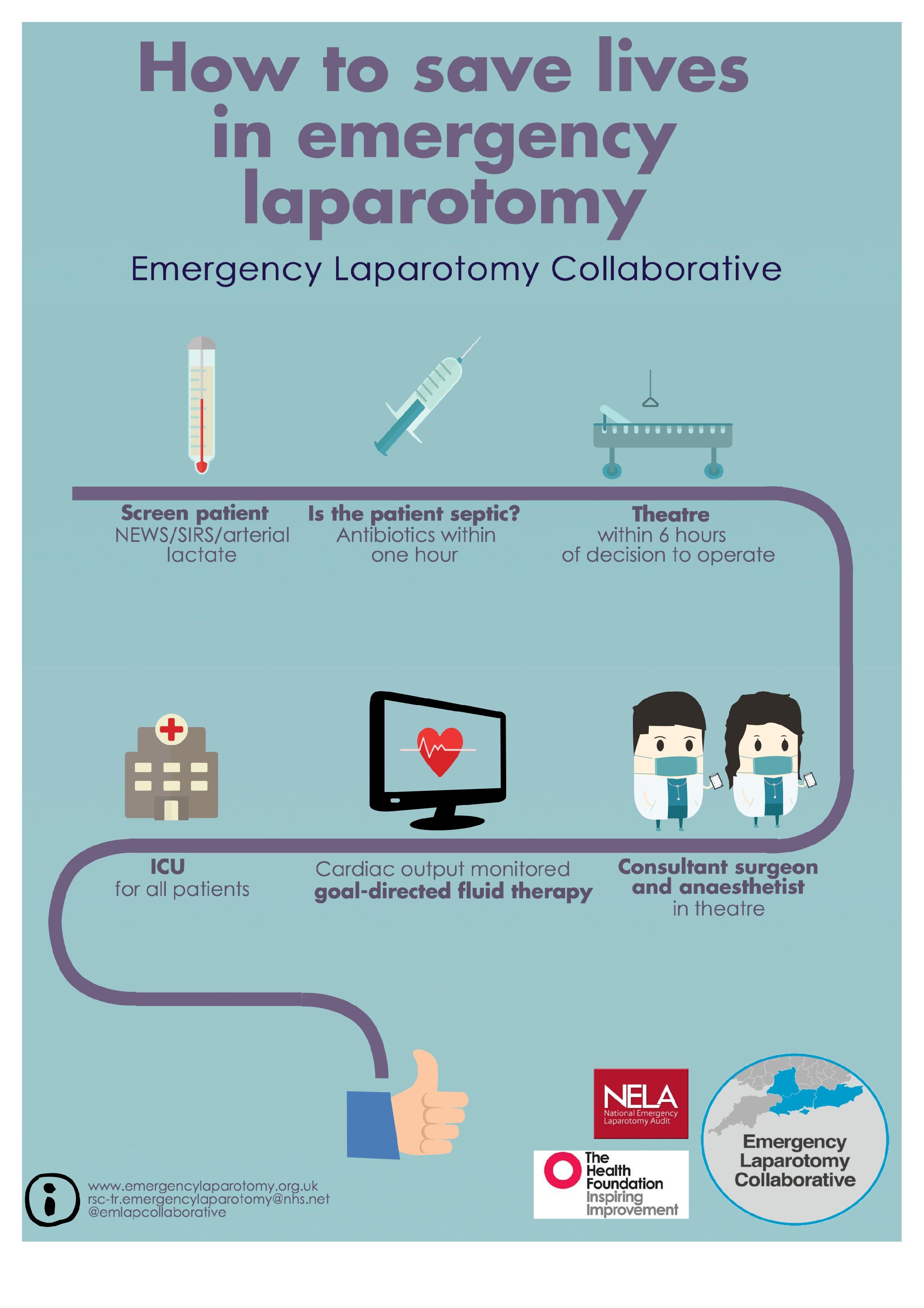 View the graphic as a PDF.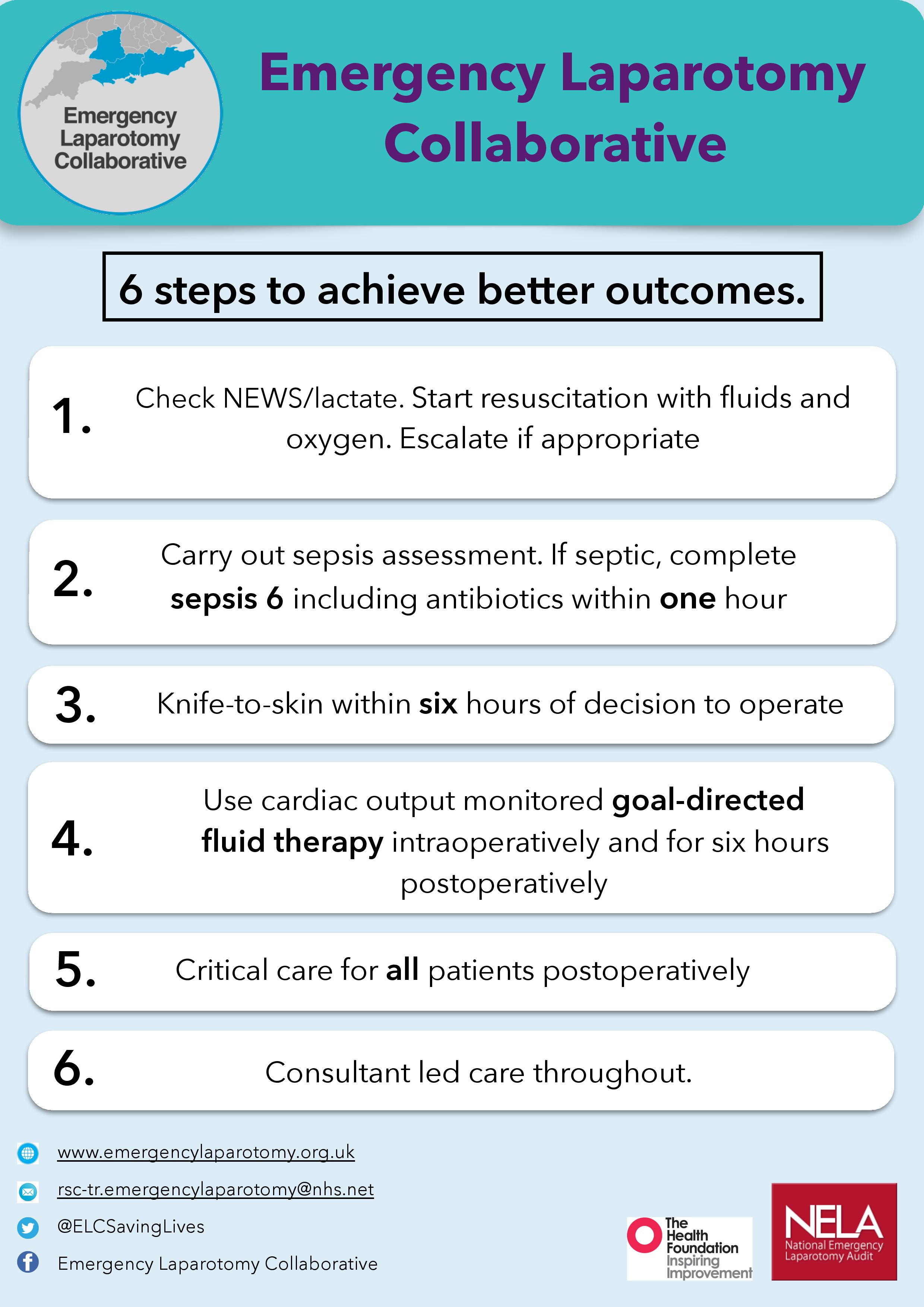 View the graphic as a PDF.
© University College London