朱子学の逆襲
test
The Kobunji-ha school changed the face of scholarship and literature in the Edo period, its influence even stretching outside writing in Chinese. However, the highly ethical approach to scholarship of Neo-Confucianism retained its appeal, and when the political climate changed, it once again regained a dominant position in the scholarly world. The Kansei reforms, which were started by Matsudaira Sadanobu (1758-1829), in Tenmei 7 (1787) succeeded in strengthening the shogunate's finances, reducing corruption among officials, controlling famines, and even contrasting Russia's southward expansion. The Hayashi family, whose scholarly activities had been dwindling, succeeded in securing talented young scholars through adoption, and thrived under governmental support.
The family's school went from being a small private academy to becoming the shogunate's official center of learning, the Shōheizaka gakumonjo (Shōheizaka Center of Learning, named after Confucius' birthplace, Chanping, pronounced "Shōhei" in Japanese). All scholarly approaches except Neo-Confucianism were banned from the Center. The edict is known as the "Kansei-era Proscription of Heterodoxy" (1790). Although it limited academic freedom, government endorsement also gave a tremendous boost to scholarship and new provincial schools were opened across the country. The Gakumonjo admitted not only the scions of prominent samurai families but also talented young students from the provinces. On returning to their hometowns, teachers would continue to train their disciples, or some disciples would travel to Edo to study with their masters.
In this way, an extensive network of scholars was formed, with the Gakumonjo as its center. To promote Neo-Confucianism, the government also sponsored publishing activity. We look at books published by the Shōheizaka gakumonjo—known as kanpan, or, "government publications"—in our next step.
ここまで見て来たように、学問の主流は朱子学から古文辞学に移って来ましたが、18世紀末に起こった政変と連動して、再び朱子学が学問の中心に踊りでます。 ここからは、江戸後期、朱子学の中心として幕府の学問を推進した学校である「昌平坂学問所」の出版活動について見ていきます。まずは朱子学がどのようにその座を取り戻したのか、昌平坂学問所とは何か、ビデオで堀川教授の解説をご覧ください。
ビデオで紹介した書籍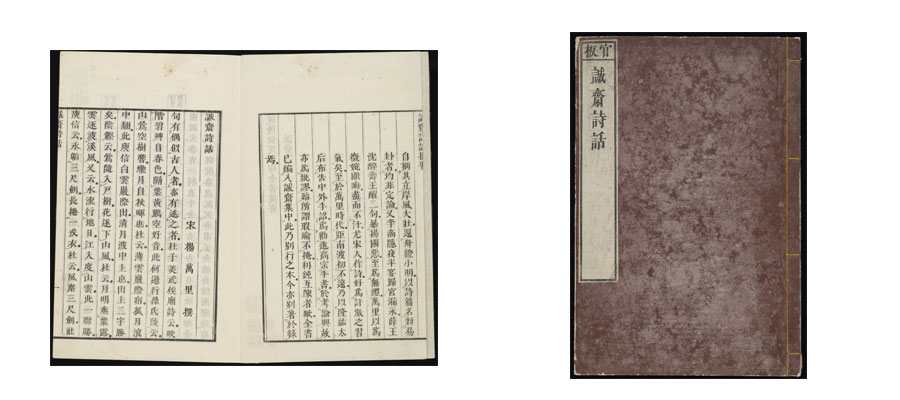 図1 『誠齋詩話』享和2年(1802)刊
Click to see the image and information
書籍情報と高品質画像は特設サイトでご覧ください。
全文は国立国会図書館デジタルコレクションで公開(See Also参照)
Keywords introduced in the video
Person introduced in the video
This article is from the free online
古書から読み解く日本の文化: 漢籍の受容
Our purpose is to transform access to education.
We offer a diverse selection of courses from leading universities and cultural institutions from around the world. These are delivered one step at a time, and are accessible on mobile, tablet and desktop, so you can fit learning around your life.
We believe learning should be an enjoyable, social experience, so our courses offer the opportunity to discuss what you're learning with others as you go, helping you make fresh discoveries and form new ideas.
You can unlock new opportunities with unlimited access to hundreds of online short courses for a year by subscribing to our Unlimited package. Build your knowledge with top universities and organisations.
Learn more about how FutureLearn is transforming access to education