The Treaty of Vienna
The Treaty of Vienna of 25 March 1815 was the formal agreement of the allied powers — Austria, Great Britain, Prussia and Russia — committing them to wage war against Napoleon until he was defeated.
Activity
In this document we will see how armies were to be assembled. You might like to reflect on the scale of the forces each power was to contribute. Was this practical and realistic? Article 2 commits the four allied powers to put 150,000 men each into the field; but the separate article recognises that Great Britain might not be able to do this. Can you suggest why this might have been difficult?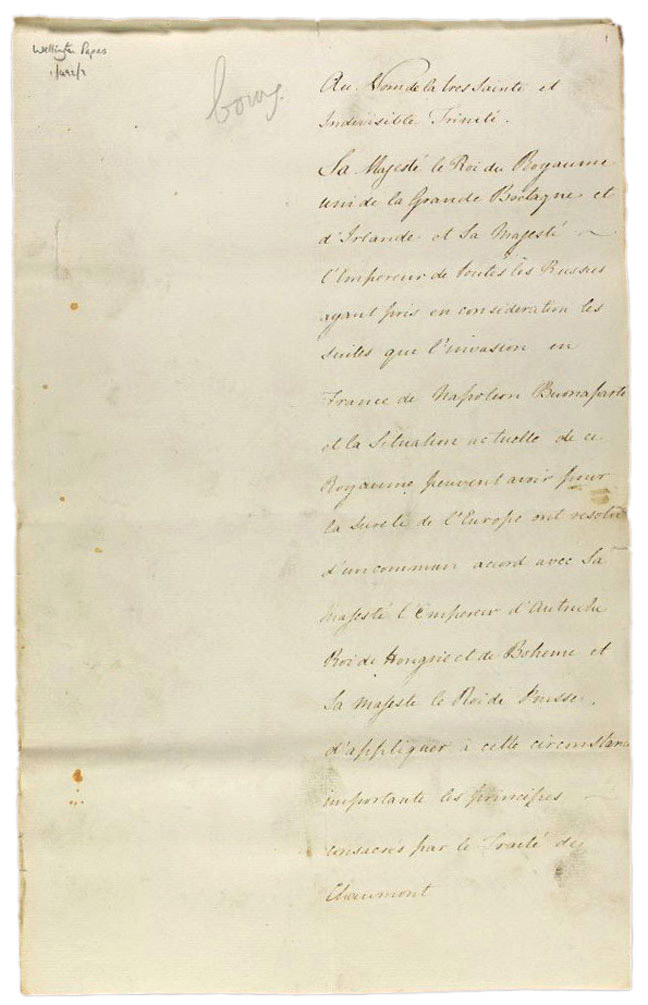 The Treaty of Vienna. [University of Southampton Library, MS 61 Wellington Papers 1/492/7] Crown copyright: reproduced by permission of Her Majesty's Stationery Office.
The four powers are the 'high contracting parties': other powers in Europe were invited to accede to the treaty, that is, to sign up to its provisions by a separate convention (article 7); and the King of France was also specially invited so to do (article 8). The declaration of outlawry and the Treaty of Vienna are unusual among international diplomatic documents in naming an individual — Bonaparte — as the target of hostilities: the allied powers were not at war with France.
The text given here is a translation from the French, which was the language of diplomacy in the nineteenth century. The original text was printed in WD, xii, pp. 282‒3, and the blanks in it have been filled in from Papers presented to both Houses of Parliament by command of His Royal Highness the Prince Regent, April 25, 1815, a copy of which is in the University of Southampton Library, MS 61 Wellington Papers 1/492/7, and which is also the source of the additional memorandum and declaration that British support for the King of France was not to be understood as implying that the British intended to impose any particular sort of government on France — an indication that opinion in London differed a little on mature consideration from that of the ministers in Vienna.
© University of Southampton 2015