Beyond the gates: the extra mural settlements of Roman forts
Description of settlements around and beyond Roman forts, known as extra mural settlements.
Roman forts have fascinated generations of antiquarians and subsequently archaeologists. Whilst these distinctive playing card-shaped buildings and the rich finds within have much to teach us, life also went on beyond the walls. Settlements were not confined to the forts' defences. Scholars have often referred to the areas beyond fort walls as military
vici
(sing.
vicus
), where soldiers' families, merchants and others dependant on the military would have lived. But we do
not
know that the Romans would have given the term
vicus
to this type of extra-mural settlement. Furthermore, it is increasingly evident that the buildings beyond the forts accommodated a much greater array of people and activities than was once thought. In this course, we will stick with the term 'extra-mural settlement' which carries less baggage.
How should we study these places?
Aerial photography, (discussed previously in Step 1.9) in the context of identifying temporary camps) can play a vital role in appreciating the diverse forms of extra-mural settlement. It is archaeological geophysicists, however, who have made some of the most significant extra-mural discoveries recently. With the types of equipment discussed in Step 3.8 they can reveal the complexity of these places, even where nothing can be seen with the naked eye from the surface. Alan Biggins (who completed his PhD at Newcastle University) and David Taylor have used such techniques to survey the remains of the extra-mural areas around most of the major installations on Hadrian's Wall. One of Biggins and Taylor's most famous surveys was that of Birdoswald fort in Cumbria. Before we look at the geophysical survey, take a look at these two views. The first is an aerial photograph, the second a laser scan of the site from a helicopter, undertaken for Newcastle University. In the image at the top of the page you can see the distinctive playing card shape of the fort, the northern edge of which follows the course of Hadrian's Wall. It is a great photograph, but gives little sense of what lies beyond the fort walls.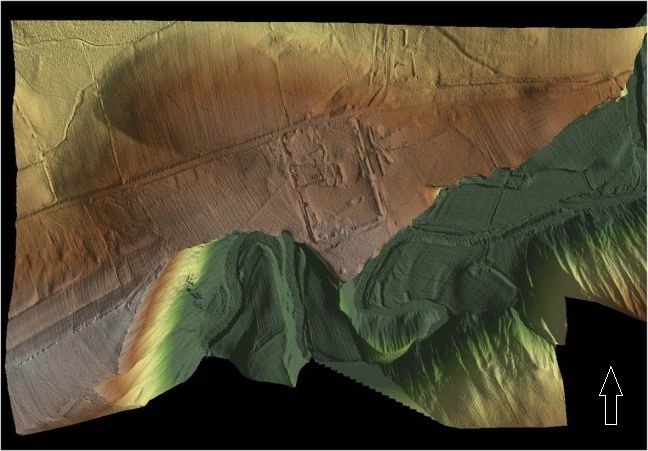 LIDAR of Birdoswald from above. © Newcastle University
Larger version of this LIDAR
LIDAR
of Birdoswald from Above'. You can see how the laser scanner slung beneath the helicopter gives a great sense of variations in the ground surface (even through tree cover) but again, this method does not show up activity outside the fort. So now look at the results of a
geophysical survey
'Birdoswald greyscale image' achieved using a
magnetometer
(explained in the next step) and shown in 'grey scale'. What can you see here?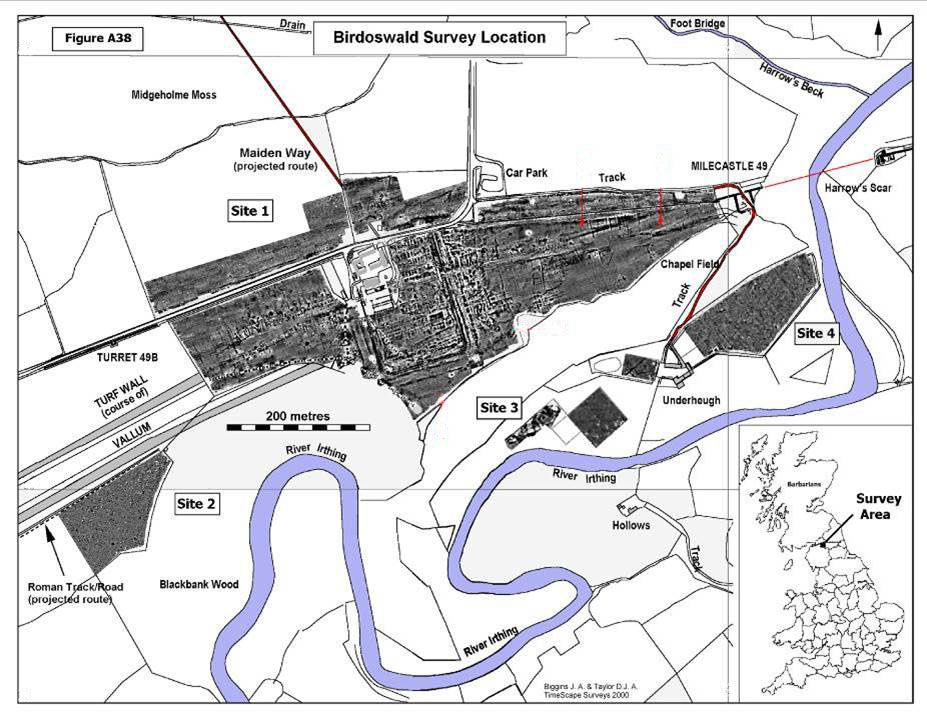 Birdoswald greyscale image © Alan Biggins and David Taylor
Larger version of this greyscale
Our final image shows the interpretation of the central part of this survey 'Interpretation of geophysics in fort area', the area around the fort.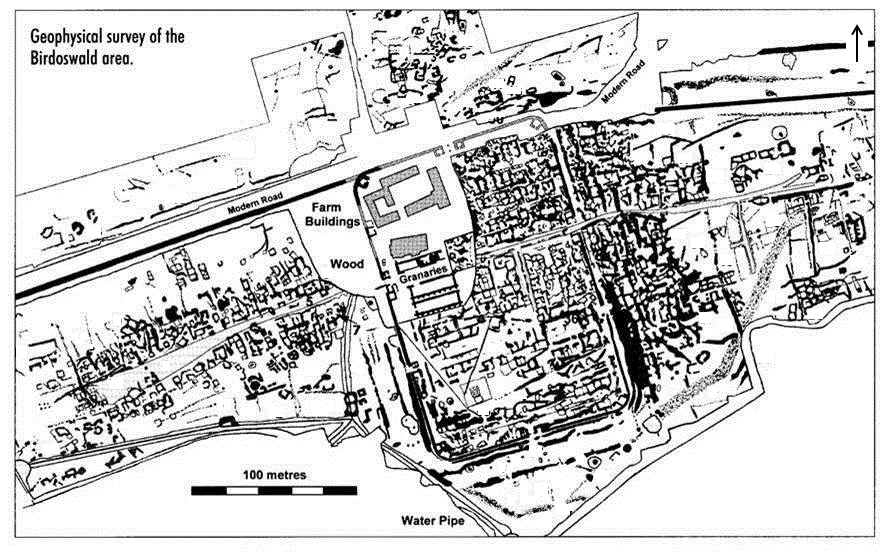 Interpretation of geophysics in fort area © Alan Biggins and David Taylor
Larger version of the Birdoswald geophysics scan.
Biggins and Taylor identified several places of particular interest in this space.
What do you think they have seen that is significant?
What do you see going on in this image?
Which areas do you think could be the location of houses, larger structures, military buildings and roads?
Geophysical surveys can be remarkably effective, but it is vital to note a range of limitations – the surveys reveal geophysical anomalies that must be interpreted by specialists. They are not maps of the surviving archaeological evidence. To map this evidence thoroughly, excavation is vital. At Birdoswald, excavation revealed an enclosure immediately south of the fort. Further open excavations by English Heritage uncovered long wooden buildings (probably further barracks). It seems likely therefore, that part of the extra-mural area was space for more soldiers. Of course, excavation aims to do more than simply uncover the plans of buildings. It aims to understand both how a site changes over time – its phasing- and how the people who lived there actually use the spaces we unearth. The study of artefacts and environmental evidence is no less important. In our next step, we will see how Andrew Birley has evaluated the evidence from Vindolanda.
This article is from the free online
Hadrian's Wall: Life on the Roman Frontier
Our purpose is to transform access to education.
We offer a diverse selection of courses from leading universities and cultural institutions from around the world. These are delivered one step at a time, and are accessible on mobile, tablet and desktop, so you can fit learning around your life.
We believe learning should be an enjoyable, social experience, so our courses offer the opportunity to discuss what you're learning with others as you go, helping you make fresh discoveries and form new ideas.
You can unlock new opportunities with unlimited access to hundreds of online short courses for a year by subscribing to our Unlimited package. Build your knowledge with top universities and organisations.
Learn more about how FutureLearn is transforming access to education