Fall definitions
Now that we have discussed our own definitions and experiences of falls, let's see how professionals define a fall. We will also explore some other definitions of different types of events which are closely linked to falls, but could lead to different prevention strategies.
The World Health Organisation
"An event which results in a person coming to rest inadvertently on the ground or floor or other lower level."
Prevention of Falls Network Europe
"An unexpected event in which the participant comes to rest on the ground, floor, or lower level."
Using the World Health Organisation's definition we can see that all of the scenarios presented on the previous page would be a fall. However, some people prefer to extend the definition, qualifying it with:
"[a fall]… other than as a consequence of a sudden onset of paralysis, epileptic seizure, or overwhelming external force"
If we use this extended definition, we can see that the person who was thrown from the horse and the person who was knocked down by the cyclist would not necessarily be considered to have a true fall. These sorts of event account for about 15% of falls. Similarly, the people who fainted or had a seizure would not be considered to have met the definition of a fall. This group of people also account for about 15% of all falls, but require specific and sometimes specialised falls tests. We will learn about this in Week 3.
In view of these controversies we use these definitions alongside a touch of common sense. For example, the person who was thrown from their horse may be unlikely to have another fall while at home or out in the street so a falls prevention programme may not be needed. However, the person who fell from the boat may need some falls prevention advice because perhaps they ended up in the water because of poor balance, which could cause falls.
Other definitions which mean different things to different people include:
Slip, trip, stumble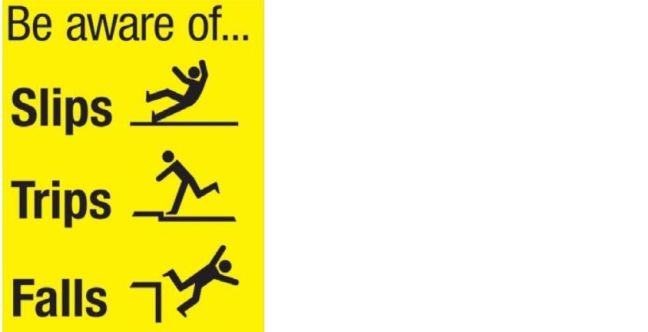 Slips, trips and falls, with permission Seton Australia
A slip or a trip does not always result in a fall, but if someone lands on the ground or a lower level we would call it a fall.
Faint
A sudden and short-lived loss of consciousness caused by lack of blood to the brain, usually caused by low blood pressure, but sometimes by a slow heart rate. This can cause fainting, blackouts, collapses or unexplained falls. We sometimes suspect fainting in people who have dizziness prior to falling or who say "I just dropped down for no reason".
Fit or seizure
A loss of consciousness (although not always), caused by suddenly abnormal electrical activity in the brain, resulting in abnormal muscle contractions of the body.
Now that we have explored the different definitions of the different types of events which can affect people who fall, we will have a greater understanding of why and when different treatments are used.