How common are falls?
Reporting falls: At first this may seem quite simple, someone has a fall, remembers it, and reports it to a family member, a carer or a doctor.
But some people may not report that they have had a fall for several reasons:
Some people may hide their falls as they do not want to be seen as old or frail
Some people think it is normal to fall as we grow older and that nothing can be done
Some people may be embarrassed by the circumstances, such as rushing to the bathroom
Some people worry they will be put into a care home
One in three people who have had a recent fall do not remember it
Bearing this in mind, falls may be even more common than we think, because falls are often unreported.
It is important to remember:
That young people fall too; falling does not mean frailty
Falls are not an inevitable part of ageing and we can treat and prevent falls
Falls are not a reason to put someone into care
Falls prevalence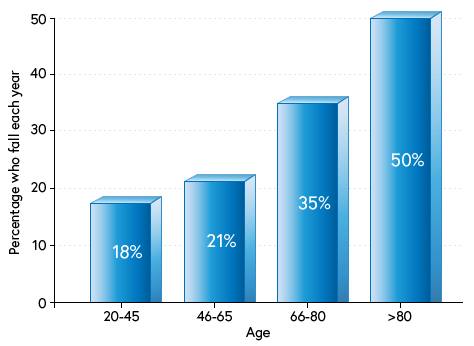 Graph showing how common falling is in different age groups
Expandable version of graph for small screens available here
Everybody has fallen at some point, it is part of the process of learning to walk. Toddlers have very poor balance, you can see how they walk with their feet wide apart to help maintain their balance. As their bodies learn and adapt to being up on two feet, falling is a normal part of life. Children, adolescents and young people also fall because they are more likely to take risks.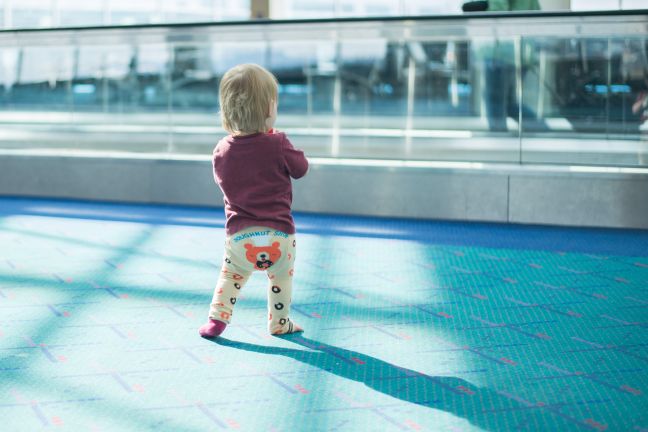 Photo Donnie Ray Jones CC-BY-2.0
Unfortunately, as we get older we have further to fall down and our bodies are less resilient. This graph shows how falls become more common as we get older. Each year, approximately one third of people over 65 will fall, this increases to one half of people aged over 80.
Considering these facts, we can see that falls are highly prevalent. This is important for those who may feel isolated or embarrassed. Remember, falls are very common.
Steps you can take
Keep a falls diary. A simple way to record the frequency of falls is to keep a falls diary. Each time a fall occurs it is recorded into the diary as soon as possible. This helps to get over the problem of forgetting falls, but also helps doctors and therapists to explore the causes behind falls. Sometimes the frequency and timing of falls can provide vital clues.

Discover ways you can prevent falls during this course. Consider trying to use some of your new knowledge in your daily life.

Remember that you are not alone. As we have seen above, falls are very common.

Raise awareness of the importance of falls amongst your friends and family. Help people to understand that even really simple steps can help prevent falls and injury.
We hope over the next four weeks you will learn how some of these simple steps can help you or those you care about.