How to have healthy bones
A healthy lifestyle - stop smoking, limit alcohol and caffeine intake, use salt sparingly
Keep active to stimulate the body to keep bones strong
Eat foods rich in calcium (dairy, oily fish, spinach, nuts, seeds, tofu, dried fruit, flour and even water!)
Sunshine - 15 minutes of sunshine, three times a week will help build up stores of vitamin D, which is important for bone health. Unfortunately the weather can sometimes work against us on this one!
Maintain a healthy weight (being too thin can reduce the strength of bones)
Calcium and vitamin D supplements
You should always speak to your doctor about taking these supplements. This is important because sometimes calcium supplements can prevent your gut from absorbing other medications which you take. Likewise, you may have a condition which causes you to have a high calcium level, in which case supplements should be avoided.
Your doctor may consider giving you calcium and vitamin D supplements if you are at risk of falls, particularly if you are unable to get outdoors, because we get most of our vitamin D from sunlight rather than our diet. However, vitamin D can be a controversial area within the medical community. There is much disagreement between experts about whether vitamin D supplements are beneficial or not. It is a rapidly evolving area of research which means that guidelines change frequently. You should speak to your doctor to see what is the best option for you.
Medication
There are several different medications available to increase the strength of bones and prevent fractures. These are usually reserved for:
People who have broken a bone during a fall from a standing height
People at high risk of breaking a bone from a fall
People who have thin bones (osteoporosis) on a bone scan
This image shows a normal bone structure on the left and an osteoporotic bone on the right. We can see how the structure of the bone is thinner in people with osteoporosis, making them more likely to break during a fall.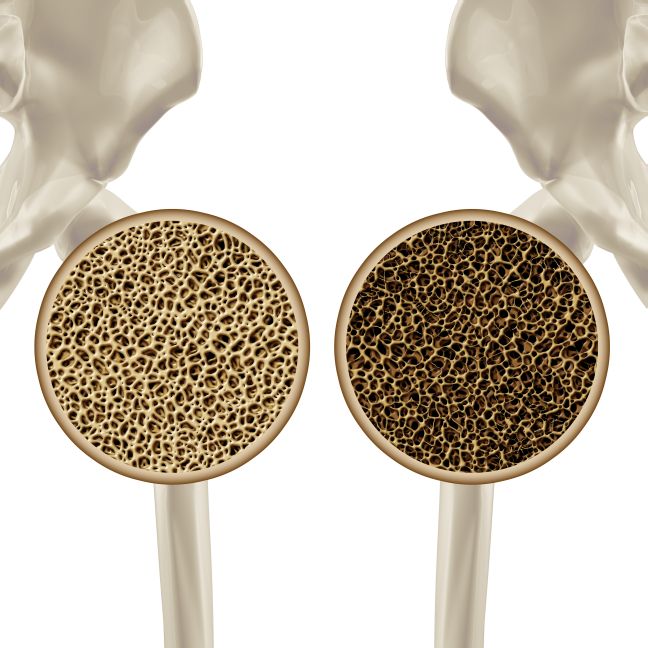 © Shutterstock.