Medication
Medication use is becoming much more common amongst all ages. Over the past 10 years, the proportion of people who take five or more regular medications has almost doubled.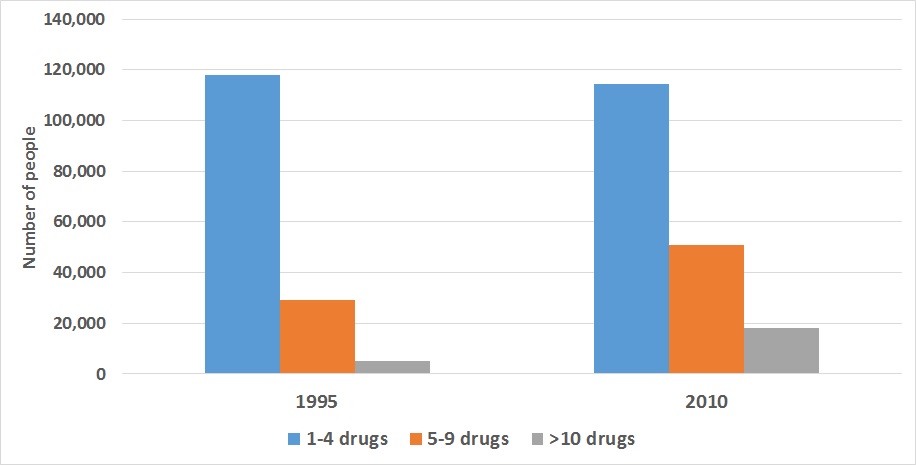 Increase in Multiple drug use 1995 -2010 in Tayside region of Scotland © Guthrie et al.; licensee BioMed Central. 2015
Medication use can be a risk factor for falls, but of course we are taking medication because we need to….. Or, are we?
As we will learn from Professor Newton later in the course, it is not unusual for someone to have started taking a medication many years ago and to remain on it when its benefits may no longer be required.
So how do we decide whether or not a medication may be contributing to falls?
There is no right answer, but in general a decision should be made between both the doctor and the patient. This decision should be made on facts but should also be based on experiences.
We know that being on four or more medications increases the risk of falls, no matter what the medication is. So, for people who have fallen or are at risk of falling their medication should be reviewed with a professional. This review would typically involve:
Describing the benefits of the medication
Discussing the potential harm or side effects
Identifying which medications in particular may be contributing more than others
This discussion could occur either as part of a falls assessment, or part of a routine medication review. Medication changes should not occur without having a discussion with your doctor so that you can have all of the facts before you make the decision.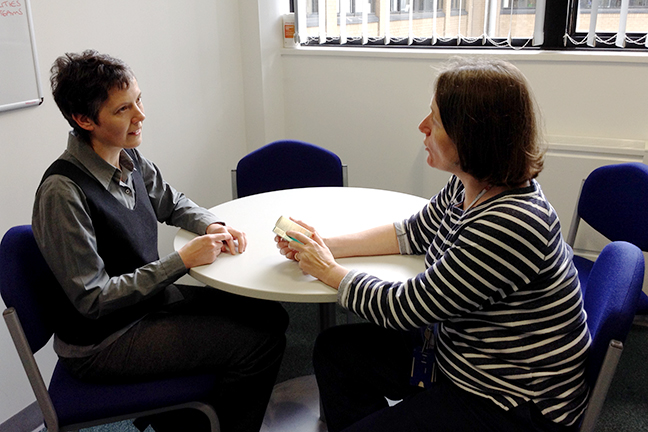 Which medications are worse than others?
Being on four or more medications increases the risk of falls regardless of what they are. But there are some types of medication which can increase the risk of falls by themselves. Before we go on to see which medications can contribute to falls, remember that these medications also have their benefits and should not be stopped without weighing up the pros and cons with your doctor.
Medication to treat confusion or psychosis
Anti-depressant medication
Medications used for stress, insomnia or muscle spasm
Other medication to help sleep
Medications to treat high blood pressure
Medications to treat fluid retention
If your falls specialist was considering reducing your risk of falling through reducing your medications, these are the types of medication which they would discuss stopping. Ultimately, the decision to continue or stop the medication would be up to you, but ideally it would be done as a team. Sometimes other strategies may be considered and this is often a common sense approach, rather than a scientifically proven approach:
Stopping one or more medication all together
Reducing the dose of a medication
Switching to an alternative medication
Stopping a medication for a trial period to see if it makes things better or worse
James has written an additional article on this topic Medications: is four the magic number? do read this if you would like to find out more.
Medication to prevent falls
There are no medications which have been scientifically proven to prevent falls. However, some medications may be used in certain circumstances. We will discuss these in Week 4 when we explore in more detail how to treat and prevent falls.