Beyond the basic analytical tools
In this article, Chris Phethean provides a brief summary of work carried out for his recent PhD research that investigated how charities can best obtain value from social media.
Chris is now working at the University of Southampton as a Research Fellow on the European Data Science Academy Project.
What are the limitations of free analytical tools?
As we have seen, there are a vast number of analytic tools that are available online – many offered for free, or at least offering free versions – that promise to 'track' or 'measure' social media performance for an organisation's or individual's account.
While this is fine for getting started, the analytic capability that these tools offer is rather limited. More useful measures such as those that offer more complexity, or that take into account the context of the organisation in question, are rare.
The lower rows in the Table below represent some examples of these types of analytics, for example cause/effect analysis to show how the organisation's own behaviour may, or may not, correlate with their audience's. This seems like a fundamental requirement for analysing how well the organisation is performing on social media, yet is provided by only one of the services. Please note that the features of these tools are constantly evolving and the data was correct at the time of writing in 2014.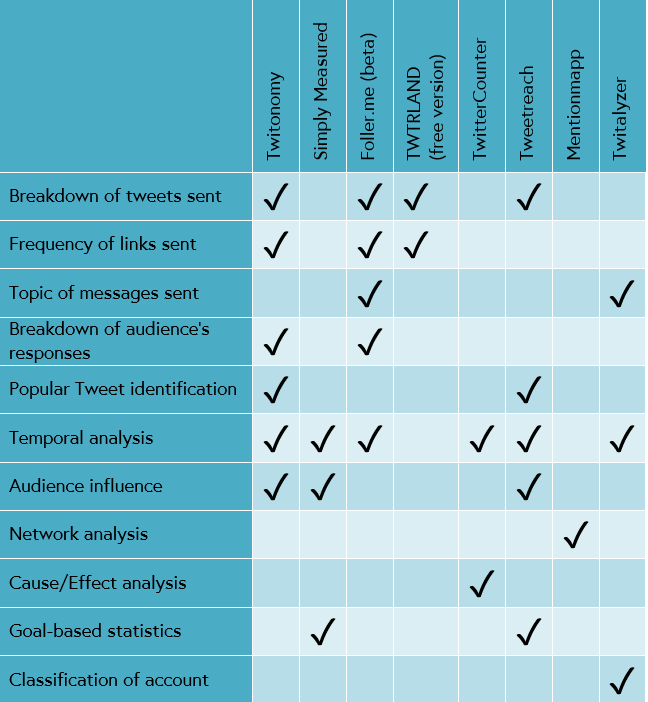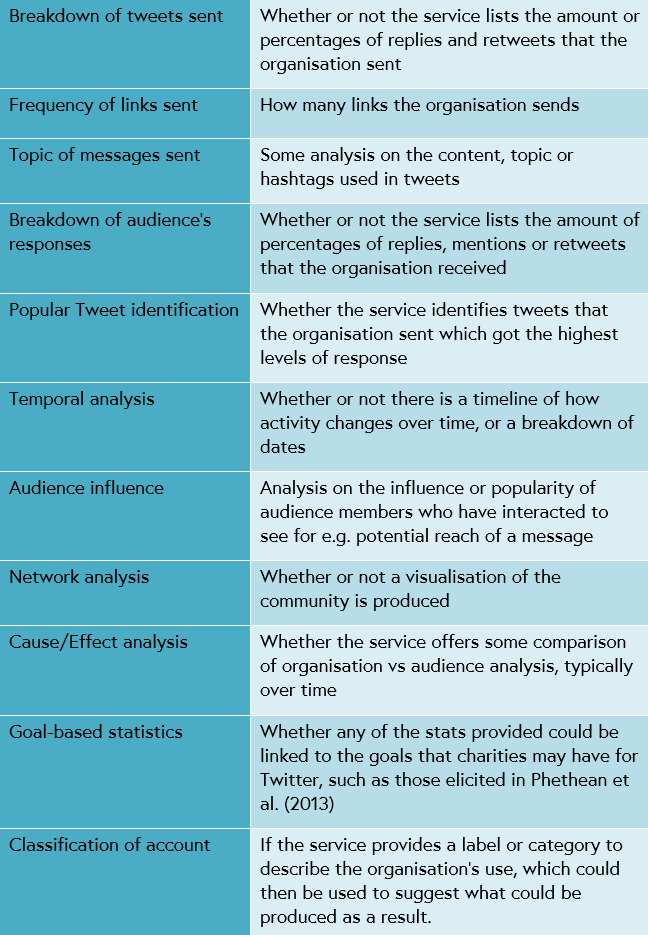 Some specific examples
As Tom has described, if the organisation has a clear idea of what they're trying to achieve on social media, and what they need to do in order to fulfil that, then what these tools provide may well be enough.
However if there is some confusion, lack of understanding, or knowledge about this then it can be difficult to assess what these stats mean in relation to how a particular organisation is using social media.
For example, imagine two organisations log on to a tool which analyses the responses that they get on Twitter. Each organisation receives the following statistics relating to the interactions that they receive from their audience:
Organisation A: Replies 14%, Retweets 70%, Mentions 16%
Organisation B: Replies 46%, Retweets 12%, Mentions 42%
What do these stats mean? Which organisation is performing 'better'?
It is impossible to say unless the context of the organisation is taken into account.
A may be a news organisation, or a journalist, who may prioritise the dissemination of information and will therefore be very interested in how much their content gets shared (retweeted) by others.
B on the other hand may be a customer service account for an electronics company that enters into conversation with customers, and listens out for mentions of their account that would indicate someone is talking about the brand. In this case, replies and mentions are probably far more indicative that they are succeeding.
Now let's say organisation C is another journalist, like A, but their stats read:
Organisation C: Replies 80%, Retweets 4%, Mentions 16%
C thinks they're failing, that their tweets never get shared and they are jealous that A gets all the attention. But these stats only look at one side of the equation – what if nearly every tweet C sent was a reply to someone else, and very rarely did they actually post something new?
Without looking at what the account in question has been doing, it is difficult to provide a meaningful analysis of the responses to it.
And without knowing what that person (or organisation) wants to achieve, it is difficult to analyse what they're doing on social media in relation to a particular target, so that suggestions can be made regarding potential options for improvement.
This is a simple example, but is hopefully an indication of where 'simple', or generic measures can be misleading without any context to support them.
---
Given the apparent restrictions of some of these approaches, there is a lot of work being undertaken in academia to establish more rigorous methods of analysis.
Later on this week we will introduce the Web Observatory project from the Web Science Trust, which emphasises the sharing of data and analytic tools online, to provide a number of benefits.
© University of Southampton 2016