How art inspires cinema – the reveal
How has art inspired filmmaking? Explore how the invention of the camera changed the the history of both the still and moving image.
In the previous step we asked you to take a look at the above artwork and consider which famous film scene it inspired. It's this scene from Alfred Hitchcock's classic thriller,
Psycho
.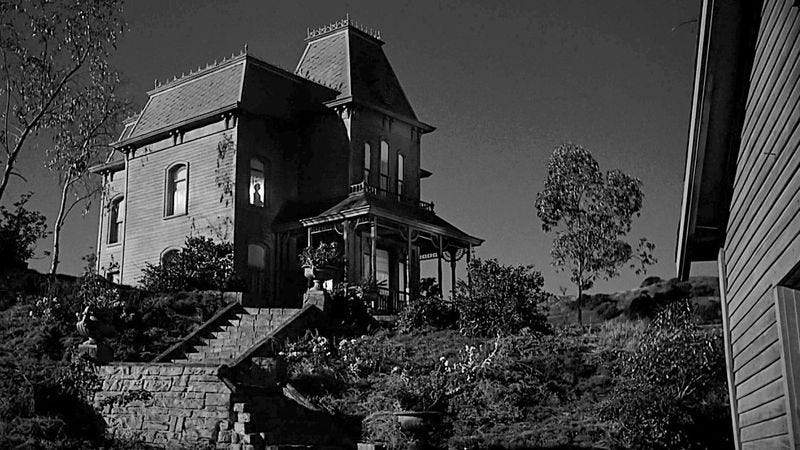 Alfred Hitchcock,
Psycho
(1960)The iconic building was modelled on Hopper's artwork,
House by the Railroad
. In the two images, look at the similarity in the use of light and shadows, the low angle shot we view each house from, and the large backdrop of sky that isolates the house from the rest of the world. Robert F. Boyle, a production designer who collaborated with Hitchcock on some of his most memorable films, including
North by Northwest
and
The Birds
, said that Hopper presented in his artworks the penultimate moment where nothing was happening, but where something could happen. For Hitchcock and Boyle, portraying scenes like these in films was key, building cinematic suspense for the viewer.Towards the end of this week we'll be discussing how imagery can be a superb catalyst for predictive writing. The artwork,
House by the Railroad
, is a great example of this.
Imagine this is the penultimate scene from a film – what do you think will happen next?Add your thoughts to the Comments section and try this activity with your class.
This article is from the free online
Developing Literacy: A Journey from Still Image to Film
Our purpose is to transform access to education.
We offer a diverse selection of courses from leading universities and cultural institutions from around the world. These are delivered one step at a time, and are accessible on mobile, tablet and desktop, so you can fit learning around your life.
We believe learning should be an enjoyable, social experience, so our courses offer the opportunity to discuss what you're learning with others as you go, helping you make fresh discoveries and form new ideas.
You can unlock new opportunities with unlimited access to hundreds of online short courses for a year by subscribing to our Unlimited package. Build your knowledge with top universities and organisations.
Learn more about how FutureLearn is transforming access to education